The NEW Farmersgirl Kitchen …coming soon!
My blog is called Farmersgirl Kitchen, and this is where I make the food that I show on this blog.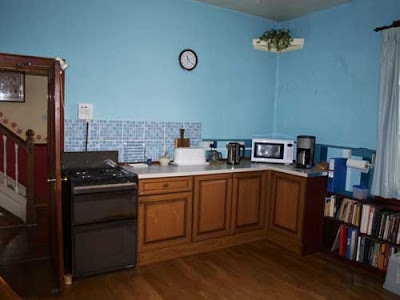 We need to do some work on the internal walls of our kitchen. There has been some water coming in from the outside wall (on the right) if you look closely you can see the marks. We have had this fixed outside, but all the plaster has to come off that wall and our joiner is going to line it with insulated plasterboard. We are also getting the wall behind the current units strapped and plasterboarded so we can have wall units, the existing wall just wouldn't support them. So….as my cooker (stove) is 25 years old and the kitchen units are about 23 years old, we decided that it was time to have a change.
I have a strange kitchen set up, being an old farmhouse kitchen there would have been no water plumbed into the building, so our sink is actually in the 'back kitchen' or scullery, a brick built extension (in the 1950's) down three steps. I thought I would never get used to it, but you do get used to it and it would be such a major operation to bring a sink into the kitchen that we have never quite got round to it. So, the fridge, freezer, washing machine, dishwasher and sink are all in this 'back kitchen' down three steps and the area we are renewing is the cooking, kettle type area.
I thought that as we were making this change, I wanted to make it different and I wanted to have more worktop space. Difficult challenge as there are many doors, windows and an inglenook fireplace with our oil stove to content with, I bought some magazines, as you do! And one of them had a breakfast bar that came out from the units at an angle, I was sold.
I found the kitchen shopping a bit of a challenge, the units I liked, didn't always do the things I wanted them to, but today, finally, I found some units I liked that did pretty much what I wanted AND I got to have solid oak worktops which is the bit that excites me most!
The illustration below is pretty much what it will be like, except the breakfast bar will have support at the end, not hanging in mid-air like it is – scary! And, those are not the handles that I am getting, the ones we will have are hammered steel and really cool (and expensive) but lovely.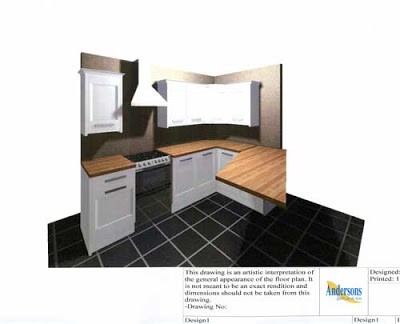 I will give you step by step updates, it's going to take a couple of weeks for the units to arrive and our joiner says he will be available in 2-3 weeks, but as long as it is done before DS1 gets married in May, I will be happy!
Oh and, by the way, I have taken 4 carrier bags of cookery books out of the book shelves, which is why there are some spaces! The bookshelves were created for me by our joiner and sized to my biggest book – he is a real craftsman, but I do like to challenge him!