Thanks to Hotel Chocolat and Tinned Tomatoes Blog!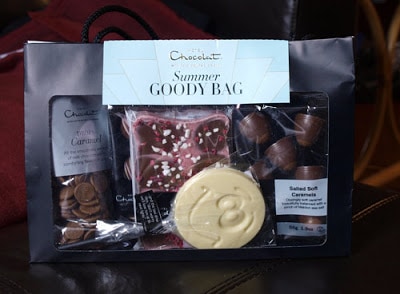 I won this summer Goody Bag from
Hotel Chocolat
on the Jac's
Tinned Tomatoes
blog. I'm still on a strict regime (although I was less strict over the weekend and have to get back on track) of no cake or chocolate and lower fat meals with smaller portions (it is working, just slowly), so when I won this everyone was very amused. But I have a cunning plan…I am going to give it to Mr Farmer for his birthday next weekend. He loses weight far too easily and this will give me back a little of the advantage 😉
Mind you, it's going to be torture watching him eat it. Anyway, Jac now has another competition on her blog for a day out as a chocolatier with Green and Blacks. I'd love to learn to work with chocolate, and if you would too, then hop over to her blog and leave a comment.
Thanks again to Hotel Chocolat and Jac at Tinned Tomatoes