Stollen Bread Pudding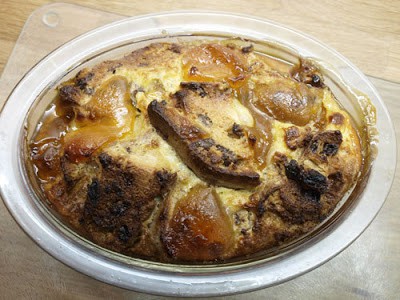 Are you still eating leftovers? We seem to have a lot of cakes, cookies, biscuits and chocolates left. My SIL brought a large Stollen down at Christmas and although half of it had gone, there was still a big piece left and it was beginning to dry up, so I decided to make it into dessert.
I buttered the oven dish, sliced the Stollen and laid it into the dish added a few spoonfuls of apricot jam (left over from marzipanning the Christmas Cake), beat together 3 eggs and about 1/2 pint of milk and poured it over the Stollen. I didn't add any sugar to the mixture as I would with plain bread, the Stollen was quite sweet enough.
I know I'm a day late, but I am entering this for Frugal Food Fridays
run by Helen at Fuss Free Flavours.