Sticky Easter Buns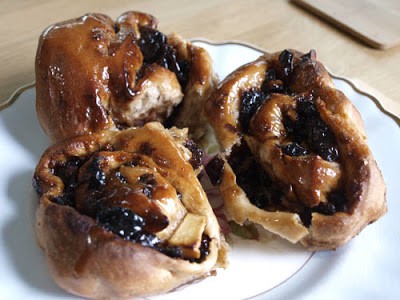 Sticky Easter Buns
I've never been very satisfied with the Hot Cross Buns I've made at home, so this year I decided to try something a bit different. I like the idea of a rolled bun, like cinnamon buns, but with the flavours and filling that is reminiscent of a Hot Cross Bun. I made my dough in the bread maker, but if you don't have one you could follow any sweet dough recipe directions.
Sticky Easter Buns
450g strong white flour
1 pkt fast action yeast
2 tsp ground cinnamon
50g soft brown sugar
125g butter, melted
150ml warm milk (not too warm or it will kill the yeast)
100g yogurt
1 egg
1 jar of mincemeat
1 large cooking apple peeled and chopped
For the glaze
25g soft brown sugar
10g butter
6 tbsp water
Put the flour, yeast, cinnamon and brown sugar in the bread maker bowl. Add the melted butter, milk, yogurt and beaten egg. Set to 'dough' and go away and do something else. My bread machine takes 45 minutes to make a dough.
Now you have an option, you can either watch the video below to see what to do or follow the instructions that come after the video. This is my first video clip, so please forgive the length and the fact that I do seem to pick things up with my hands – they are clean, honest!
Flatten out the dough on an oiled surface (or it will stick) and then spread the mincemeat over the dough and distribute the apple pieces evenly across the mincemeat. Roll up the dough from the long side, tucking the join underneath. The slice across and put the the slices into a baking tin lined with baking parchment, cut side up.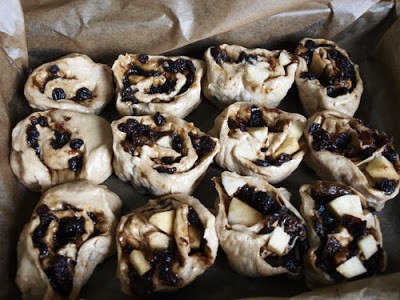 Put to one side in a warm place, to let the buns rise for about an hour and a half until they have doubled in size.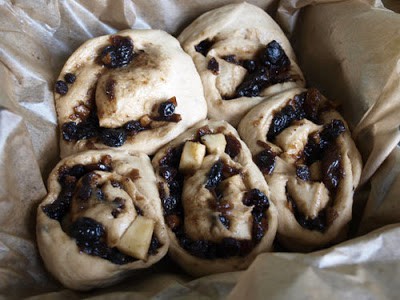 Then bake at 200C/180C (fan) for about 30 minutes. To make the glaze, put the sugar, water and butter into a pan and heat slowly to melt the sugar, then bring to the boil and boil for about 3 minutes. Glaze the buns as soon as they come out of the oven. Leave them in the tin until just warm then remove and split.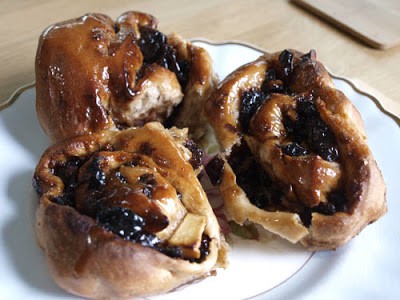 They are very, very sticky and absolutely delicious.