Chocolate and Pistaschio Sourdough Cake
I was first given a starter for a 'Friendship Cake' by a friend when my eldest son was at playgroup. That wasn't yesterday as he is now a father himself! I'm not sure if this type of sourdough cake is around all the time or if it just pops up every now and again. I was given some in the autumn and then again just before Christmas, although now it is known as 'Herman the German' . It also has many websites dedicated to it and now there are variations on the finished recipe, something I had not really considered before. This website even tells you how to start your own and I learned that you can freeze the batter which is great when you run out of friends who like to bake!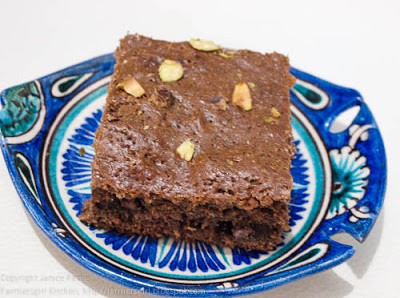 So there I am, with a Herman the German sourdough mix ready to be made into cake, I also have a couple of overripe bananas and some lovely samples of Sugar and Crumbs flavoured cocoa powder. Sugar and Crumbs supply high quality products and are shortly to launch a range of different flavoured cocoa powders.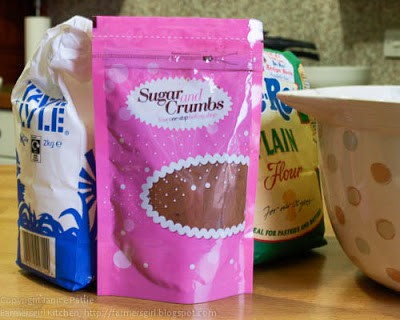 The Sugar and Crumbs range of cocoa powders will include Mint Moments, Natural Orange, Chocolate Chilli, Morello Cherry and Pistachio, the flavourings added to the cocoa powder are all natural. I chose to use the Pistachio flavour and add some pistachio nuts to the 'Chocolate Banana' Herman recipe.
I did use both bananas, even though it specifies only one and I replaced a third of the chopped chocolate with pistachio nuts, I also sprinkled pistachios on the top of the cake. I baked it in a roasting tin as I find it bakes through well this way and is easy to cut into pieces.
The Pistachio cocoa powder has a very subtle, almost almondy flavour which didn't overpower the cocoa. We ate some of the cake as dessert with some left over brandy sauce, that was a winning combination if ever I tasted one. There are lots of new and exciting products being developed at Sugar and Crumbs and I'll keep you updated on any that come my way for testing!
Sugar and Crumbs supplied me with flavoured cocoa powder samples for trial. All opinions are my own.