Coffee Cup Giveaway
Kenco have partnered with Danielle Proud, eco
interior design expert, to launch her first venture into homeware design
with a beautiful eco coffee cup, available exclusively through the
Kenco Rewards Club.
Inspired by birds of the
rain forests where Kenco's coffee beans are grown, the ceramic eco
coffee cup eliminates the waste of paper cups, whilst providing a
stylish way to enjoy your favourite coffee on the go.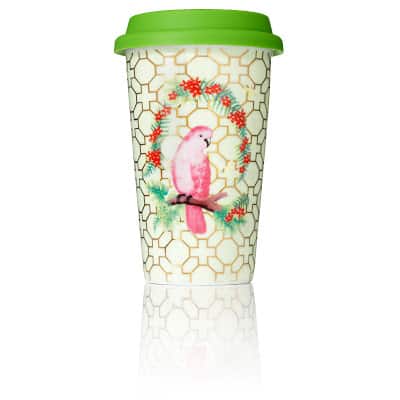 I'm a huge fan of these types of coffee cups I have one at work and, as I have to walk through a public area from the kitchen to my desk, it means that there are not the same health and safety issues as there would be with an open cup. They are generally double-walled so that they keep your coffee warm and don't burn your hands as you carry them.
I love the pretty designs of these mugs. The designer, Danielle Proud says: "I am used to designing large scale developments
and interiors, but I have always been keen to break into homeware, so
partnering with Kenco to create the beautiful eco coffee
cup is really exciting! Keeping the environment at the forefront of
design is something I really believe in."
The Coffee Cups are available through the Kenco Rewards Club until the end of March. The Kenco Rewards Club is about Kenco giving something back to their loyal drinkers. For every pack of Kenco bought, points can be
redeemed to receive great rewards. Once enough have been
collected, you could be the 'Proud' owner of this beautiful limited
edition cup. As with the cup, all the items in the range have been
selected with the environment in mind as a small way to help make a
difference. The Danielle Proud Eco
Coffee Cup is worth 60 reward points. Simply collect points on pack to
exchange for this new and exclusive item!
I have three Kenco Coffee cups to give away to my loyal readers and, of course, any new ones who would like to enter. Just follow the instructions on the Rafflecopter widget below:
a Rafflecopter giveaway