St Patrick's Day treat
It's St Patrick's Day on17th of March, and this year it falls on a Sunday, so I expect more people than usual will be celebrating this popular Irish Saint's day with a bit of feasting and partying.
What better way to celebrate than with some lovely Irish produce, like this Burren Smokehouse, Cold Smoked Organic Salmon with Whiskey, Honey and Fennel? The Burren Smokehouse was first established in 1989 by Birgitta and
Peter Curtin. They researched the smoking traditions in Ireland and in
Sweden and the idea of the Smokehouse was born.
I served the smoked salmon for lunch with salad and some Bessy Beck Smoked Trout pate and some lovely Lakeland Walnut and Treacle Loaf and Rye bread with Figs and Walnuts that I bought from More? The Artisan Bakery at the Marmalade Awards. The salmon was delicious, smoked salmon is one of my favourite things to eat and I have tasted a LOT of different kinds. I would thoroughly recommend this organic salmon which won the 2 star Gold Award at the Great Taste Awards 2010 and picked up three other awards at the same show. It had just enough smoky flavour, a little sweetness from the Whiskey and honey and just a hint of the aniseed flavour of the fennel.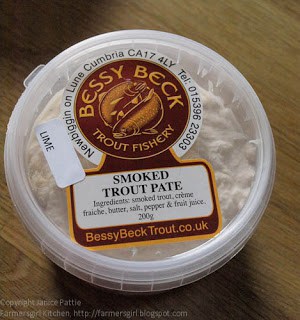 Bessy Beck Smoked Trout Pate from Cumbria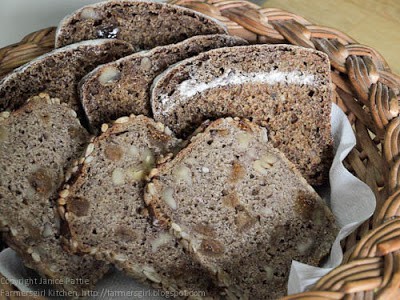 Bread from More? Artisan Bakery
Enjoy some Irish produce for your St Patricks Day feast.
I was provided with the Smoked Salmon as part of a hamper of Irish produce, I bought the bread, salad and Smoked Trout Pate. I was not paid to review these products and all opinions are my own.