A cup of coffee and a Treacle Bite!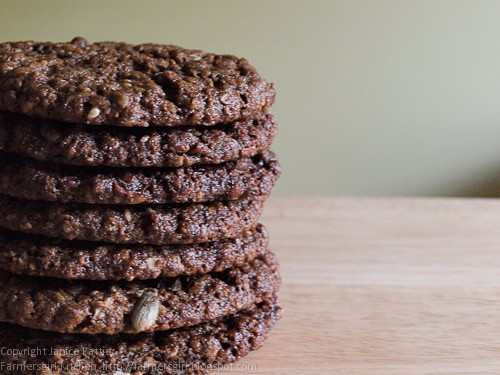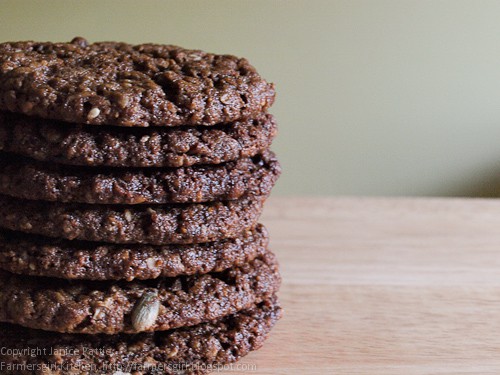 Treacle Bites are crisp and delicious cookies made with oats, coconut and the rich flavour of treacle, they are such a good biscuit, they are easy to make and I would urge you to give them a try. I made them for a Random Recipe, using the Random Recipe Generator thingummydoodah, a technical term I'm sure.
It still required the dreaded counting of the cookery books as it grows every time I look, anyway my random choice was The Dairy Book of Home Cookery by Sonia Allison for the Milk Marketing Board, originally published in 1968, this edition published in 1977. The book belonged to my Mother-in-law and has retained it's place on my cookbook shelf as it has some good recipes in it.
And so to the opening of the book in a random fashion…it opened at a double page of biscuit recipes – RESULT! There were many to choose from: Currant biscuits, Cherry biscuits, Spice or Cinnamon Biscuits, Chocolate Flake Biscuits, Jam Sandwich Biscuits and on and on… However, I decided to go for Treacle Bites as I have a bit of a glut of rolled oats.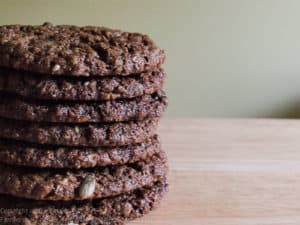 Treacle Bites
2016-04-24 20:45:50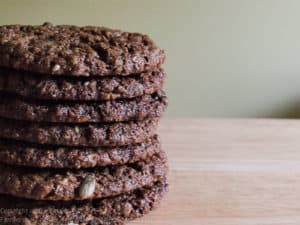 Crisp oat and coconut cookies with rich treacle for a full flavour.
Ingredients
100g/4oz self-raising flour, sifted
75g/3oz rolled oats
25g/1oz desiccated coconut
100g/4oz butter
125g/5oz caster sugar
2 level tbsp treacle
1 level tsp bicarbonate of soda
1 tbsp milk
Instructions
Combine flour with oats and coconut
Put butter, sugar and treacle into saucepan, very slowly bring to the boil, stirring all the time.
Remove from heat. Add bicarbonate of soda dissolved in milk.
Pour hot mixture on to dry ingredients. Mix thoroughly. Leave on one side for 30 minutes or until firm.
Break off 24 pieces of mixture and roll into marbles.
Transfer to buttered baking trays (leaving room between to allow for spreading), Bake in centre of moderate oven 180C for 15 minutes.
Leave on trays for 1 or 2 minutes before transferring to wire cooling rack. Store in an airtight tin when cold.
Adapted from The Dairy Book of Home Cooking
Adapted from The Dairy Book of Home Cooking
Farmersgirl Kitchen https://www.farmersgirlkitchen.co.uk/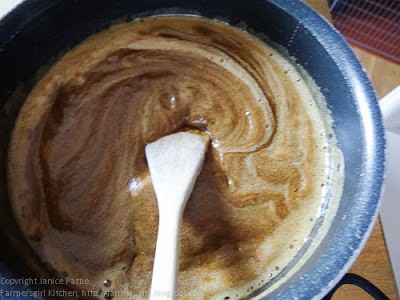 Adding the bicarb is so much fun, it puffs up like puff candy!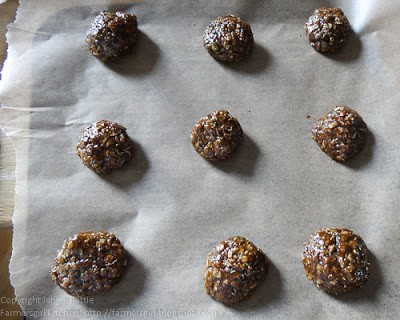 Rolling the biscuit mix was easier than I thought, not too sticky, they do spread a lot and I would probably make mine smaller next time as my 'marbles' were more like 'walnuts'!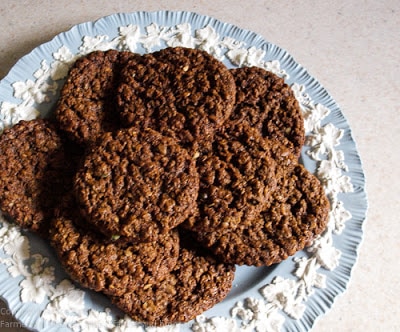 The verdict: FANTASTIC! I think these are some of the nicest biscuits/cookies I have ever made and I will be making them again, I would also try making them with golden syrup as I think that would work well too. Now I must confess that I only had 15g of coconut so used some mixed seeds to replace it, so this is obviously also an adaptable recipe and if you don't like coconut, you know that you can replace it with small seeds, like sesame seeds.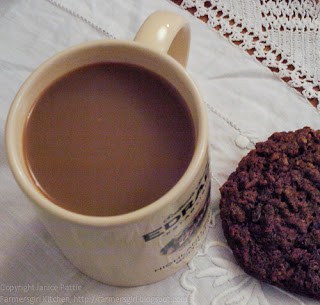 And now for the well-deserved cup of coffee. As my regular readers will know, I've reviewed quite a few different ground coffees recently. Just before I went on holiday, I was sent some coffee by Aromo. Aromo is a company run by three ordinary guys who simply live and love espresso and the mystic of coffee. The main focus of their business is espresso coffee in single serving pods, but as I don't have a pod machine, I was sent the Aromo Bounce 100% Arabica ground coffee which retails at £4.00 for 250g.
We realy enjoyed this coffee, not being espresso fans we made our coffee in our filter machine and it was excellent, a really smooth rich blend at a very reasonable price and went very well with the Treacle Bites. If the pods are anything like as good as this, then they are well worth trying. Aromo coffee is available as ESE Coffee Pods Senseo Compatible Coffee Pods Nespresso Compatible Capsules
I was supplied with Aromo Bounce Ground Coffee for review, I was not paid for this review and all opinions are my own.