Cheesy Treats for Easter Weekend
It's not been possible for me to make any Easter treats to share with you, so instead I'm going to share some quirky recipes created by gastronaut Stefan Gates for Castello cheese which you can make to impress your guests this Easter.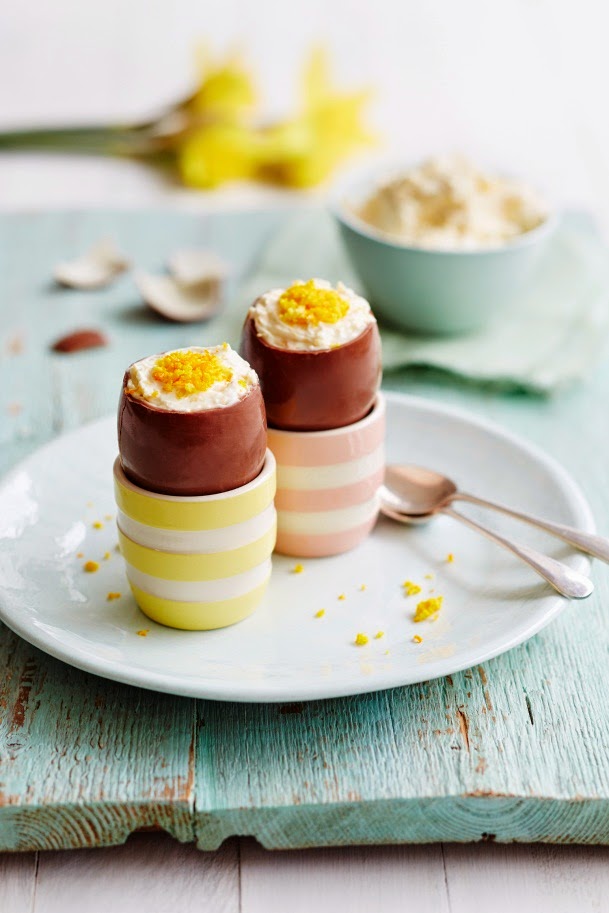 Chocolate eggs are so last Easter!! This
year, speciality cheese brand Castello has paired up with gastronaut and
foodie adventurer Stefan Gates to creatively craft innovative Easter egg
recipes with a cheese twist. Stefan has turned tradition on its head with
a cheeky take on the classic egg and soldiers, and a chocolate cream egg
that is bound to make your guests do a double take.
Proving the versatility of cheese, Stefan
has used the Castello range to devise playful recipes that are sure to
inject some fun into your Easter weekend. And to ensure the holiday wows,
top wine expert Matt Day has co-ordinated delicious and surprising drinks
pairings to get the best flavours from your meal.
Stefan Gates said, "Castello cheeses are
so versatile, from the tangy taste of Tickler extra mature cheddar to the
lusciously soft Pineapple Halo – you can really have fun with them even
turning some into a sweet treat. If you're not constricted by cheese convention,
you will be surprised by the flavour combinations out there. I wanted to
rethink the Easter cream egg and traditional egg and soldiers turning them
into crowd pleasers yet still easy to make at home."
~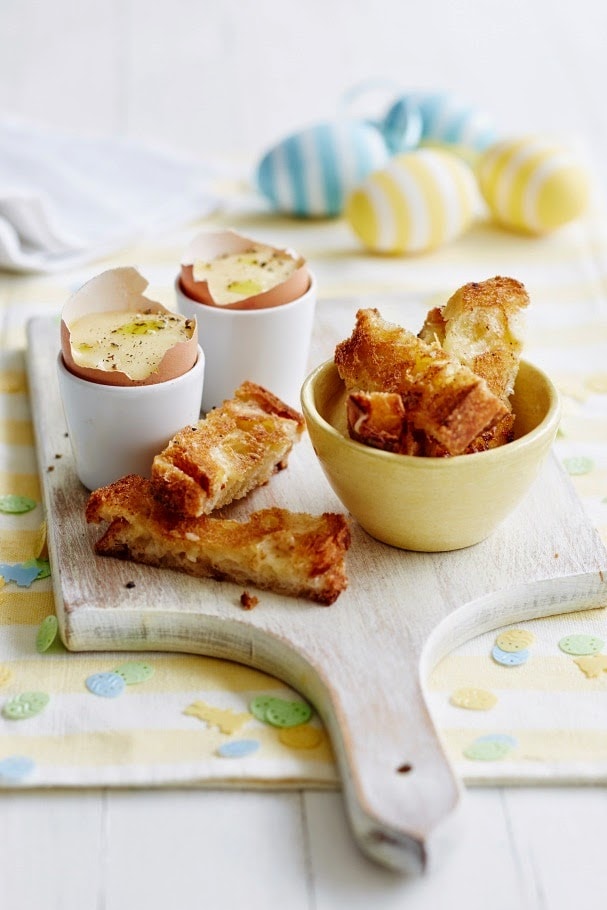 Ticker and Cider Fondue
Truffled Tickler and cider fondue served
in an egg shell with Tickler soldiers fried in beurre noisette.
Ingredients (serves 4)
350g Castello Tickler Extra-Mature Cheddar
(grated)
200ml fine strong cider
1 tablespoon of cornflour, mixed to a paste
with 2tbsp cold water
½ tsp Worcester sauce
1tbsp truffle oil
Soldiers
8 slices sourdough
200g Castello Tickler Extra-Mature Cheddar
thinly sliced
100g butter for frying
Juice of 1 lemon
Method
1. Put
a thick-bottomed saucepan on a medium heat, add the cider and bring to
a simmer. Reduce the heat, mix in the grated cheese, cornflour paste and
Worcester sauce. Stir gently until all the cheese has melted. It should
be as thick as Greek yoghurt, so if you need to thicken or loosen it add
more cheese or cider. Keep it warm until you're ready to serve
2. Lightly
toast the sourdough slices, then make four unbuttered sandwiches with cheddar
slices inside
3. Heat
a large knob of butter in a frying pan until sizzling, then just as the
butter turns brown, add 1 tbsp of lemon juice and turn one of the sandwiches
in it to coat and continue frying until slightly crispy. Repeat with the
rest of the sandwiches, then slice them into soldiers and put them on plates
4. Stir
½ tbsp. truffle oil into the fondue, taste and add another ½ tbsp. if you
need to (truffle oils can vary in strength). Put each egg-shell in an egg
cup and fill with the fondue (there'll be more leftover for seconds!)
and serve
Drinks
Why not complement the savoury eggs with
a chilled glass of champagne or an icy beer. Choose one of Matt Day's
suggestions to bring out the tangy taste of the Tickler:
Leffe Blonde Beer (£2.99 widely available)
Tesco finest* 1531 Blanquette de Limoux
(£8.49)
Le Mesnil Blac de Blancs Champagne 2004
(Waitrose £33.99)
~
Who would have thought cheese tastes great
with chocolate? True to form, Stefan surprises with a delectable dessert
that is both quick and fun to conjure up. This recipe is the perfect way
to enhance both the pineapple, papaya and almond aromas found in the soft
cheese, Pineapple Halo.
Creamy Pineapple and Chocolate
Eggs
Pineapple Halo mixed with crème fraiche
in a chocolate egg with orange zest
Ingredients (for 2 eggs)
2 hollow chocolate eggs
½ wheel of Castello Pineapple Halo
4tbsp crème fraiche
Zest of one orange
Method
1. Carefully
slice the top off the chocolate eggs using a hot knife dipped in water
from a boiled kettle. Put them into egg cups
2. Put
the cheese, crème fraiche and ¾ of the orange zest into a bowl and mix
it together with the back of a fork. Fill each eggshell with the mixture,
and then put the remaining orange zest on top to look like the yolk
Drinks
This naughty but nice chocolate treat works
perfectly with one of the following:
Mimosa (Champagne, Grand Marnier, Fresh
Orange Juice)
Brown Brothers Orange Muscat & Flora
(Ocado £7.49)
Fontana fredda Moscato D'Asti Moncucco
(Asda £12.47)
Pineapple Halo – Indulge in alluring chunks of pineapple, chopped
papaya and almonds with this lusciously soft cheese.
Creamy Blue – A unique cheese that was
created to give the softness of a Brie with the sharper flavour of a blue
cheese; a beautiful combination resulting in a smooth yet flavoursome cheese.
Creamy White – With a wonderfully creamy
texture and rich buttery taste, this cheese is ripened in a way so, unlike a
traditional Brie, it has a consistently soft centre.
Tickler Cheddar –
This extra mature Cheddar, made in the heart of Devon, has a crumbly texture
and delicious, tangy taste.
Traditional Danish Blue – The most powerful of our cheeses, it's a
full-flavoured, salty blue cheese. It was developed to get the taste of
Roquefort using cow's milk instead of sheep's milk.
Extra Creamy Danish Blue – This bold, creamy cheese is rich with veins of
salty flavour. Less feisty than our Traditional Danish Blue, it still has a
kick.
For more information about the Castello
range visit: www.castellocheese.co.uk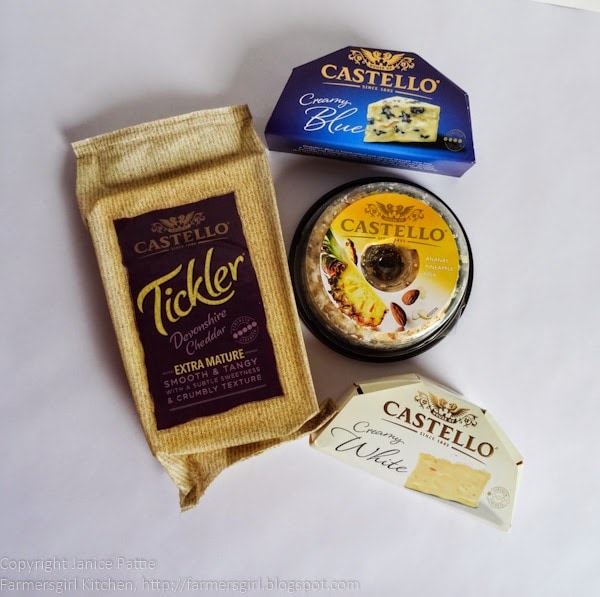 I was not paid for this post, but received some packs of Castello Cheeses to try.