Sweeet Biscuits, Crisps and Juice on my Kitchen Table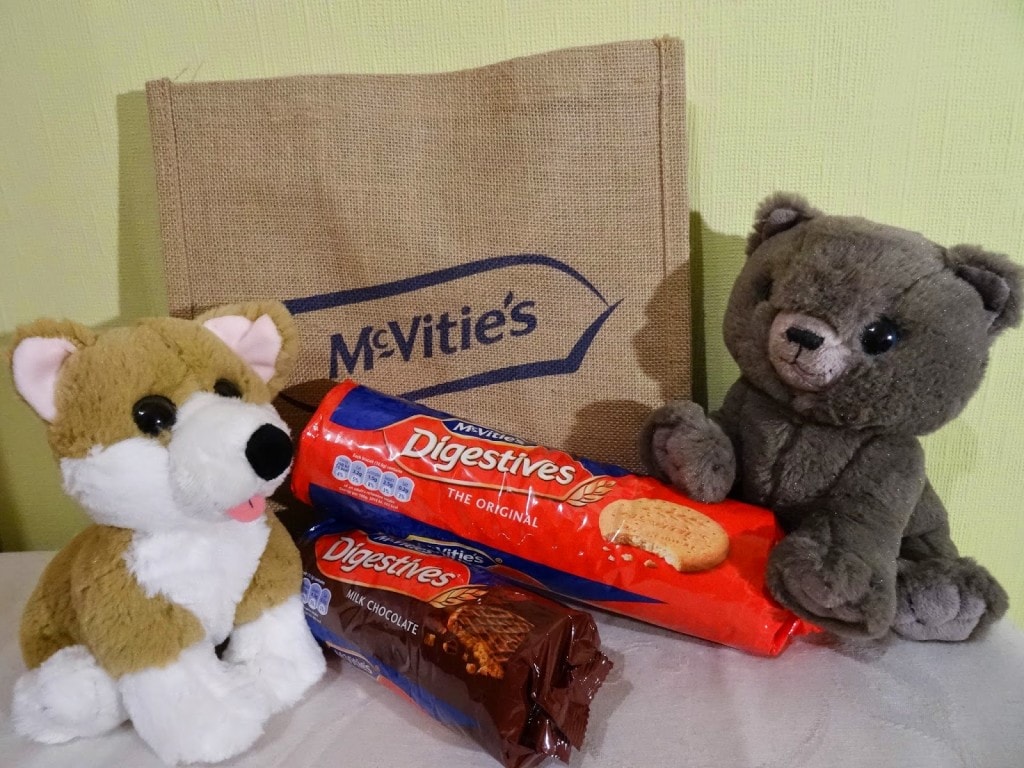 You may have seen the TV adverts featuring the McVittie's Sweeet friends, in the latest on-pack promotion from McVitie's, they are giving you a chance to win your own McVitties Sweeet friend.


McVities Digestives are such a classic, they are nice on their own with a cup of tea and they also taste great with cheese, the sweet wholemeal flavour acts as a perfect foil to a good cheddar or blue cheese. Digestives can also be crushed for cheesecake bases or sprinkled on top of yogurt, ice cream or crumbles.
The Chocolate Digestives take me right back to my childhood when they were a real treat, sweet and half covered with thick chocolate, they never disappoint. Look out for the McVitie's sweeet friends on-pack promotion which runs until July 2015, you will have a one in ten chance to win either the Chocolate Digestives kitten, the Digestives puppy, the BN owl and the Jaffa Cakes tarsier. The on pack promotion will be present on 35 million packs across nine core McVitie's sweet biscuit and cake products including Jaffa Cakes, Chocolate Digestives and Hobnobs.
The sweeet friends are lovely and soft and cuddly and I'm sure there is someone in your life who would love to own one. Find out if you are a winner by texting the unique on-pack promotion code from the promotional range on McVities's products. There are also a number on no purchase necessary opportunities to win a McVitie's sweeet friend spanning across the McVities's website, social media and media promotions.
Rating:
sweeet friends 10/10
McVities Digestives 10/10
Chocolate Digestives 9/10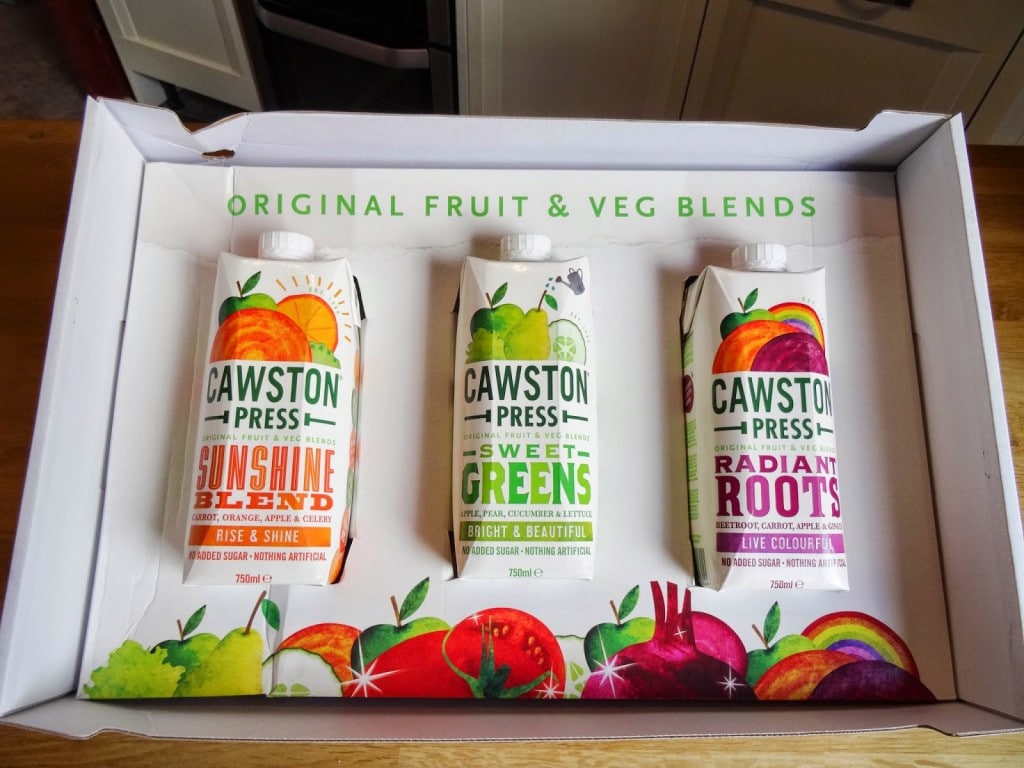 Sweet Greens Are Made Of These…
New vegetable and fruit blends set the bar for juice flavour
Don't vegetate with the same old boring juices. Instead, reach for one of Cawston Press' three new vegetable and fruit blends –
'Sweet Greens', 'Sunshine Blend' and 'Radiant Roots' – delicious and intriguing drinks that will revitalise your taste-buds.
Featuring nothing but pressed fruit and veg (Cawston never use concentrate) and all-natural ingredients, each is free from any
added sugar, sweeteners, preservatives or colourings. The drinks are carefully blended and mixed with a little water to make them
refreshingly drinkable.
Crafted by the company's Master Blender, Micah Carr-Hill, the distinctive recipes are inspired by juice bar culture and
the fresh ingredients found in kitchen gardens. The balance of each flavour presented a significant blending challenge. Just finding
the perfect mint for 'Sweet Greens' proved hard, as Micah wanted to replicate the gentle 'grassy freshness' of the mint from his
garden, rather than the often harsh mint used in chewing gum and chocolate.
Rating:
Sweet Greens (39% apple, 30% Iceberg lettuce, 8% pear, 2% cucumber, lemon, water and garden mint extract)- This one really didn't do it for me, I found the cucumber and lettuce taste was overpowering and while I did drink the juice, I didn't find it pleasant.4/10
Sunshine Blend (26% apple, 24% carrot, 21% orange, 7% celery root juice, lemon and water) Really tasty and fresh flavour with a hint of sweetness 8/10
Radiant Roots (47% apple, 24% carrot, 8% beetroot, lemon, water and ginger extract) This juice combo went down a lot better, the sweetness of the beetroot came through with only a hint of earthiness, the ginger came through well and this was an enjoyable drink. 7/10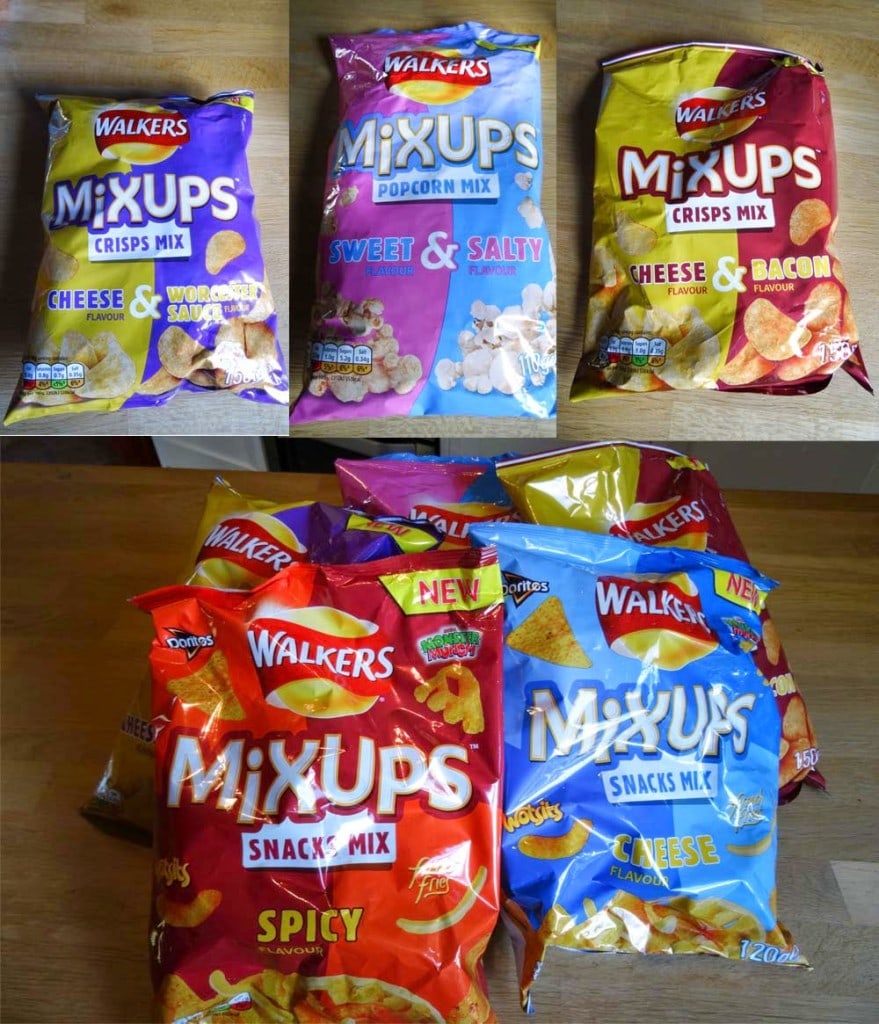 Do you remember how as children you used to mix up all your snacks in one bag? We used to call it Duck Soup, I've no idea why but everyone would share their different crisps and snacks and even peanuts and we each ended up with a mixed up bag of 'Duck Soup'. Well Walkers have now created great big sharing bags already mixed up for us!
New MixUps Snack Mix sees family favourites Doritos, Wotsits, French Fries and Monster Munch come together in one sharing bag!
Walkers, the UK's number one brand for snacks, is announcing the launch of a new range that's fun for the whole family – MixUps. New Walkers MixUps brings together the whole family's favourites, which offers a variety of tastes, textures and shapes for the first time in one tasty bag that will keep everyone happy on those family nights in.
Walkers MixUps are available in three mix varieties – Snacks, Popcorn and Crisps – so there's something for everyone!
The Snacks Mix – available in Spicy and Cheese flavours, sees family favourites Wotsits, French Fries, Monster Munch and Doritos come together in one sharing bag, for an incredibly tasty combination!
Adding another dimension to the range, the new and delicious Popcorn Mix is available in Sweet & Salty and Sweet & Spicy flavours. Popcorn has become a popular light snack, with many families reaching for new and different flavour combinations, making MixUps Popcorn Mix the ideal Saturday movie-night accompaniment.
And of course, any Walkers range wouldn't be complete without classic crisps! The mouth-watering MixUps Crisps Mix is an exciting addition to the range. Available in tasty Cheese and Bacon and Cheese and Worcester Sauce flavours, the two complementary flavours in each bag ensure that there's something for everyone.
Walkers MixUps are available now in Snacks, Popcorn and Crisps varieties at retailers nationwide with an RRP of £1.99.
To find out more about the range of Walkers MixUps, visit www.walkers.co.uk/crisps-range/mixups.
I enjoyed the mixed up crisps and snacks more than I thought I would, I would particularly recommend the Cheese and Worcester Sauce Mix Ups Crisps which were a great combination.