Slow Cooked Festive Stuffed Apples
I had never baked apples in the slow cooker before, but they are amazing, holding together really well as long as you remember to run your knife around the middle to give them a little expansion room or they might explode! This recipe was inspired by a savoury baked apple recipe I saw in a magazine.
Festive Savoury Stuffed Baked Apples
2015-12-07 19:58:09
Serves 4
Cooking apples stuffed with haggis, slow cooked on a bed of red cabbage with cranberries.
Ingredients
1/2 red cabbage, finely shredded
1 red onion, finely sliced
2 tbsp dark brown sugar
2 tsp vinegar
cinnamon stick
6 cloves
125ml vegetable stock
50g fresh or frozen cranberries
4 large apples (I used Bramleys)
450g Haggis or Vegetarian Haggis
Salt and freshly ground black pepper
Instructions
Place the shredded red cabbage, cranberries (retain four cranberries for decoration) and sliced onion in the base of the slow cooker with the vinegar, sugar, stock, cinnamon and cloves, season with salt and pepper.
Core the apples with a small sharp knife and run the knife around the middle of the apple to pierce the peel.
Fill the cavities in the apples with haggis and make the remaining haggis into balls about the size of a walnut.
Place the stuffed apples and the haggis balls on top of the cabbage.
Cook in the Slow Cooker for 7-8 hours
Notes
Serve with mashed potato or polenta
Farmersgirl Kitchen https://www.farmersgirlkitchen.co.uk/
This is my entry for the December 2015 Slow Cooked Challenge, being hosted this month by Lucy at Baking Queen 74, the theme is Christmas and this red cabbage and cranberry combo is definitely in the festive zone.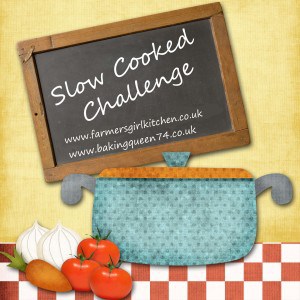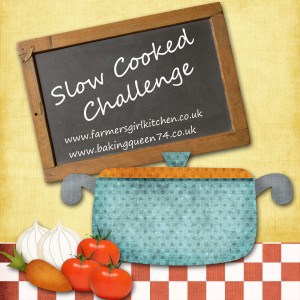 Full details of how to enter the Slow Cooked Challenge are available on the Slow Cooked Challenge page, we would love you to join us.