Four Cheese Bourekas and a review of Fress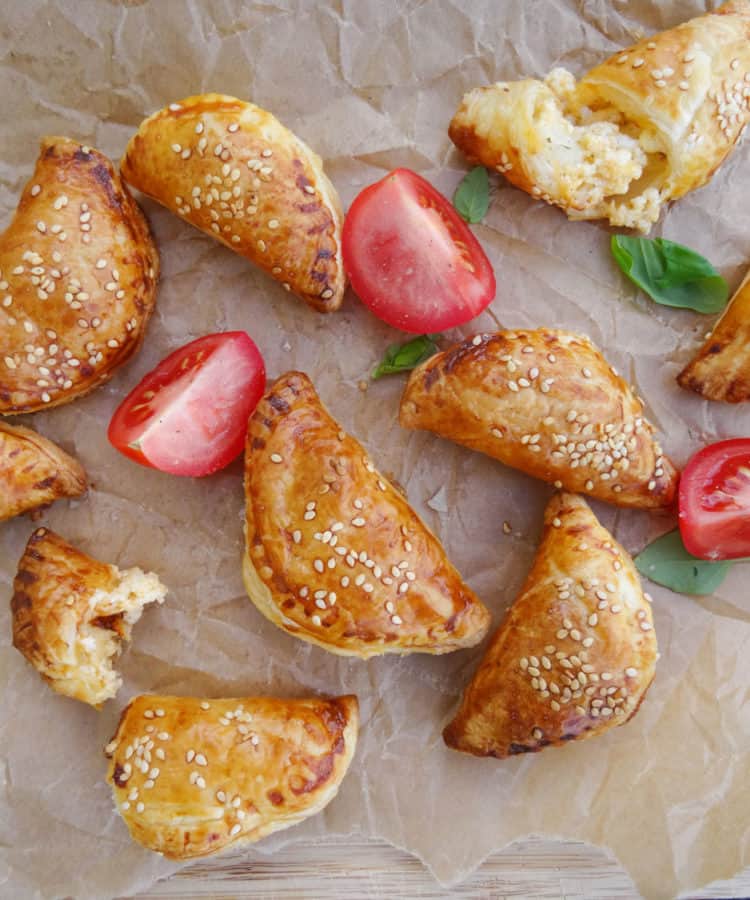 Four Cheese Bourekas is a recipe from FRESS: Bold Flavours from a Jewish Kitchen by Emma Spitzer. The definition of FRESS is to eat copiously and without restraint which seems like a good plan when the recipes in this book are so delicious.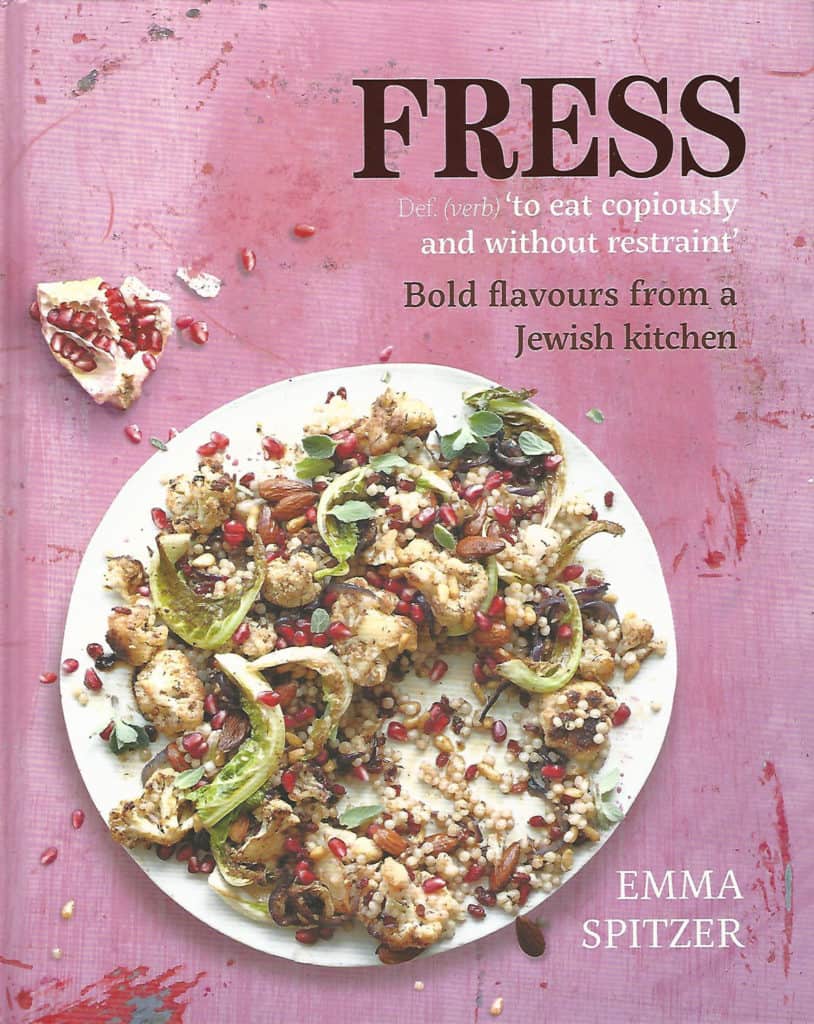 Emma Spitzer is a Masterchef finalist and, having just recently watched the finals of this year's Masterchef, that means she is a pretty fine chef. All of the finalists in Masterchef make incredible food with the decision about who takes the prize depending on how things go in the last few hours in the kitchen. I was delighted to have the opportunity to review Fress, as I have a little bit of a history with Jewish cookbooks.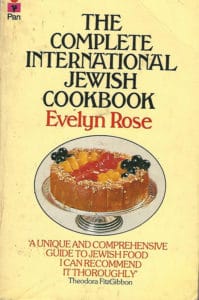 One of my favourite student cookbooks was The Complete International Jewish Cookbook by Evelyn Rose, there I was in my student flat with a boiling fowl, making chicken soup and stripping the meat from the carcase to make her recipe for Chicken Risotto which contained powdered ginger, currants and pine kernels. Even then I was a lover of leftovers, but enough of that, let's have a look at what you will find in FRESS,
Emma introduces herself with a few pages about her cooking heritage, her cooking journey and her Masterchef experience This is followed by a useful chapter on Store Cupboard ingredients. Spice mixes play an important role in Emma's recipes and she provides recipes for mixing your own Lebanese 7-Spice Mix, Za'atar, Dukka and Harissa.
We then move on to Small Plates for Sharing which are integral to many of the feasts for Jewish holidays, recipes include Caramelised Onion and Potato Pierogi, Lamb Kibbeh with Green Tahini, Four Cheese Bourekas (recipe below), Lox, Labneh and Fried Fish Balls.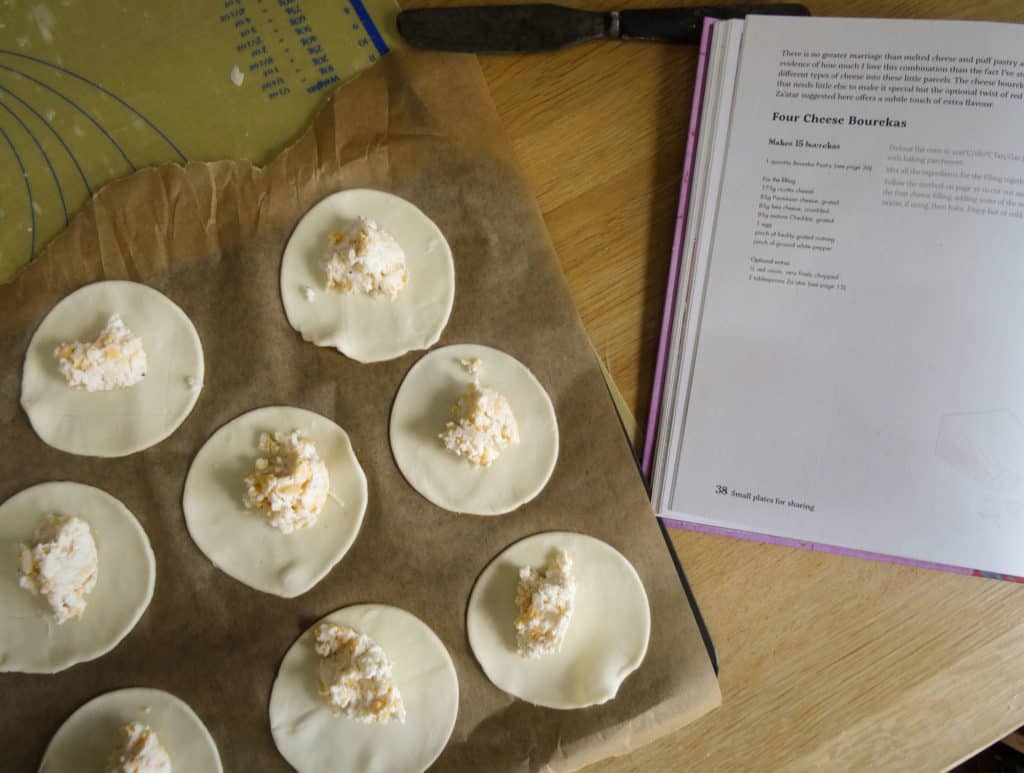 No Jewish cookbook would be complete without some chicken soup, known as 'Jewish penicillin', Helen's recipe is her Mummy's Golden Chicken Soup with Kneidlach. The soup recipe that really stood out for me was Jerusalem Artichoke Soup with Toasted Hazelnuts which sounds like an amazing flavour explosion.
In Big plates with meat and fish, the standout recipes were Chicken Pistachio Meatballs with Coriander Tahini, Lamb Shank Tagine, Sticky Beef Short Ribs and Sticky Pomegranate Salmon. Vegetarians are well catered for too in Big plates with veg. I loved the recipes for Preserved Lemon Orzo and Butternut Squash Risotto with Sugar Snap Peas, Moroccan Stuffed Sweet Potato with Braised Fennel and Tahini and Tomato-stuffed Aubergine with a Sourdough and Walnut Crumb.
I love pickles and will definitely be making some of the Dressings, pickles and sauces in FRESS. Chrain is a new dish to me combining horseradish and beetroot, it sounds lush! To accompany the Big plates, there are Sides and salads including recipes like Wild Rice Salad, Chilli and Coriander Fried Potatoes and Pan-fried Cauliflower with Caramelized Red Onions, Toated Israeli Couscous and Almonds and Fennel, Orange and Carrot Salad all of which are all on my list to make.
We are spoilt for choice in Sweets & baking with Black Halva and White Chocolate Ice Cream, Cherry Sticky Toffee Puddings with Caramelized Pecans and Tangerine Sauce and Baklava with Chocolate Drizzle.
The Verdict: Fress is an accessible cookbook with a range of traditional and not so traditional recipes. The recipes are clearly laid out and easy to follow and there are photographs for nearly all the recipes so you know what you are aiming for.
The Recipe: I made Four Cheese Bourekas from Small plates for sharing. They are pretty easy to make with ready-made puff pastry and the four cheese filling was delicious, a bit like an upmarket cheese pasty! They are great for a snack, as an appetiser or if you make them a bit bigger, they would work really well as a packed lunch.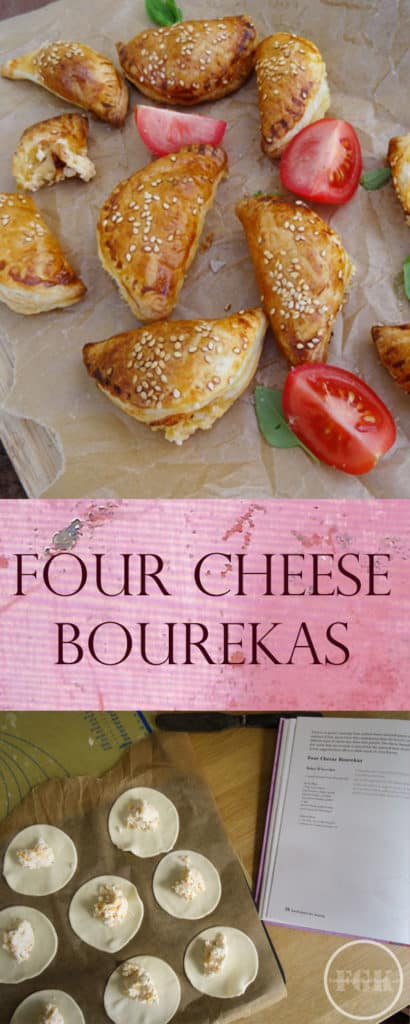 PIN FOR LATER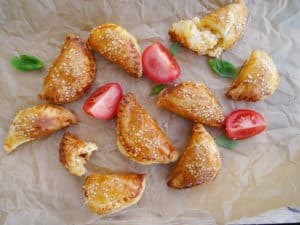 Four Cheese Bourekas
2017-05-17 20:28:21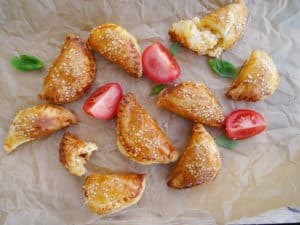 Ingredients
1 sheet of ready-rolled puff pastry
plain flour for dusting
beaten egg to glaze
2 tablespoons sesame seeds
1 tablespoon nigella seeds
For the filling
175 g ricotta cheese
85 g Parmesan cheese, grated
85 g feta cheese, crumbled
85 g mature Cheddar, grated
1 egg
pinch of fresh grated nutmeg
pinch of ground white pepper
Optional Extras
1/2 red onion, very finely chopped
2 tablespoons Za'atar
Instructions
Pre-heat the oven to 200C/180C fan/Gas Mark 6 and line 2 baking trays with baking parchment.
Mix all the ingredients for the filling together in a bowl.
Unroll the sheet of pastry on a lightly floured work surface and roll out by another 2.5 cm all round.
Using a 9 cm square pastry cutter, cut out squares from the pastry, you should get around 12 from the sheet. Wrap the pastry trimmings in clingfilm and place in the fridge for re-rolling to make more squares later.
Place a heaped tablespoonful of the filling in the centre of each square then brush beaten egg around the border with a pastry brush and fold over to make a triangle.
Seal the triangles by pressing down on the edges with the tines of a fork and at teh same time making a nice pattern.
Place on the lined trays.
Re-roll and repeat with the chilled pastry trimmings.
Brush each of the triangles liberally with beaten egg (this alsohelps to prevent the filling from leaking out while baking and sprinkle over the sesame and nigella seeds.
Bake for 25-30 minutes until puffed up and golden. Enjoy hot or cold.
Notes
I didn't have a square cutter, so used a round one. I also didn't have any nigella seeds so used more sesame seeds.
Farmersgirl Kitchen https://www.farmersgirlkitchen.co.uk/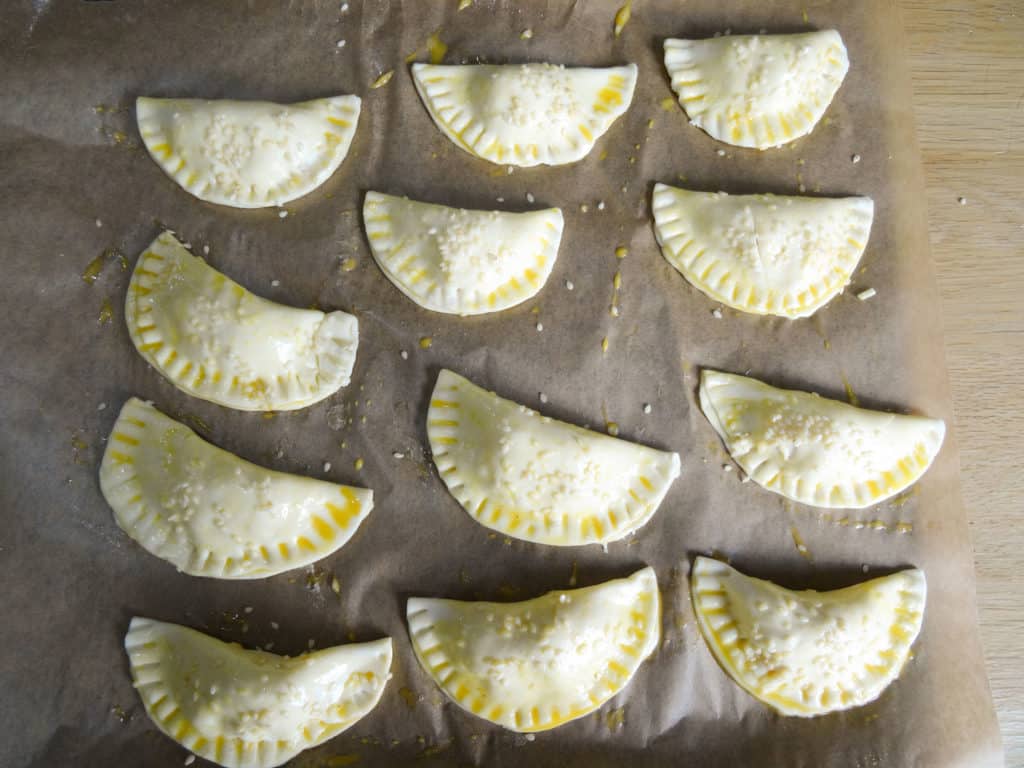 Four Cheese Bourekas ready for the oven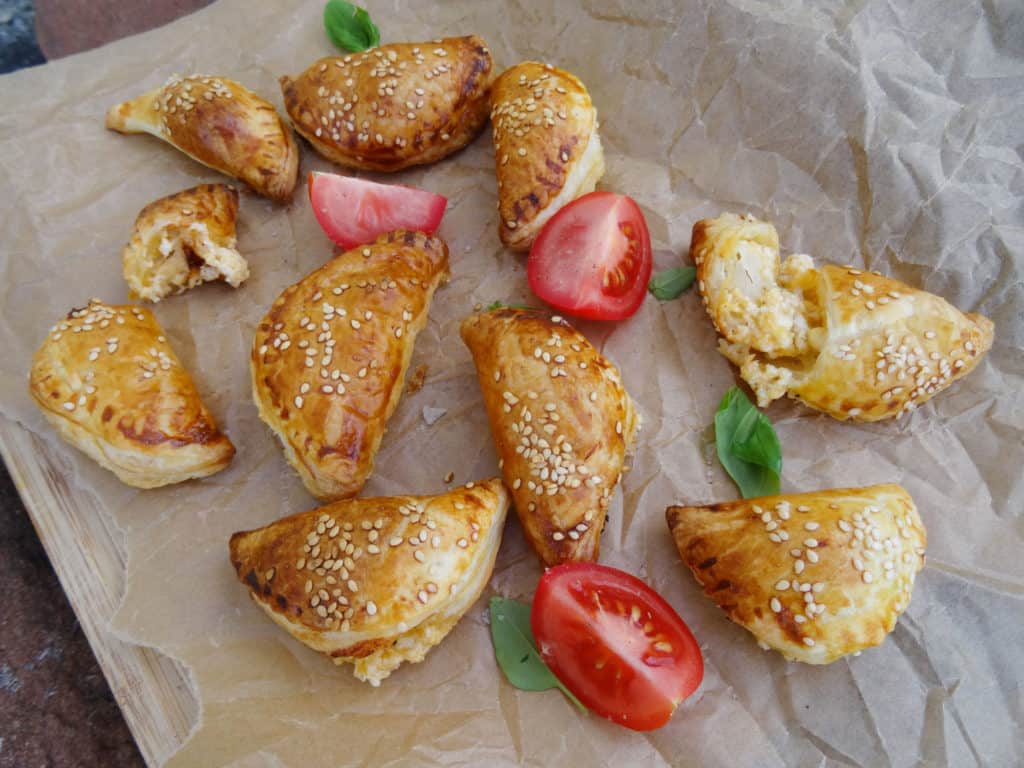 I served the Four Cheese Bourekas for lunch with tomatoes and basil, flavours complemented the cheese and pastry. Which recipe would you choose to make?