I'm so excited to bring you these 9 Awesome Cookbooks and the Best Giveaway, including cookbooks by Mary Berry, Donna Hay and Sally McKenney. I'm a bit of a cookbook addict and I know a lot of my readers feel the same way, so I'm bringing you a mini-review of each of these 9 new cookbooks and the chance to win the whole darn lot of them.
Even better, the giveaway is timed to end so that your prize should be with you for Christmas. That way you can enjoy the books yourself over the festive season or, if you can bear to part with them, you can give them as gifts to your favourite friends and family who love to cook.
Mary Berry's Complete Cookbook (New Edition)
I make no apology for my love of all things Mary Berry. I honed my cooking and baking skills with her cookbooks in the 1980s and enjoy her down to earth approach and recipes that work every time. As a Complete Cookbook, I was impressed that I was able to look in the index for a 'pheasant' recipe and find three excellent recipes. I made the Normandy Pheasant recipe and it was completely delicious and very easy to follow.
Packed with over 650 recipes, Mary Berry's Complete Cookbook is the biggest ever cookbook from Britain's best-loved cookery writer that no kitchen should be without.
This updated edition of Mary's million-selling cookbook is the only Mary Berry book that you need. Every delicious recipe is accompanied by beautiful photography to inspire your cooking, with an eclectic mix of traditional dishes, exotic flavours, and classic Mary Berry recipes. Learn to make every type of dish, including soups, poultry, game, pies, desserts, cakes, and vegetarian favourites. Every enticing chapter starts with a know-how section to get you ready to cook and shows you Mary's trusted tips and tricks.
These tried and tested Mary Berry recipes include mouth-watering meals for family and friends no matter the occasion, including hummus, salmon roulade, prawn tacos, chicken pot pie, English roast beef, moussaka, dairy-free lasagne, croissants, key lime pie, and ginger snaps!
Perfect for everyday cooks and Mary Berry fans alike,
Who is it for?
Perfect for beginner cooks, as the recipes are clear and the DK photographs and techniques are always fabulous. It's also a book worthy of a place on the shelf of an experienced home cook and will be my new 'go to' for all kinds of recipes. There is a chapter of vegetarian recipes, but it is quite meat-heavy in content, so not a gift for a vegetarian
The Verdict
This is an absolute cracker of a book, the recipes include traditional favourites and more adventurous dishes too. It is quite heavy but sits open beautifully so you can easily see the recipes while cooking.
Mary Berry's Complete Cookbook, published by Dorling Kindersley, RRP £30
Ginspiration: Infusions * Cocktails * Tips * Tricks & Titbits
Gin has had a major revival recently so there is bound to be someone you know who loves this versatile spirit and would appreciate this connoisseur's companion to choosing and infusing your favourite tipple!
Learn how to properly serve and taste gin, what flavours to look out for, and even how to infuse your own.
Attention trendy millennials and city dwellers! Ginspiration is here to be your guide to one of the UK's favourite drinks. Find out how to reinvent classic cocktails, like the Martini and Gin Fizz, and try spectacular recipes from the mind of award-winning mixology maestro Klaus Rainer. This stylish book also explains the science behind gin and features an alphabetical breakdown of global suppliers of the spirit.
Perfect for gin aficionados and aspiring mixologists alike, Ginspiration is the only book you'll need, combining comprehensive information on the drink with unique cocktail recipes.
Who is it for?
Gin lovers, cocktail makers and anyone who would love to make their own gin infusions.
The Verdict
This is a fun book full of excellent information and beautiful photographs. I was pleased to see a couple of Scottish Gins featured in the A-Z, it's a truly international listing and couldn't possibly cover all the gin brands on the market. I loved the infusions chapter, I recently made Hedgerow Vodka and I have made sloe gin before, but there are so many other infusions ideas that I really want to try. The Cocktails look fabulous and not only are there specific recipes there is also information on how to make your own signature mix. Ginspiration is well worth popping into the Christmas stocking of the gin lover in your life.
Ginspiration with contributions by Klaus St Rainer, published by Dorling Kindersley RRP £9.99
Sally's Cookie Addiction

If you haven't visited Sally's Baking Addiction website, then you really really should! Sally McKenney makes the most delicious sweet treats and her new book Sally's Cookie Addiction is just as good as last year's Sally's Baking Addiction
Bake exquisite cookies, bars, and doughs perfectly every time with Sally's Cookie Addiction. A world of baking wonder awaits you and all the lucky people you'll share them with.
Are you ready to sink your teeth into Brown Butter Toffee Chocolate Chip Cookies? How about Peanut Butter Nutella Swirl Cookies or Pumpkin Spice Sugar Cookies? Featuring a mouthwatering selection of cookies, cookie bars, cookie dough dips, slice-and-bakes, no-bakes, and more, Sally's Cookie Addiction features dozens of exciting flavours, including chocolate, butterscotch, peanut butter, sugar, coconut, lemon, s'more, and oatmeal, oh my!
The best part? Sally's Cookie Addiction, Sally will tell you how to make each and every cookie in the book ahead of time. So, if you want to start preparing for the holidays, or if you just like keeping cookie dough in your freezer for those critical cookie emergencies!
Complete with tips on how to bake the perfect cookie and gorgeous photography, Sally's Cookie Addiction is the only cookie book you need on your shelf. Get ready for your kitchen to be the most popular room in the house while the smells of Warm Chocolate Chunk Skillet Cookies, Lemon Crème Sandwich Cookies, and Soft-Baked Sugar Cookie Bars emanate from the oven!
Who is it for?
Anyone who loves to bake or eat cookies. Don't be put off by this being a US author, the recipes have measurements in grams as well as cups,
The Verdict
I can't think of a more fun book to give to a keen baker or even a beginning baker. Cookies are quite easy to make and Sally provides lots of help on technique as well as a book packed full of the most tempting photographs.
Sally's Cookie Addiction by Sally McKenney, published by Race Point Publishing RRP £16.99
The Geeky Chef Strikes Back

The Geeky Chef Strikes Back is your chance to finally drink Estus, nibble Seed Cakes, slurp White Dragon Noddles, and a lot more.
The Geeky Chef is back with even more delicious, real-life recipes from your favourite sci-fi and fantasy books, movies, TV shows, and video games. Discover the foods you've always wanted to taste from realms like The Lord of the Rings and Harry Potter to The Legend of Zelda, Firefly, Minecraft, Final Fantasy, and more.
In the Geeky Chef Strikes Back, author Cassandra Reeder has imagined the delicious foods in these faraway worlds and created recipes that are sure to transport you to galaxies far, far away. So if you've found yourself craving Pumpkin Juice from Harry Potter, Lingonberry Pancakes from The Big Lebowski, Norma's Cherry Pie from Twin Peaks, Wife Soup from Firefly, or the White Dragon Noodles from Blade Runner, then look no further.
With easy step-by-step instructions and fun theme photos, these creative recipes are perfect for your next big viewing party or your standing reservation for a party of one. Fantasy foods are fantasy no longer!
Who is it for?
Anyone who loves Sci-fi and Fantasy whether in books, films, tv or video games. Perfect for geeky parties or evenings in watching back to back box sets of your favourite shows.
The Verdict
Sci-fi and Fantasy are really popular just now particularly shows like Game of Thrones and games like Minecraft. The recipes are well laid out and each one has a substantial introduction explaining what inspired the recipe. Definitely, a fun book that would be appreciated by the geeks it is aimed at.
The Geeky Chef Strikes Back, by Cassandra Reeder published by Race Point Publishing, RRP £12.99
The Marley Coffee Cookbook

Who knew that legendary reggae musician Bob Marley dreamed of becoming a coffee farmer? Not me, that's for sure. Bob Marley's son Rohan has fulfilled that dream and is now a coffee grower with a company that produces ethically farmed, artisan roasted coffee of the highest quality. The Marley Coffee Cookbook is inspired by that love of coffee.
From Bob Marley's son, Rohan Marley and expert chef, Maxcel Hardy, comes The Marley Coffee Cookbook. This collection of recipes infuses incredible recipes with coffee for something truly unique.
Rohan Marley kicks off each chapter of The Marley Coffee Cookbook with anecdotes about growing up as the son of legendary musician Bob Marley, who to this day is revered by music lovers young and old. The chapter One Love, for instance, begins: "One Love is one of my father's biggest songs, and I wanted the coffee that I named One Love not just to be a standout single origin coffee, but to really resonate with people."
Chef Maxcel Hardy's flawless recipes and expert guidance on the best way to infuse a dish with coffee flavour make this book a very special addition to any cookbook collection. Hardy speaks to the importance of choosing a particular coffee to harmonize with certain foods, and he shows how easy it is to use coffee in a way that it brings out the best in everything from savoury dishes to sweet treats.
There's a strong coffee connection for each dish, whether it is infused with a mocha theme or it rocks an espresso flavour. These are dishes you won't find anywhere else, to name a few:
Sweet potato waffles with a pecan coffee syrup
Grilled salmon with a coffee maple, and ginger glaze
Fried plantains with coffee sugar
Coffee spice blend-marinated lamb ribs with guava BBQ sauce
Who is it for?
Coffee lovers, Bob Marley fans and anyone who loves delicious Jamaican inspired recipes.
The Verdict
I was really surprised by this book. At first glance, the cover didn't really pull me in, but it is really worth investing some time to read the recipes as they are really inspiring. I love coffee but I realise I haven't explored its full potential as an ingredient. The recipes are not all highly spiced and full of tropical ingredients, there are a few of those but mostly they are just food that you look at and really, really want to eat. I'll be trying out the Grilled Honey-Glazed Chicken very soon.
The Marley Coffee Cookbook by Rohan Marley and Maxcel Hardy III with Rosemary Black, published by Quarry Books RRP £16.99
Simple Essentials Christmas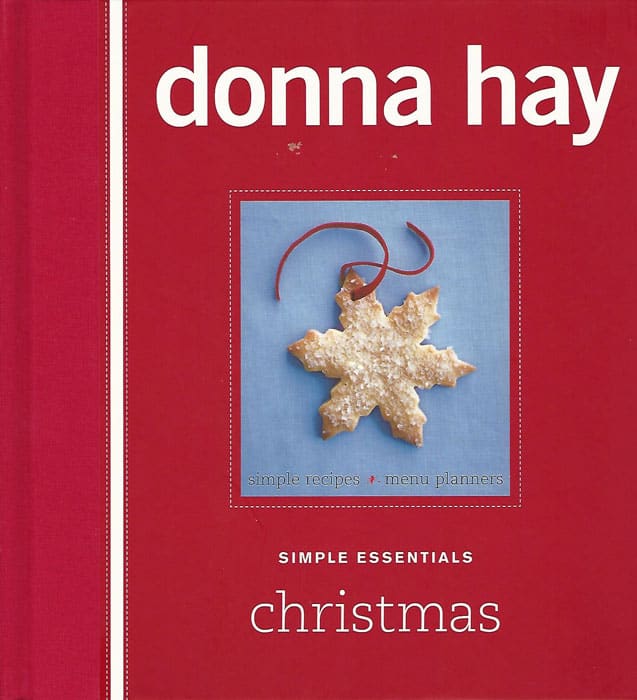 Although I'd heard of Donna Hay it was only recently that I became a real fan when I reviewed Basics to Brilliance just a few weeks ago. Simple Essentials Christmas is of the same high standard and the ideal way to plan and create an incredible Christmas feast.
Take the hassles out of the festive season with this stunning gift-format book, SIMPLE ESSENTIALS CHRISTMAS. Donna Hay, whose bestselling books, MARIE CLAIRE COOKING, DINING, FAST FOOD AND FLAVOURS and OFF THE SHELF, made food simple, fresh and modern, changes the way you think about Christmas. SIMPLE ESSENTIALS CHRISTMAS features simple recipes and menu planners for a traditional Christmas, a speedy Christmas and for treats throughout the season.
As a bonus, Donna includes time-saving tips and a 10-page planning section to record notes, handy hints, and things to remember. This is a book that will become a keepsake to treasure for years to come. With its combination of delicious packaging and Donna's signature accessible style, this is a truly beautiful gift to buy others or to keep for yourself. An essential for every kitchen.
Who is it for?
If you're hosting the family Christmas, or are looking for a fuss-free menu then Donna Hay has all the recipes you need. This would make a lovely pre-Christmas gift for any host of festivities.
The Verdict
For a small book, this one is packed full of great recipes with plenty of choices to meet everyone's taste. There's even a chapter on Style & Home full of lovely ideas for your table and home.
Simple Essentials Christmas by Donna Hay, published by Fourth Estate for Harpers Collins, RRP £12.99
An Edge in the Kitchen

Another book for cooking geeks, this time the kind who love to make the very best of their kitchen knives. This is a detailed treatise on choosing, maintaining and using your knives correctly.
The ultimate guide to kitchen knives: how to choose them, how to use them like a pro, and how to maintain them. Featuring tips and techniques, as well as the history and anthropology of kitchen knives, AN EDGE IN THE KITCHEN will become an instant classic and the definitive book on kitchen knives.
Why are most of us so woefully uninformed about our kitchen knives? We are intimidated by our knives when they are sharp, annoyed by them when they are dull and quietly ashamed that we don't know how to use them with any competence.
For a species that has been using knives for nearly as long as we have been walking upright, that's a serious problem. An Edge in the Kitchen is the solution, an intelligent and delightful debunking of the mysteries of kitchen knives once and for all. If you can stack blocks, you can cut restaurant-quality diced vegetables. If you can fold a paper aeroplane, you can sharpen your knives better than many professionals.
Veteran cook Chad Ward provides an in-depth guide to the most important tool in the kitchen, including how to choose the best kitchen knives in your price range, practical tutorials on knife skills, a step-by-step section on sharpening, and more, all illustrated with beautiful photographs throughout. Along the way you will discover what a cow sword is, and why you might want one; why chefs are abandoning their heavy knives in droves; and why the Pinch and the Claw, strange as they may sound, are in fact the best way to make precision vegetable cuts with speed and style.
Who is it for?
If you want to take your cooking and food prep to the next level, you need to sort out your knives. So this book is for the ambitious home cook with their eye on Masterchef or a professional career.
The Verdict
This is a text-heavy book with loads of great advice and a few recipes. My favourite section is the central and colourful Basic Knife Skills Demonstrated. There is lots to learn here, everything from vegetable cutting to carving your festive turkey. Great advice on how to sharpen your knives and which knife to use for which job. Definitely a specialist subject but for those who are keen to learn this is a real resource.
Edge in the Kitchen by Chad Ward, Published by Harper Collins, RRP £14.71
David Rocco's Dolce Vita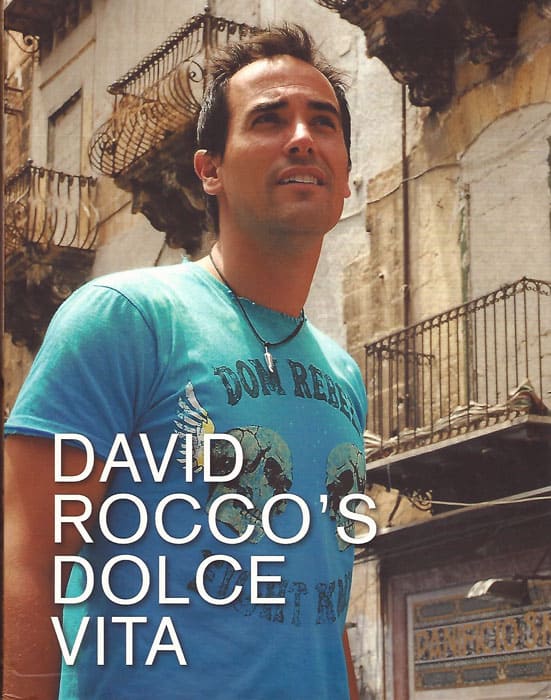 I'd never heard of David Rocco before reading this cookbook. However, it seems that David is a Canadian with Italian heritage and brings his passion for food and life to millions of kitchens every day through his worldwide hit television programs. Airing in more than 150 countries, David Rocco's Dolce Vita, David Rocco's Amalfi Getaway, and David Rocco's Dolce India are each the perfect combination of food, travel and a celebration of the sweet life.
This gorgeous cookbook is full of beautiful food photography and locales, and, of course, David's sense of dolce vita, the sweet life. It's all about taking a relaxed approach to the every day, and the foundation of this lifestyle is simple, elegant food. David emphasizes the philosophy of quanto basta, or just enough, and encourages readers to cook to their own tastes. Here is great food, simply and lovingly created.
Who is it for?
David Rocco's Dolce Vita is for anyone who wants to cook and eat like a real Italian or who simply enjoys reading about Italy and the Italian way of life.
The Verdict
David Rocco's Dolce Vita is a glorious celebration of Italian food and cooking. Take a delicious dip into a book full of beautiful photographs, great stories and remarkably simple classic Italian recipes.
David Rocco's Dolce Vita, published by Harper Collins, RRP £15.05
It's always about the food

The bestselling, passionate and unstoppable women of the Monday Morning Cooking Club return with their third book of much loved and favourite Jewish diaspora recipes. The Monday Morning Cooking Club started as six food-obsessed and unstoppable Jewish Sydney women who loved food wanted to raise money for charity and wanted to create beautiful cookbooks. These books would collect the very best recipes from their community as well as honour and share stories of immigration, survival, joy, family and connection.
Two bestselling books later, and now a group of five women, the Monday Morning Cooking Club returns with a stunning third book which is the result of a two-year search for recipes from the global Jewish diaspora – those much-loved dishes that have nurtured a community and have been feeding family and friends for years.
It's Always About the Food is a delicious and rich, story-filled snapshot of cooking in the global Jewish diaspora, which gathers together the very best cooking and favourite recipes from the global Jewish community, reflecting the Jewish people's love for food and cooking, and the importance of the family table. This book is all about the food, flavours and the most delicious family recipes – not from a restaurant or a test kitchen, but from the heart of the home. Ultimately, in this big, fast world, food is the connective thread that joins us together, and all over the world, the ritual of cooking grounds us connects and nurtures us.
Who is it for?
You don't have to be Jewish to appreciate the great recipes in this book. This is family food, healthy food and comfort food all rolled into one, so if that's your kind of food you are going to love It's always about the Food.
The Verdict
I loved the stories of the different women who make up the Monday Morning Cooking Club and all the cooks who offer up their recipes to be curated by the sisterhood and compiled into this eclectic collection of heritage recipes.
It's always about the food by The Monday Morning Club, published by Harper Collins, RRP £17.74
9 Awesome Cookbooks and the Best Giveaway – THE GIVEAWAY
Complete the actions on the Rafflecopter Widget to enter the giveaway. This giveaway is open to entrants aged 18 or over with a residential address in the UK. Full terms and conditions on the Rafflecopter widget.