I can remember drinking Earl Grey with my Mum when I was in my teens and also asking for a pot of chinese tea to drink with a chinese meal we ate on holiday in Torquay. The first gift my husband gave me was a tin of Gunpowder Green Chinese Tea, so you can see that tea is something I am quite passionate about.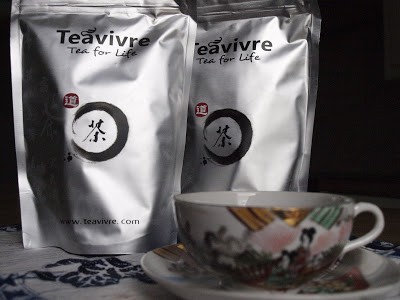 TeaVivre is a company run by a group of tea lovers and aficionados from China, Canada
and France, who all share a passion for drinking great tea and
appreciate the healthy life style it brings. They all live in
China, and frequently travel through the country visiting China's tea
plantations so they can track down only truly exceptional teas. As a
result TeaVivre are able to bring to us the absolute highest
quality Chinese teas that are, wherever possible, 100% organically
grown and produced.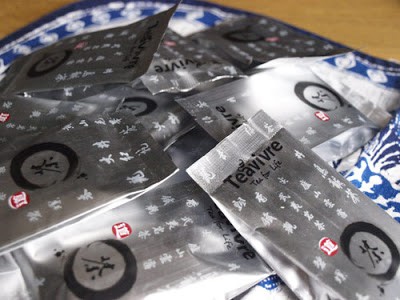 I chose to review the green tea sample pack and the black tea sample pack
The green tea sample pack contains two of each of the following teas, beautifully packaged in individual foil sachets inside a larger sealed foil package:
Organic Superfine Dragon Well Long Jing Green Tea
Organic Tian Mu Mao Feng Green Tea
Organic Hangzhou Tian Mu Qing Ding Green Tea
Superfine Pre-Ming Dragon Well Long Jing Tea
Premium Jasmine Dragon Pearls Green Tea
I tasted the Premium Jasmine Dragon Pearls Green Tea, it had a light clean flavour with just a hint of jasmine, no overpowering floral taste that you can get with some jasmine teas. I drink my tea black and not strongly brewed, so really enjoyed this delicately flavoured tea. Here is how TeaVivre describe the tea:
Jasmine "Dragon Pearls" is a deliciously sweet green tea that combines
the absolute highest quality green tea with a jasmine aroma and taste.
Made from one unopened bud and one small leaf, this tea hand rolled into
small balls, which slowly unfurl during brewing, releasing an amazing
taste and aroma combination of green tea and sweet jasmine. Brewing a
cup of this sweet, fragrant tea only requires a few tiny pearls!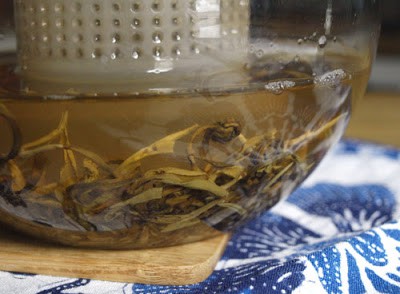 The Black Tea sample pack contains the following teas:
Yun Nan Dian Hong Black Tea – Golden Tip
Fengqing Dragon Pearl Black Tea
Bailin Gongfu Black Tea
Organic Superfine Keemun Fragrant Black Tea
Lapsang Souchong Smoky Black Tea (Yan Xun Zheng Shan Xiao Zhong)
I am not a huge fan of Lapsang Souchong tea as I usually
find it rather overpowering but, after enjoying the Jasmine tea, I thought I would see what the
TeaVivre Lapsang Souchong Smoky Black Tea was like. It was a nice surprise to find that the smoky flavour was subtle and the tea had a clean taste, without any real bitterness. Here is what is said about this tea on the website:
Zheng Shan Xiao Zhong (Lapsang Souchong) used pine wood or pine charcoal
from Tongmu kuan in Wuyi mountain as materials. Because black tea has a
strong capability of absorption, while pine charcoal will release
plenty of smoke when burning. So the Lapsang Souchong, produced by hands
and machines, has a heavy flavor of smoked and pine, which is suitable
for people who prefer strong flavor.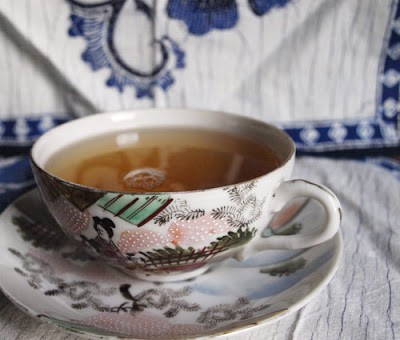 I'm looking forward to trying more of the tea samples and reviving my taste for exotic tea. TeaVivre ships to the UK, be sure to change the currency indicator, in the top right of the web page, to GBP to see the prices in sterling. The Green Tea Assortment costs £7.40 and the Black Tea Assortment is £6.50, shipping costs depend on the weight of the parcel, but start at £2.70. This might seem expensive but given the outstanding quality of the tea and the fact that you could easily pay that for a bottle of wine, it is really not such a high price to pay. I think any of these teas would be the ideal gift for a tea connoisseur.
Disclaimer: I was supplied with the Black and Green Tea Assortments by TeaVivre.. I was not required to write a positive review and any opinion expressed is my own..