If Mark Greenaway was a stick of rock, then written all the way through, it would say "Scottish Produce". I had the pleasure of speaking with Mark and asking him a few questions about food and his style.
About Mark Greenaway
Mark Greenaway is an award-winning chef and restaurateur in Edinburgh, who received the coveted three AA Rosettes following the opening of his first signature restaurant; No.12 Picardy Place, Edinburgh in 2011. He has continued his success at Restaurant Mark Greenaway in North Castle Street, and also appeared on The Great British Menu. Mark has received fantastic reviews across the board and been featured in some of the industry's top publications and newspapers. With confident and assured cooking, using superb local produce, Mark's menus are intriguing and his presentation is clean, modern and as pleasing to the eye as it is to the palate.
Restaurant Mark Greenaway
Who or what has been the biggest influence on your careers as a chef?
It has to be the produce that I use, seasonal produce in Scotland is so varied, from the first summer strawberries to Gartmorn Farm duck. When I get such good produce I just want to start experimenting.
What is your favourite Scottish ingredient and why?
Berries in the summer. It's all about the quality and size of Scottish berries, strawberries, raspberries, blackcurrants and brambles I use them all in my recipes,
What restaurant trends do you think will transfer to home cooking in the next couple of years?
I think the use of water baths will move into the home, they provide a level of consistency. If you water bath a fillet of beef then caramelise it underneath you get a something really special. The prices of water baths are coming down, so they will be more accessible for home cooks.
Do you think competitions like Masterchef have a positive or negative effect on the industry?
Masterchef, Great British Menu, (Mark has been a contestant in the Great British Menu) all have a positive effect on dining out. They allow people to see the standard that restaurants should be providing, many of them are simply not good enough. Customers are becoming more discerning and looking for quality produce. We need to support local producers like Natalie at Hebridean Sea Salt our Scottish products are as good if not better than others, as chefs we need to support locally sourced products, aim to cook with 100% Scottish produce.
If you were offered your own TV series, which country or countries would you like to visit and what kind of cuisine would you like to learn more about?
That's easy, I would make a series about Scotland, show people our amazing produce and learn more about Scottish produce. I'd show the diver on the Isle of Skye who dives for scallops and Scotland's own chocolate company IQ Superfood Chocolate based in Stirling who supply chocolate to Selfridges and Harvey Nichols. Why shouldn't Scotland be a high quality chocolate producer? It's no further from the source of cocoa than Belgium or Switzerland! We have to believe in our produce and promote it to the rest of the world.
Do you see what I mean? A champion of Scotland's larder through and through! Mark Greenaway is just one of the top Chefs who will be at the Foodies Festival in Edinburgh, here's a little more information about the Festival and don't forget to enter the competition to win a pair of tickets.
The Foodies Festival Edinburgh
Inverleith Park 7, 8, 9th August
Foodies Festival's flagship event returns to Edinburgh Inverleith Park 7,8,9th August, celebrating its 10th anniversary with a three-day showcase of Scotland's finest culinary talents and regional produce as part of the Year of Food and Drink Scotland.
Following the success of last year's Edinburgh Foodies Festival – which welcomed 34,000 foodies – organisers are expanding the festival site by 50%, making room for new food and drink theatres, an extended Producers Market and a huge selection of street food for visitors to feast on.
Bee Keeping, Oyster Shucking, Sushi Making and Foraging are just a few of the hands-on masterclasses festival-goers can try in the new Tasting Theatre. Chocolate addicts can get an instant hit of coco with 'How to Sniff Chocolate like a Rockstar' lessons from Coeur de Xocolat in the Cake and Bake Theatre, which also hosts local bakers offering 3D cake modelling, Chocolate Making and Sugar-Craft masterclasses. A complementing Chocolate, Cake and Bake Village is a paradise for home bakers filled with the latest gadgets and baking essentials – a haven for Great British Bake Off fans.
A new Wine, Champagne and Craft Beer Theatre invites foodies to take food and drink matching masterclasses with experts Charles Metcalfe, Neil Phillips and beer expert Melissa Cole. Gin and Whisky masterclasses are also available, with a daily cocktail-making competition between local bars to find Edinburgh's Best Mixologist.
Jamie Scott
The Aga Rangemaster Chefs Theatre welcomes Michelin-star, celebrity and top local chefs who will cook their favourite summer recipes, inspiring visitors to recreate these dishes at home and experiment with new flavours and ingredients. Chefs confirmed include:
Michelin-star Marcello Tully – Kinloch Lodge
Jamie Scott – MasterChef: The Professionals 2014 winner
Adam Handling – Adam Handling at Caxton voted Scotland's Chef of the Year
Mark Greenaway – Restaurant Mark Greenaway and Bistro Moderne
Tony Singh – TV Chef and food Author
Paul Wedgwood – Wedgwoods
Neil Forbes – Cafe St Honore
Jian Wang – Chop Chop
Graeme Pallister – 63 Tay Street
Colin Findlay – Melville Castle
Kim Atcharahorn Kaewkraikhot – Chaophraya
Ian McAndrew – Blackaddie
In celebration of the Year of Food and Drink Scotland, the Producers Market has been extended to showcase Scotland's natural larder and abundance of quality produce. With over 200 artisan producers selling award winning cheeses and condiments, jams and bakes, confectionery, cured meats and more, visitors will be spoilt for choice for what to buy to take home and enjoy.
An extended Street Food Avenue at the heart of the festival serves up a huge selection of hot and cold dishes from around the world. Japanese, Thai, Brazilian, Argentinian, Indian, Mexican, French and African are just some of the cuisines visitors can tuck into in the Feasting Tent.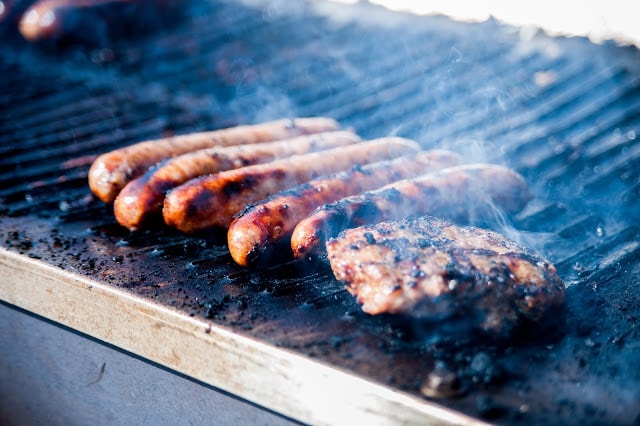 The BBQ Arena is perfect for fans of outdoor cooking with daily 'King of the Grill' cook-offs. Or for those brave enough, the famous Chilli Eating Competition challenges entrants to try and break last year's record of 14 varieties of chillies eaten without a drink to win the Chilli Eating Crown.
After a day of feasting and fun, foodies can relax with a spot on the grass and soak in the atmosphere with live music from the entertainment stage and a refreshing cocktail, glass of bubbly or a Pimm's from the Giant Pimm's Teapot and Galleon Mojito bars.
Little foodies can explore their taste buds and learn basic cooking skills with Picnic in the Park themed masterclasses in the Childrens Cookery Theatre, where Kiddy Cook will show them how to make finger sandwiches, jellies and chocolate bugs.
Tickets:
Tickets are on sale now at www.foodiesfestival.com or by calling 0844 995 1111
Friday adult day ticket £10.00 (£8.00 concession)
Saturday or Sunday adult day ticket £13.00 (£11.00 concession)
3-day adult ticket £20.00 (£16.00 concession)
Friday VIP ticket £35.00
Saturday or Sunday VIP ticket £38.00
VIP tickets include a welcome glass of bubbly, access to the VIP tent with private bar and refreshments throughout the day, priority entry to food and drink masterclasses, a goody bag and a showguide.
All children aged 12 and under go free to all Foodies Festivals when accompanied by an adult.
Open times:
Friday 7th August: 11am – 7pm
Saturday 8th August: 10am – 8pm
Sunday 9th August: 10am – 7pm
Sponsors: Wines of Rioja, Baxters, Mackie's of Scotland and Magnum Scotch Liqueur.
I have two pairs of tickets, with show guides, worth £19 to give away for entry to the Foodies Festival, Edinburgh. Simply follow the directions on the Rafflecopter to enter and remember if you don't win, you can use the code 'Foodies' to get a discount on tickets from Foodies Festival
About Foodies Festival:
Foodies Festivals launched in 2005 with a single event at an Edinburgh hotel after founder Sue Hitchen noticed a gap in the Edinburgh market for a food festival. Following its successful launch, which welcomed 5000 visitors, the festival expanded to Brighton and Hampton Court Palace in 2006 and continued to introduce festivals across the UK including Bristol, Tatton Park, Clapham Common, Battersea Park, Oxford, Marble Hill and Kenwood House. To date Foodies has welcomed over 2 million visitors and helped launch hundreds of new businesses and supported thousands of small producers.
2015 Foodies Festivals:
Brighton, Hove Lawns: May 2,3,4
Birmingham, Cannon Hill Park: May 15,16,17
London, Syon Park: May 23,24,25
Bristol, The Downs: June 26,27,28
London, Alexandra Palace: July 3,4,5
Cheshire, Tatton Park: July 17,18,19
London, Clapham Common: July 24,25,26
Edinburgh, Inverleith Park: August 7,8,9
Harrogate, Ripley Castle: August 21,22,23
Oxford, South Parks: August 29,30,31