Pittenweem Harbour
I've been on a little trip to the Kingdom of Fife. It was a lovely day on Sunday so we headed to the coast and the East Neuk. We started in Elie and then on to St Monans and Pittenween, seen above. Pittenweem is a working harbour whereas the harbour at Anstruther or 'Ainster', as it is known locally, is for leisure craft. There will be more about my trip on my other blog 'Serial Crafter'.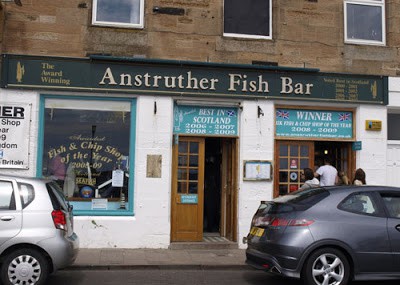 Anstruther Fish Bar
We stopped off at the
Anstruther Fish Bar
for our lunch. This chippie has won awards over many years although the last national award was in 2009. This doesn't seem to deter the crowds of people who queue up for a fish supper pretty much every day. We decided that we would 'sit in' and had to queue for about 10 minutes before a table was available. The take-away line moved quite quickly, with waitresses moving down the queue taking the orders so they were ready when customers reached the fryer.
The sit in meal included white bread and butter and a hot drink, the traditional 'fish tea', not a fishy drink, but a meal with fish and chips, cup of tea and the bread and butter, and it cost £7.95 each.
My mum and I ordered the local haddock and chips, we did look at the 'sustainable' Hake and I would have ordered it, but it is imported from the seas off the south west of Africa, which didn't seem very sustainable to me! I think I'd rather support the sustainability of the local fishermen.The fish was fresh and the batter crispy and not oily. The chips were really hot and delicious.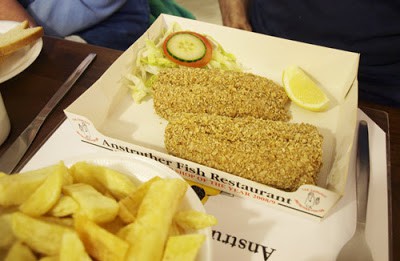 Herring in Oatmeal with chips
Mr Farmer chose the herring in oatmeal, there was a bit of a mix up and they initially brought him haddock, which was sent back. Fifteen minutes later, no sign of the herring, so we asked the waitress what had happened to it, I reckon they had forgotten to bring it as she returned with huge apologies and said it would be there in 5 minutes and would not be charged. The herring arrived quickly after that and Mr Farmer was very impressed, it certainly looked good.
Overall, I felt the Anstruther Fish Bar was slightly overrated, but the food was fresh and well cooked and the staff were responsive, if not particularly attentive, due to the sheer numbers of customers coming through the restaurant.