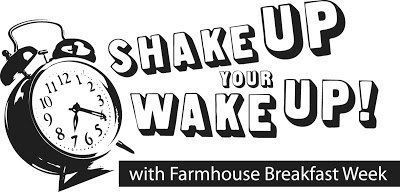 Farmhouse Breakfast Week runs from 20th -26th January 2013.
Farmhouse Breakfast Week 2013 is a campaign which aims to get the nation to shake up its wake up and incorporate breakfast into our routine.
It is organised on behalf of UK cereal farmers and producers who grow the ingredients for many breakfast foods. I'll be blogging about breakfast all next week, so be sure to join me for Farmhouse Breakfast Week.
Shake up your Wake Up
have been looking into the nation's breakfast eating habits. I like a few extra minutes in bed the same as anyone else but would never leave the house without something to eat, maybe it's because my mum would never let me leave the house without breakfast or just that I like my food too much! Check out the infographic below to see the results of the survey:

If you'd like to try out some new breakfast ideas, there are loads on the
Shake Up Your Wake Up
website and if you post any Cooked or Baked breakfast recipes on your blog, remember to link up to
Breakfast Club
which runs on my blog until 24th February.
You can follow
@breakfastweek
on Twitter and tweet a picture of your breakfast every day with the hash tag
#BreakfastWatch
. You can also post your photos to
Facebook
, Instagram and
Pinterest
.