Aubergine Parmigiana is a glorious dish of short pasta, soft aubergines, a rich bechamel sauce and a lot of lovely cheese. It's a bit of a treat but perfect for feeding a hungry crowd, all you need is some salad and a loaf of crusty bread.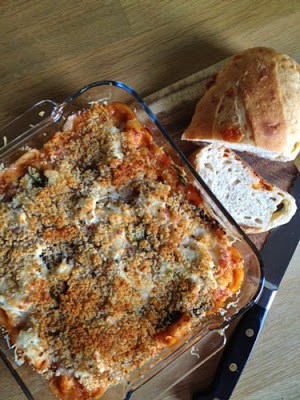 Macaroni and Cheese is very popular and seen as real comfort food. Until I was about 7 years old I refused to eat cooked cheese and wouldn't touch mac n cheese or cauliflower and cheese, much to my Mum's frustration. She used to sneak grated cheese into some dishes like scrambled egg to get me to eat it, but the turning point came when I went for tea at my friend, Anne's, house. There it was on the plate in front of me…macaroni and cheese, now back then you NEVER refused anything placed in front of you when out visiting, so I had to eat it. I was surprised to find that I actually enjoyed it, and learned always to try everything before deciding that I don't like it. However, I can still remember sitting at that table looking at the mac n cheese and wondering how I would get through the meal.
Laura Washburn's book
"Mac 'n' Cheese"
is a celebration of this store cupboard staple. You don't have to use macaroni, you can make the dishes with other pasta shapes, but as it is the ideal shape for holding cheese sauce, I went out and bought some Marshall's Macaroni, the brand that I grew up with.
About the Author
Laura Washburn was born in Los Angeles but studied at university in Paris. She went on to train at the prestigious Paris cooking school Ecole de Cuisine La Varenne and work with Patricia Wells, best selling author of a Food Lover's Guide to Paris. She is now based in London, where she works as a cookery teacher and food writer.
The Contents
Introduction: contains information about the pasta, the sauce, the cheese, and some cooking tips. Most importantly it features the Classic Macaroni and Cheese which forms the basis for the other recipes in the book.
Vegetables: recipes include Roasted Asparagus and Pecorino, Butternut Squash and Sage, caramelised Onions and Smoked Cheese, Jalapeno, Tomato, and Monterey Jack, the gourmet Truffle and Cheese and Aubergine Parmigiana.
Fish: recipes include Crab Gratin, Tuna and Mushroom, luxurious Lobster Thermidor, and Smoked Haddock and Spinach
Meat: recipes include Spicy Beef, Greek Lamb, Chorizo, Sweet Pepper and Manchego, Ham Hock and Mozzarella, BBQ Chicken and Two Cheeses and Serrano Ham, Smoked Paprika and Spanish Blue.

Aubergine Parmigiana
Serves 6-8
A handful of coarse sea salt (I didn't use this much)
500g/1lb macaroni
4-5 tbsp vegetable oil
1 large onion, finely chopped
1tsp dried thyme
1tsp oregano
1tsp dried rosemary
3 garlic cloves
1x 400g/14oz can chopped tomato
1 medium Aubergine/eggplant, sliced
125g/1 cup shredded mozzarella
leaves from 2-3 sprigs fresh basil, coarsely torn
50g/1 cup breadcrumbs
fine sea salt and freshly ground black pepper
For the Bechamel sauce
50g/3 1/2 tbsp unsalted butter
60g/6 tbsp plain/all purpose flour
625ml/2 1/2 cups milk
1tsp fine sea salt
100g/ 3/4 cup Fontina cheese
100g/1 and 1/4 cups grated Parmesan
1. Bring a large saucepan of water to the boil. Add the coarse sea salt, then let the water return to a rolling boil. Add the macaroni stir well and cook according to the package instructions until very tender. Stir periodically to prevent the macaroni from sticking together. When cooked, drain, rinse well under running water and let drip dry in a colander.
2. Preheat the oven to 200C/400F/Gas 6
3. Heat 2 tablespoons of the oil in a large saute pan with a lid. Add the onion and cook over medium heat for 5 minutes until just golden. Stir in the herbs and garlic and cook gently for 1 minute, taking care not to let the garlic burn. Add the tomatoes and 1 teaspoon of fine sea salt and simmer very gently for 20-30 minutes until very thick.
4. Arrange the aubergine/eggplant slices in a single layer on a baking sheet and sprinkle over the remaining oil Roast for 15-20 minutes until tender and just charred. Remove, season lightly with salt and add to the tomatoes. Simmer gently while you prepare the bechamel sauce.
5. Preheat the grill/broiler to medium.
6. Prepare the bechamel sauce: Melt the butter in aa saucepan. Stir in the flour and cook, stirring constantly for 1 minute. Pour in the milk in a steady stream, whisking constantly, and continue to whisk for 3-5 minutes until the sauce begins to thicken. Season with fine sea salt. Remove from the heat and add the cheeses, mixing well with a spoon to incorporate. Taste and adjust the seasoning.
7. Put the cooked macaroni in a large mixing bowl. Stir in the aubergine/eggplant mixture. Pour over the hot bechamel sauce and mix well. Taste and adjust the seasoning. Transfer the macaroni mixture to a baking dish and spread evenly. Top with the mozzarella, the basil leaves and a good grinding of black pepper and sprinkle the breadcrumbs evenly over the top.
8. Grill/broil for 5-10 minutes until the top is crunchy and golden brown. Serve immediately

Who is it for: It would be a great gift for someone who loves Mac n Cheese or for those who cook for hungry hordes of starving teenagers and want to ring the changes.
Pros: as the book concentrates on one type of dish, it's a book that you can turn to for inspiration when you want to jazz up your Mac 'n' Cheese or if you are simply looking for a tasty supper dish. There is a full-colour photograph for every recipe and the recipes are easy to follow, with ingredients listed in both US and European measurements. Each recipe also has a short intro with serving suggestions or other tips.
Cons: this is not a low fat, low cal book, so these recipes are special comfort treats.
Ease of Use: Although there are quite a few steps, none of them were particularly difficult
The Verdict: The Aubergine Parmigiana was delicous, creamy and tasty. The recipe made two large dishes which served about 8 generous portions and the book is full of great ideas for variations on Mac n Cheese. My only concern would be the fat content and it would have been nice to have some lighter versions that could be made and eaten more frequently.

MoreBaked Pasta Dishes from Farmersgirl Kitchen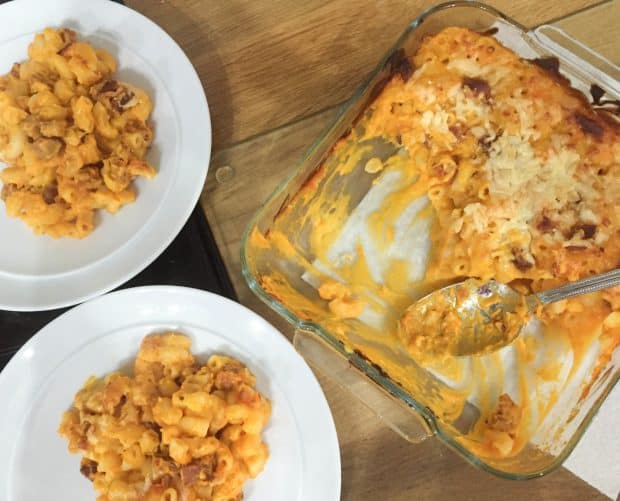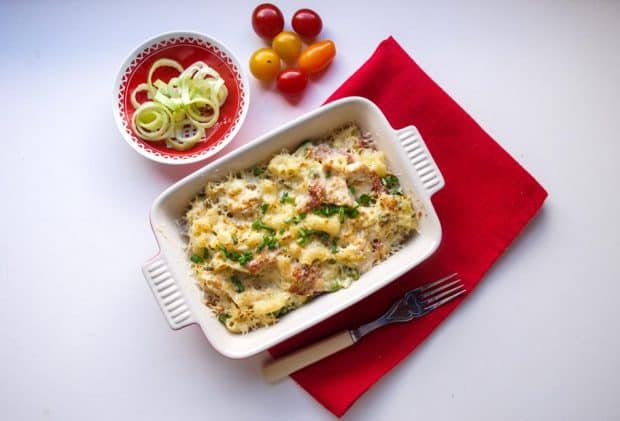 Mac 'N' Cheese by Laura WashburnPhotography by Steve Painter
Published by Ryland Peters & Small
RRP £9.99
Many thanks to RPS for providing me with a copy of Mac N Cheese to review. I was not paid to write this review and all opinions are my own.