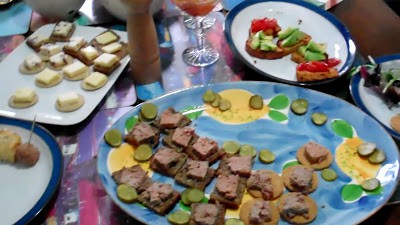 There is nothing I like better than making little bits and pieces of party food. I am not a great party giver, something to do with living out in the country and the general state of tension it leaves me in!!!
However, this year for New Year's Day we had a little family party and I spent the morning cutting up little squares of rye bread with pate, cheese or prawn toppings, making bruscetta, and filling bowls full of crisps. Add to that a Lemon Tart (not home made) and some Christmas cake and we had an instant party.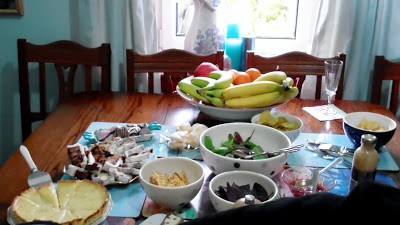 The photos were taken from my new Flip video camera so the quality is not as good as my DSLR but it is very handy. I also didn't get to the table before the hungry visitors, so the paltes are a little dimished, but I am sure you get the general idea.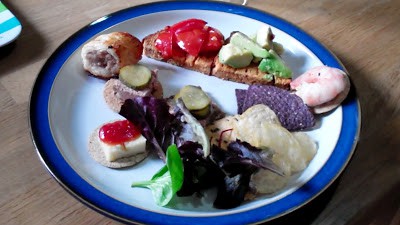 Here is my plate, gherkins and chilli jams were served separately as some guests like their food very plain. I forgot to mention the sausage rolls, my grandson loves them so I made some specially for him.
I hope you all enjoyed your parties and are ready for another year of cooking, baking and sharing your passion for food.