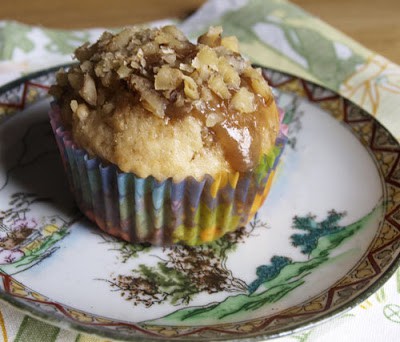 This recipe may look a little familiar to regular visitors to my blog. I'm reposting it for the No Waste Food Challenge on Kate's blog 'Turquoise Lemons'.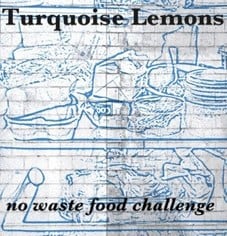 This month Kate is asking us to come up with creative ways of using up spotty bananas. Here is what I said in the original post in November:
"I needed a little
sweetness in my life yesterday and didn't have a lot of time, so thought
that muffins would fit the bill. There were bananas in the fruit bowl,
looking nice and ripe and calling out to be used before the grocey
delivery arrives (today). I thought I'd look and see what Betty Crocker had in the way of muffin recipes and sure enough there is a nice quick recipe for Banana Muffins."
Banana and Walnut Muffins (makes 12)
2 ripe bananas (1 cup mashed)
30g finely chopped walnuts 1/3 – 1/2 cup milk (I put in 1/3 then needed to add more)
1/4 cup of vegetable oil
1 large egg
2 cups plain flour
1/2 cup sugar
2 tsp baking powder
1/2 tsp salt
For topping
30g butter
1 tbsp brown sugar
30g finely chopped walnuts
1. Heat the oven to 200C. Grease the muffin pan or line with paper cases.
2. In a large bowl beat milk, egg, oil and banana with a fork or wire whisk until well mixed.
3. Mix the dry ingredients together
and add them to the milk mixture and combine just until the flour is
moistened (batter will be lumpy)
4. Bake for 20-25 minutes or until golden brown.
5. Make the topping: melt the butter, add the sugar then brush the mixture over the warm muffins.
6. Put the chopped walnuts on a plate and dip the sticky top of the muffin in the nuts.
I can thoroughly recommend these muffins, they are quick and easy and taste delicious.