Banana Pavlova with Chocolate Fudge Sauce is a delicious treat and also a brilliant way to avoid food waste.
I was recently contacted by
'Greener Scotland'
to take part in their campaign to make Scotland a Greener place. Greener Scotland's message is simple: when we all get involved in something it can
make a big difference and by living greener,
creating our own individual Greener Scotland plans and working together we can make Scotland a better place to be with cleaner air, warmer homes, less noise and pollution, as well as better health and fitness for the nation.
We can all do our bit to help make Scotland a
cleaner and greener place to live by eating food that is in season and planning
ahead to reduce food waste
Cutting back on food waste is a smart move. By
planning ahead and storing food appropriately you'll be doing your bit to help
create a cleaner, greener Scotland
By reducing the amount of food we throw away, we
can save up to £430 a year
If we all cut back on food waste, the carbon
savings could add up to the equivalent of taking one in five of Scotland's cars
off the road
I have planned my menus and shopping lists for many years and enjoy being creative with leftovers,finding that the leftover dishes are often better than the original!  I'm also a frequent entrant to the 'No Waste Challenge' a blogger's challenge originated by Kate at Turquoise Lemons and this month being hosted by Elizabeth, the Shetland-dwelling, blogger at Elizabeth's Kitchen.  The theme this month is 'eggs' and I had two egg whites left over from something (can't even remember what!) I made last week, lurking in the fridge in a bowl covered with clingfilm.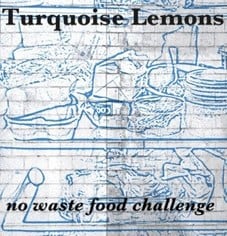 Although it was Mother's Day today, we had too much to do today to take my mother-in-law out (it was also extremely cold with snow flurries) however, she does like meringue so I thought I'd make a little mini Pavlova.
The recipe I use is very simple, usually it is three egg whites to 6oz caster sugar (somehow, for me, meringues are measured in imperial rather than metric) that's 2oz of sugar for each egg white.  Beat the egg whites until stiff, add the sugar a spoonful at a time and then add 1 tsp of cornflour mixed with a tsp of white wine vinegar.  Spread the meringue mixture into a round on a sheet of baking parchment and place into the oven heated to 160C, turn down to 150C and bake for 30-35 minutes.  Shut off the oven and leave the pavlova to cool for another hour.
I served the pavlova with ice cream, sliced banana and Chocolate Fudge Sauce made with 70g dark chocolate, 1 tbsp golden syrup, 1 tbsp muscovado sugar and 2 tbsp milk, heated gently on the stove and swirled over the ice cream and banana. The Chocolate Fudge Sauce is made with ingredients which are all in my cupboard and adpated from a number of different recipes most of which required double cream which I didn't have!  It was not a disappointment: rich, warm and dark it was the perfect foil to the crisp meringue and cold icecream.
If you would like to find out more about how you can make a Greener Scotland, check out their website.