This month we do have a theme and it is: BARBEQUE you don't have to get the barbie out to have BBQ flavours, you can make them in your slow cooker. I've made this BBQ Pork Tenderloin which just falls apart in it's own delicious sauce.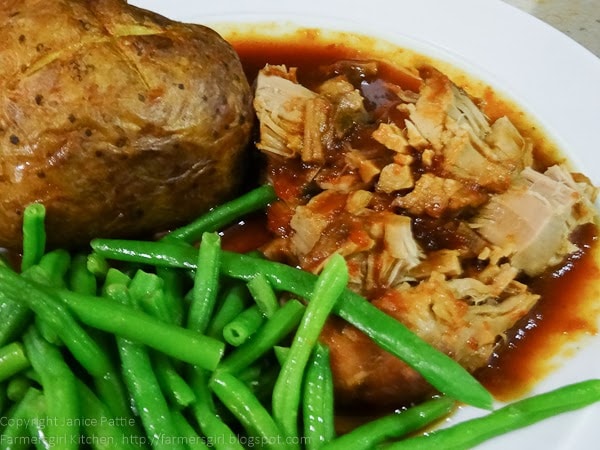 Thanks to everyone who took part in the February Slow Cooker Challenge. The theme was open so we had a real variety of dishes, see them all in the Feburary Slow Cooker Challenge Round Up. I also have another GIVEAWAY for entrants to the March Slow Cooker Challenge, a copy of Slow Cooking for Two by Cynthia Graubart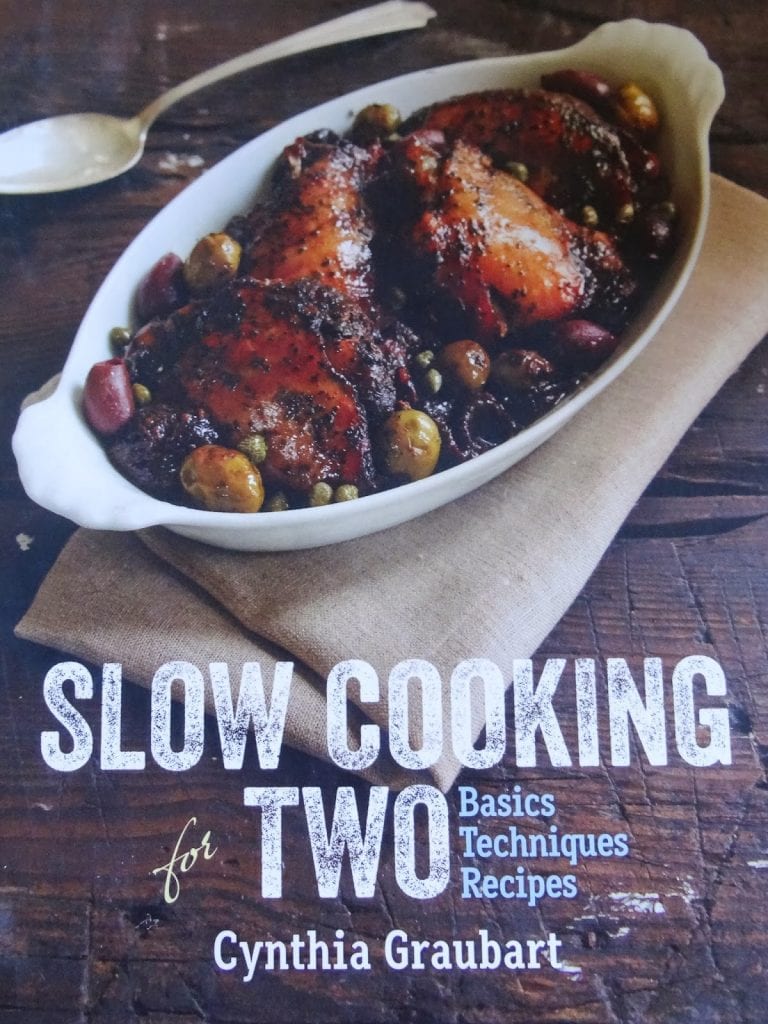 Photographs by Christopher Hornaday
Published by Gibbs Smith
Distributed in the UK by PGUK
RRP £12.07
This is the book for those who cook for two and prefer not to eat leftovers for days, however, the recipes can be doubled up if you are feeding a family.
About the Author: Cynthia Stevens Graubart is an author and former television producer who
began her culinary television production career with New Southern
Cooking with Nathalie Dupree in 1985. She is the author of The One-Armed
Cook, called the culinary version of What to Expect When You're
Expecting. Cynthia and her husband, Cliff, live in Atlanta, Georgia.
Here is my review of Slow Cooking for Two:

The Introduction covers the basics such as selecting a slow cooker, there is also a really useful section on all the additional equipment, mostly dishes and
baking tins, that you can use inside your slow cooker eg mini loaf pan,
ramekins etc.
I liked the little table of Conventional to Slow cooker timings which allow you to convert your own favourite recipes either from oven method to slow cooker or vice versa, and the requently asked questions section was full of useful answers. There is also a section with pantry ingredient suggestions.
Moving on to the recipes there is a selection of Soups from classic leek and potato to Kale and Kielbasa Soup.
In the Poultry chapter, I was particularly taken with Lemon Chicken, Cacciatore – Style
Chicken Thighs, Honey Ginger Chicken Thighs and Turkey Meatloaf with
Basil and Mozzarella.
There are eight Beef and Lamb dishes including Braised Short Ribs, Stuffed Peppers with Mozzarella and Rosemary Lamb with Tomatoes.
Now we come to the chapter of genius: Double Dinners! Cynthia uses Slow
Cooker liners for this technique, you can get them online, but I had some roasting bags
and decided to see if they would work and they did.
The principle is to create two different meals using the same main ingredient and
cook them in the bags side by side in the slow cooker. One to eat
straight away, the other decanted into a dish and chilled or frozen for
later consumption.
Recipes Double Dinners include Beef Bottom Round, this cut of meat we would call silverside, but Peppery Silverside really isn't as much fun as #1 Peppery Bottom Round #2 Fall
flavoured Bottom Round; Pot Roast, #1 Lime Pot Roast with Tomato Sauce
#2 Vinegar-Braised Pot Roast and the recipe I made: Pork Tenderloin #1
Parmesan Crusted Pork Tenderloin #2 BBQ Pork Tenderloin
The chapter on Seafood has a limited number of recipes but includes a clever foil pouch Lemon Dill Salmon which
takes just two hours on low in the Slow Cooker and a Shrimp in Herb Butter Sauce dish.
There are over 20 recipes for Side Dishes, who knew you could bake potatoes in your slow cooker? You
probably did, but I had no idea. Even mash can be made in the slow
cooker, glazed carrots, roasted root vegetables, Polenta, and Mushroom Risotto. This is a really useful chapter with a lot of side dishesI wouldn't
have thought of making in the slow cooker.
And so to Desserts, I have still to try making dessert in my slow
cooker, it is always occupied with cooking my main meal! However, I am itching
to have a go at Lemon Cake, Lemon Curd, Apple Crisp, and Poached Pears.
For those who like to entertain there are some Dips and Appetisers that
look simple to make and packed with flavour, including Hot Cheese Dip, Kale and Artichoke Dip, Spicy Mixed
Nuts and White Bean Spread.
The final chapter is all about The Basics and includes recipes for stocks, roasted garlic heads, Marinara Sauce and Cinnamon-Ginger Apple Sauce.
Pros: A good variety of innovative recipes which are clearly laid out and
easy to follow. Clever techniques like the double dinners make this a stand out recipe book. Most recipes have short ingredient
lists and there's an excellent index and a metric conversion chart. A few Notes
pages are also included so you can write up your own recipes and variations.
Cons: no picture for every recipe, a high predominance of meat-based main dishes, not much for the vegetarian or vegan.
Pork Tenderloin (Double Dinners)
Liner #1
Parmesan-Crusted Pork Tenderloin (serves 2)

Ingredients
1/2 of a 1 pound (450g) pork tenderloin or fillet
salt
freshly ground black pepper
1/4 cup honey
1 tbsp soy sauce
1 tbsp dried basil or chives (I used a couple of finely chopped spring onions)
1 clove garlic minced, or 1/2 teaspoon bottled minced garlic
1 tbsp olive oil
1/2 cup grated or shredded Parmesan cheese
1. Place pork tenderloin in the bottom of a slow cooker liner bag (or roasting bag)
2. Sprinkle liberally with salt and pepper
3. Stir together the honey, soy sauce basil, garlic and olive oil in a small bowl. Pour over the pork, sprinkle with Parmesan cheese and set aside.
Liner #2
BBQ Pork Tenderloin (serves 2)

Ingredients
1/2 of a 1 pound (450g) pork tenderloin (fillet)
Salt
Freshly ground black pepper
1/2 cup tomato ketchup
2 tbsp light or dark brown sugar
1 tbsp vinegar
1 teaspoon Dijon mustard
1 tbsp soy sauce
1/2 teaspoon chilli powder
1 clove garlic minced or 1/2 tsp bottled minced garlic
1/2 tsp onion powder (I didn't have any of this and left it out)
1. Place pork tenderloin in bottom of slow cooker liner or roasting bag.
2. Sprinkle liberally with salt and pepper.
3. Stir together the ketchup, brown sugar, vinegar, Dijon mustard, soy sauce, chilli powder, garlic and onion powder in a small bowl/ Pour over tenderloin. Set aside.


To complete the recipe
1. Place both liner bags, side by side, into the slow cooker. Drape each liner (closed) away from the other extending over the sides of the slow cooker. I sealed the roasting bags with their closures and placed side by side in the slow cooker.
2. Cover and cook on low for 6 hours.
3. Move two large, shallow serving dishes or bowls next to the slow cooker. Remove cover and using pot holders or oven mitts, carefully remove each liner and its contents to its own serving bowl Let the liner rest open and allow contents to cool slightly. Remove the tenderloin from the liner using tongs and transfer to the serving bowl Then grasp the bag, holding the top and cut a corner off the bottom of the bag, large enough to allow the remaining contents of the bag to be released over the pork and into the bowl. Discard the liner. Repeat with the other dinner.
4. Allow the dinner, not being served, to cool, and package in a resealable plastic freezer bag or container (remember to label it).
5. Before serving, taste and season again if required.
We ate the BBQ Pork Tenderloin, the meat was very tender and the sauce was delicious, feedback from himself was very positive. I have put the Parmesan Crusted Pork Tenderloin away for another meal.
If you would like to join the Slow Cooker Challenge and win a copy of Slow Cooking for Two by Cynthia Graubart then simply cook a BBQ style meal in your slow cooker, then please follow the challenge rules below and link up to the linky.

Make your recipe in your Slow Cooker and post a photograph and the recipe, or a link to a recipe, on your blog
Link to Farmersgirl Kitchen
Use the Slow Cooker Challenge logo in your post
If you use twitter, tweet your post with @FarmersgirlCook and
#SlowCookerChallenge and I will re-tweet it to my followers AND post
your post your pictures on a decicated Pinterest board.
Rules:
Please do not publish recipes from cookbooks on your blog without permission, they are copyright.
If you are using recipes from another website, please link to
the recipe on the website rather than publishing the recipe.
One entry per blog.
Recipes must be added to the linky by the 28th of each month.
The winner will be chosen by Random Number Generator

Natalie @StarCatch3r doesn't have a blog but wanted to join in The Slow Cooker Challenge with this delicious BBQ Shredded Chicken inspired by a recipe at Sugarlaws

And the winner is…No.4 Corina – Searching for Spice with Slow Cooked Pork in Tonkatsu
More Pork Recipes from Farmersgirl Kitchen