These Beetroot Burgers are served in a toasted brioche bun. Accompanied by layers of salad, gherkins and a delicious smoky chipotle mayo.
Beetroot Burgers
This recipe for Beetroot Burgers is from Elly Pear's Fast Days & Feast Days.
Elly Curshen passionate foodie and proprietor of the Pear Cafe since 2006, which was where she got her nickname 'Elly Pear'. It's also where she found her weight creeping up, it's tempting working around food all the time.

Elly found that the 5:2 philosophy of eating worked for her and has created this book to share her recipes for Fast Days and Feast Days.
I also follow the 5:2 diet, five days of normal eating, two days when I eat only 500 calories (600 for men).
I'm always looking for new ideas for fast days, however, I also loved the feast day recipes like the Beetroot Burgers.
Fast Days and Feast Days Review
Elly starts with some great chapters on ingredients and techniques, I loved her approach to leftovers and she even gives us helpful hints on how to shop.
The book is then organised into meal based chapters, here are some of the recipes that jumped out at me:
Breakfasts and Brunches: Sweetcorn, chipotle and buckwheat fritters (feast); Italian-style baked egg (fast)
Weekday Lunches and Salads: Edamame, pea, miso and ginger salad (feast), Prawn, mango and jalapeno salad (fast), Crab salad with toasted rye crumbs (fast), Chickpea curry (fast).
100 calorie packed lunch boxes: Courgette, chilli and herb salad with feta, Smoked trout with cauliflower rice salad and Cannellini bean salad in little gem cups.
Soups: Yellow gazpacho with avocado salsa (fast), Chilled Beetroot Soup with wild garlic or spinach (feast).
Weeknight Dinners: Twenty-minute cheat's tagine (feast) Root veg ad halloumi fitters with frying pan flatbread (feast), Beetroot Burgers (feast), Open lasagne (fast), Kedgeree-ish (fast), Salmon rice bowl (fast).
Nibbles: Little roasted spuds with roasted red pepper sauce (feast), Smoked mackerel and horseradish pate (fast), Radishes and nori salt (fast).
Sauces, Pickles and Dressings: Golden Amazing sauce (fast), Kachumber (fast), Impatient rainbow pickles (feast), Marinated feta (feast).
Puddings and Cakes: Lemon polenta and rose shortbread (feast), Rosemary and lemon posset with Italian meringue (feast), Cranachan-ish (fast), Starwberry, lime and basil granita (fast).
Fast Days and Feast Days finishes with some sample fast day menus and a brilliant calorie index so you can find recipes to the calorie count that you need!
Who is it for
It's for anyone looking for healthy nutritious food all year round. It's also for anyone who is following or would like to follow the 5:2 way of eating.
Elly is a Pescatarian so there are many vegetarian and vegan recipes as well as some containing fish and seafood.
Pros
A well-organised book with great photographs and tempting recipes, it's a great resource for healthy eating.
Cons
If you are a committed carnivore, you won't find any meat-based recipes.
The Verdict
I absolutely love it! Elly has hit just the right combination of fast and feast recipes.
The bonus is that even the 'feast' recipes are healthy and nutritious and not too high in calories.
Fast Days and Feast Day by Elly Curshen | Published in Hardback by Harpers Collins Publishers on 7th April 2016 | RRP £20.
Follow Elly Pear on Twitter @PearCafe and on Instagram @EllyPear
Making Beetroot Burgers

Making the Beetroot Burgers is not difficult with a food processor.
Combine the ingredients and then dust the burgers with seasoned flour, before shallow frying.
Choose your own favourite toppings and create the burger that you want to eat.

More Beetroot Recipes from Farmersgirl Kitchen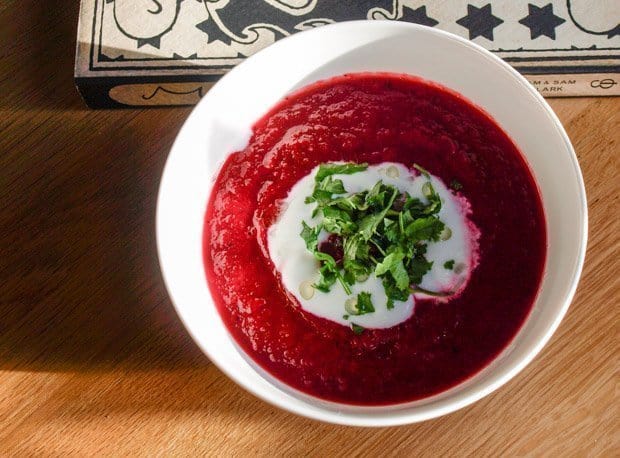 Gourmet Beetroot Burgers (Beef) and Luscious Spiced Beetroot Relish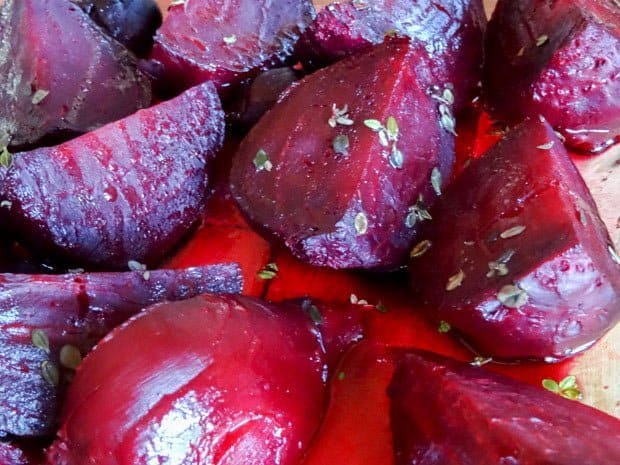 Baked Beetroot with Honey & Thyme
More Vegetarian Burgers from the UK's top bloggers:
Marmite and Chilli Quarter Pounder – The Veg Space
Chocolate Bean Burgers to Go with Hot Chilli Sauce – Tin & Thyme
Spicy Black Bean Burger Recipe – The Hedgecombers
Egg Free Chipotle Black Bean Burgers – Recipes from a Pantry
Sweet Potato and Butter Bean Burgers – Munchies and Munchkins
Veggie Squash and Bean Burgers – Gingey Bites
Carrot Coriander and Chickpea Burgers – Supper in the Suburbs

Let's get social
Stay in touch with everything that's going on at Farmersgirl Kitchen.
Facebook Pinterest Instagram Twitter

Beetroot Burgers
A delicious chickpea and beetroot based vegetarian burger served with salad, pickles, and guacamole
Ingredients
4

burger buns

I used brioche buns

400

g

tin chick peas

drained and rinsed

2

tbsp

olive oil

plus extra for frying

1

tsp

caraway or cumin seeds

toasted

2

tbsp

breadcrumbs

toasted

70

g

flat-leaf parsley or coriander

finely chopped, include the stalks

150

g

raw beetroot

1 1/2

tbsp

flour

1

pinch

flaked sea salt

1

pinch

ground black pepper
To serve (any combo of the following)
smoky avocado and chipotle mayo

little gem lettuce

sliced tomato

gherkins cut lengthways into 3mm slices

red onion

very finely sliced

China rose radish sprouts

Impatient Rainbow pickles

fried egg

cheese

any you like
Instructions
Blitz all the ingredients for the burger, apart from the beetroot, flour and seasoning, in a food processor with the main chopping blade.

Switch to a grating blade and grate the beetroot on top. Tip into a large bowl.

Shape the mixture into four even burgers. Combine the flour salt and pepper in a shallow bowl.

Dust the burgers with the seasoned flour.

Pour enough oil into the frying pan for shallow frying and place over a medium heat.

Add the burgers and fry for 6-8 minutes, until browned.

Flip over and brown on the other side. Check that the burgers are hot in the middle by inserting the tip of a sharp knife into the centre for a few seconds and then pulling it out: if the blade feels cold, cook the burgers for longer. If the outside browns too quickly, turn the heat right down.

Serve with your choice of toppings.
Notes
Recipes for Avocado and Chipotle Mayo and Impatient Rainbow Pickles are included in Fast Days and Feast Days.
Nutrition
Calories:
397
kcal
Carbohydrates:
59
g
Protein:
15
g
Fat:
11
g
Saturated Fat:
1
g
Sodium:
305
mg
Potassium:
568
mg
Fiber:
10
g
Sugar:
10
g
Vitamin A:
1210
IU
Vitamin C:
8.4
mg
Calcium:
154
mg
Iron:
5.4
mg
Don't Miss My Latest Recipes
CLICK TO SUBSCRIBE NOW to join my newsletter list & receive a FREE 'How To Adapt Recipes For Your Slow Cooker' printable!