Figs with White Chocolate Sauce is a very simple dessert, the sauce is sweet and a good contrast to fleshy figs, the flaked almonds add texture and crunch to an otherwise soft dish.
Figs with White Chocolate Sauce
Serves 4
6 fresh figs, stalk removed and halved
1 dessertspoon of honey (I used Scottish Heather Honey)
100ml water
50g good quality white chocolate (I used Hadleigh Maid white chocolate buttons)
25g flaked almonds
1. Place the figs cut side upwards in a pan, add the water and the honey, poach gently until the fig skin is soft, it won't take to long about 8-10 minutes.
2. Remove the figs to a plate, increase the heat and reduce the honey sauce by half.
3. Remove from the heat and add the white chocolate buttons, stirring until they have melted and combined with the honey sauce.
4. Pour a little sauce in each bowl, top with three fig halves and sprinkle some flaked almonds around the figs.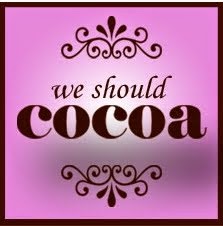 I'm am entering this dish for the December We Should Cocoa, the monthly blog event run by Choclette at Chocolate Log Blog. The theme this month is figs which are paired, of course, with chocolate. If you would like to join in, the linky is open until 28th December.