It's time to celebrate Scottish Food and Drink Fortnight which runs from 6-21 September 2014 with events taking place across Scotland.
Each year I look forward to some September food
excitement at events taking place throughout Scottish Food and Drink Fortnight. In previous years I've learned about The Art of Fungi visited a
deer farm
and taken part in a chocolate workshop.
The focus of this year's foodie fiesta is to introduce the public to new food adventures and includes food and drink events, cookery demonstrations, promotions and offers from Scotland's largest food and drink companies to its local craft producers. I was invited by Scottish Food and Drink Fortnight to undertake a new Food Adventure in celebration of the Fortnight. A Food Adventure could be anything from visiting a food tourism attraction or attending a Fortnight event to trying a new Scottish product, restaurant or recipe.
For my food adventure, I decided to visit a restaurant that I've heard a lot about but have never quite managed to visit: Brodies of Moffat. The opportunity to dine at Brodies came during a week off work, when having a night out during the week was a treat with no consequences. When we arrived at Brodies we were greeted by the server and seated in the 'wine bar' area at the rear of the restaurant where we were able to peruse the menu and order a drink while our table was made ready. As it was mid-week it was pretty quiet but didn't feel uncomfortable. We were then taken through to our table and found ourselves seated by the window with a view up towards Moffat High Street. It can be a little disconcerting when passers-by stop to read the menu in the window, but otherwise, it was great to be sitting with so much light for photographs and the entertainment was watching the tractors and trailers thundering around the corner!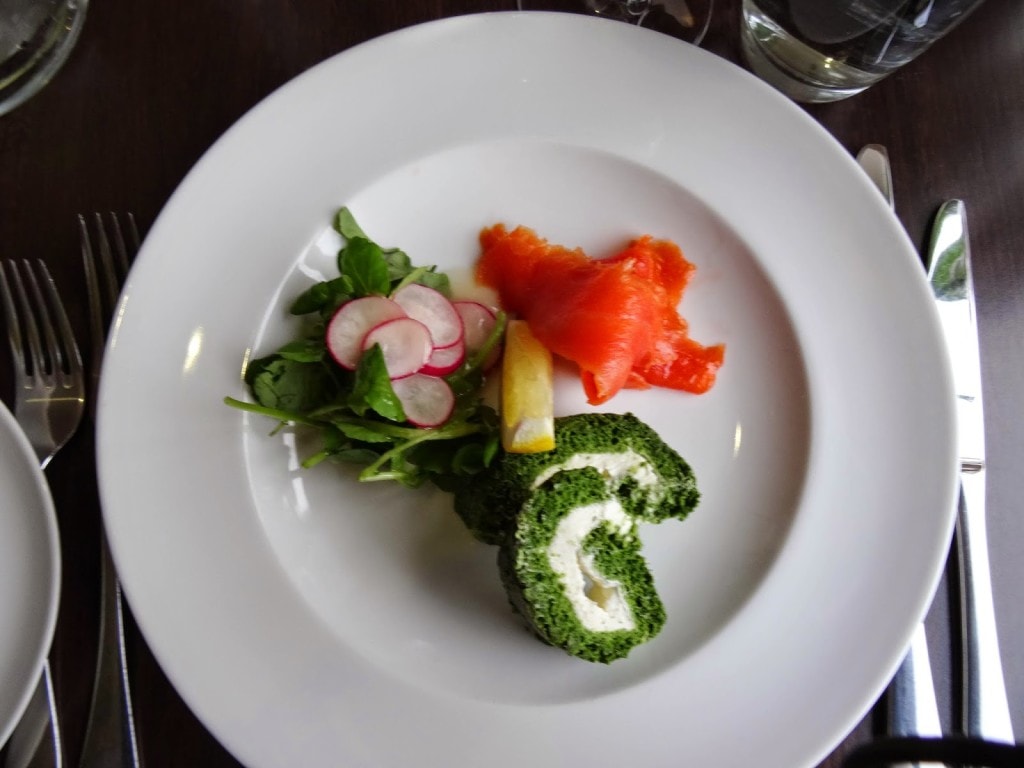 For my first course, I chose the Spinach Roulade with Cold Smoked Trout, Watercress and Radish Salad. The roulade was soft and delicious and contrasted well with the cold smoked trout which was sweet and not at all oily. I enjoyed the salad too, that acid crunch cut through the creamy filling in the roulade and the richness of the trout.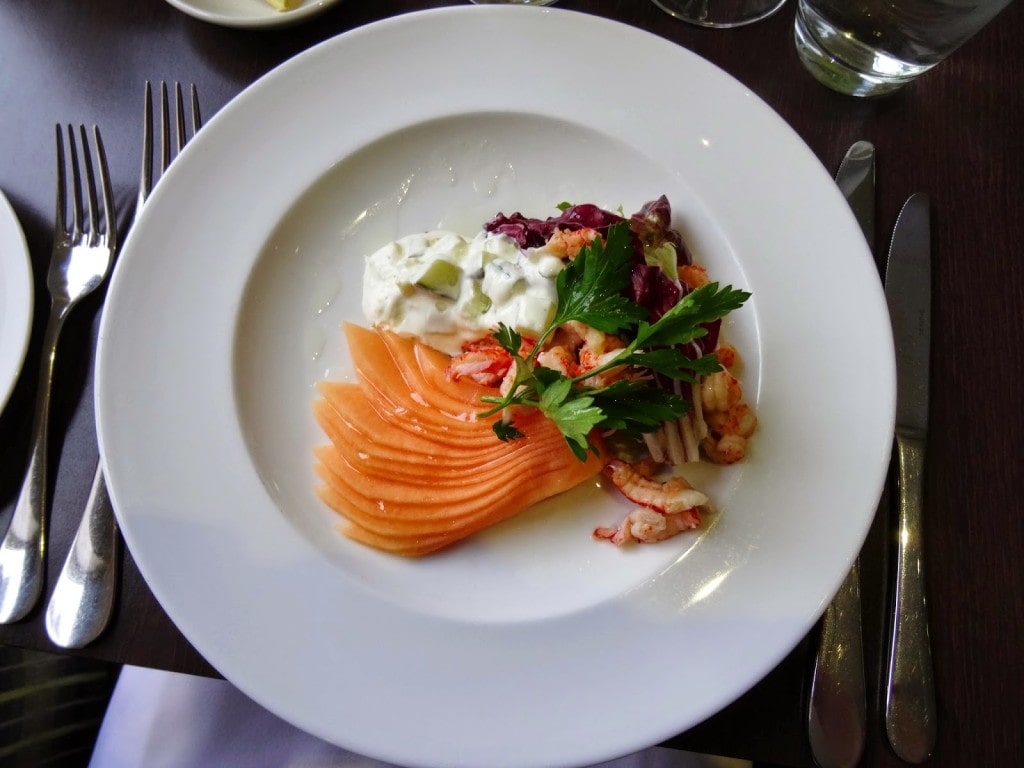 Brian chose Crayfish Tails with Melon, cucumber tartare and lemon sherbet dressing and reported that the melon was sweet (I love how finely sliced it is) I had a little taste of the crayfish tails which were good and worked well with the cucumber tartare.
Both of the starter plates were well presented and reasonably priced at £5.25. Other starters offered were Soup of the Day, Tomato Tarte Tatin, Rabbit Terrine and Aranchini Cheese
On to the mains and we were spoiled for choice, in the end we rejected the Pan Fried Steak, the Roasted Stuffed Chicken, the Venison and the Smoked Haddock Fillet, instead Brian chose the Oven Roasted Duck with Braised Red Cabbage and sauteed Pak Choi. He chose to have his duck cooked medium rare and it was very tender with a really tasty jus/gravy. The veg were also well cooked including two perfect roast potatoes.
My plate contained something that Brian doesn't like: Black Pudding, Pork Fillet, Houston's Black Pudding (local butcher) orange segments and rosemary. The vegetables were little baby carrots and perfectly al dente french beans. The pork fillet just melted in the mouth and wasn't overpowered by the little cubes of black pudding, gosh it was good!
There was also a good range of vegetarian mains: Roasted Tomato and Mushroom Stack with warm Borlotti Beans, Spinach and Mushroom Spring Roll with Moffat Ricotta and Vegetarian Tart with basil pesto.
We both felt that the portion sizes were perfect for us, we didn't feel over full and enjoyed every mouthful. As we weren't over full, we had room for some dessert.
I would say that this was the weakest of all the courses. The Raspberry Cheesecake was more jelly-like than expected although the strawberry ice cream was really fruity. I chose the lemon tart, the filling was nicely tart, but the pastry was rather thick and not crisp (now I sound like Mary Berry on the Bake-off!) it was accompanied by vanilla ice cream which was pleasant but not outstanding. This didn't spoil our meal, but given the high quality of the starters and mains, it was just a little disappointing.
Here is Brodies, it's set back from the High Street and, as you can see, despite a very traditional looking building, the interior is bright and modern, the opening at the back leads to the wine bar and additional seating.
Brodies serve coffee and cakes during the day, lunches, brunch all day on Sunday or book in for Sunday Lunch. Brodies also have an Early Doors fixed price menu and many of the dishes on the a la carte can be prepared gluten-free. This might not have been the most adventurous of Foodie Adventures but it was a 'most excellent' adventure and I would certainly recommend Brodies and will be returning.
Here are some of this year's major events where you could have a foodie adventure or check out the Scottish Food and Drink Fortnight website for more news of what's going on.
Best
of the West Festival 13/14 September
Set
on the banks of Loch Fyne this event offers a family friendly day out where
visitors can enjoy the very best food from Argyll while sampling some excellent
musical performances. For whisky lovers there is the Loch Fyne whisky bar where
they can have a dram of the finest refreshment this area has to offer.
Loch
Lomond Food and Drink Festival 6/7 September
The
festival takes place at the idyllic Loch Lomond Shores and aims to showcase small
artisan producers with big personalities. From Scottish chilies to gourmet dog
treats this event has it all for food lovers and their four-legged friends!
Huntly
Hairst Food and Farming Festival 6/7 September
The
small Aberdeenshire town of Huntly has played host to the Huntly Hairst Food
and Farming festival for the past 11 years. This event features a farmers'
market where visitors can even get into the competitive spirit by taking part
in the annual World Stovie Championship.
City
of Elgin Food and Drink Festival 20 September
Elgin's
annual food and drink festival has exciting cookery demonstrations using
locally sourced produce, to give visitors ideas and inspiration to spice up
their menus at home with the best Scottish fayre.
Dundee
Flower and Food Festival 5/6 and 7 September
Last
year saw thousands of locals and tourists flock to Camperdown Park for a day
full of flowers and food goodies. This year is set to be even bigger with chefs
like Nick Nairn and Paul Rankin in the cooking spotlight.
Living
Food at Cawdor Castle 20 September
Living
Food at Cawdor Castle gives guests a chance to sample the best produce the Highlands
has to offer. Set in the picturesque grounds of the castle, this event looks as
good as it tastes!
Created to highlight the healthy,
locally sourced food and drink available from Scotland's natural larder the 2014
Fortnight aims to be the biggest yet.
The festival will also act as an
excellent introduction to the Scottish Government's 2015 Year of Food and Drink
celebrations.
To learn more about Scottish Food and Drink Fortnight and how you can be involved visit:
www.scottishfoodanddrinkfortnight.co.uk,
like www.facebook.com/eatscottishI was provided with £50 to have a foodie adventure, I was not required to write a good review and all opinions are my own.