It's time for another round up review On my Kitchen Table. I'm bringing you an eclectic mixture of items from cakes delivered through your letterbox to Slow Cooker Liners with a few snacks thrown in too! Let me know if you try any of these products and what how you rate them.
Send me Cakes
I've had cakes through the post in the past which tasted manufactured rather than homemade. I was interested to see whether the cakes from Sendmecakes would live up to their description as homemade. The slim box dropped through the letterbox and when I opened it, I couldn't believe how many slices of cake were packed in there. Each slice is individually wrapped in cellophane and tied only with a piece of raffia which opens easily when you pull at the bow.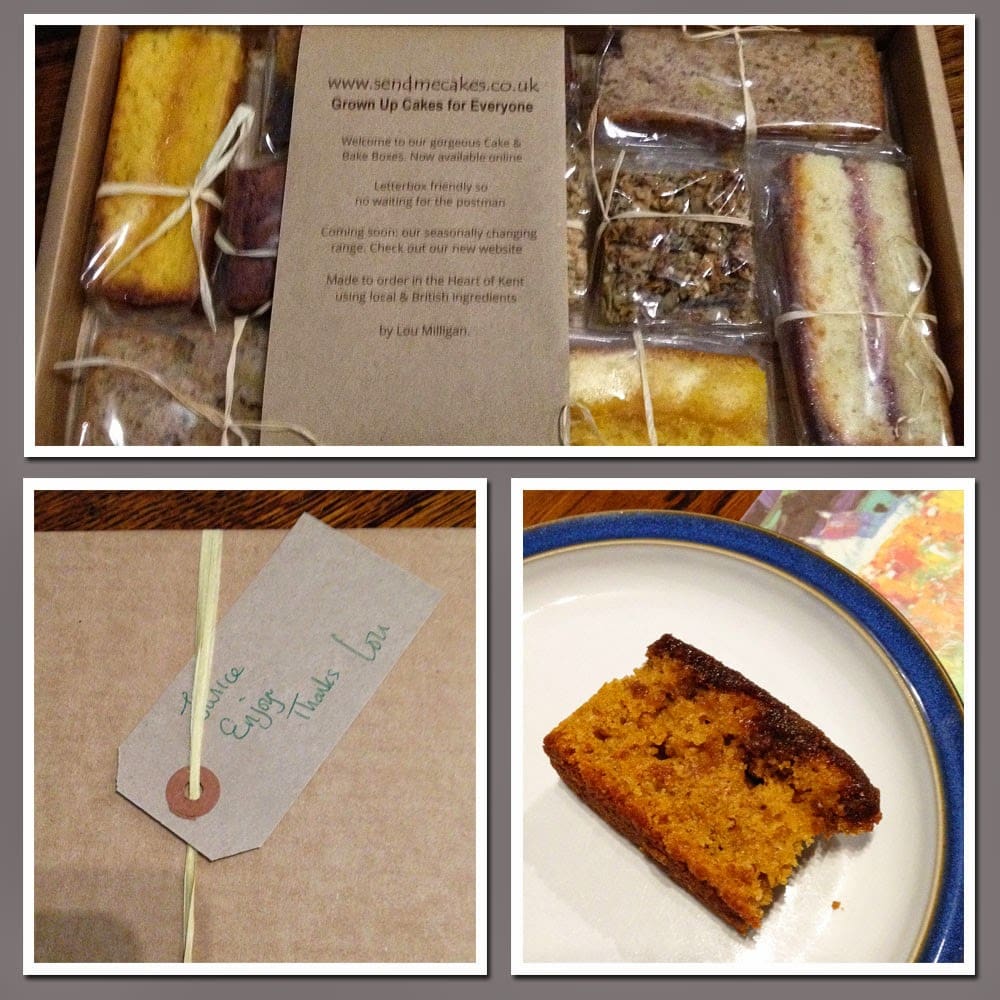 The cakes have no fondant icing, no butercream and no 'fake food' ingredients. They stay moist for days (recommended to be kept in a cool place and eaten within 5 days of dispatch) and each one contains fruit or veg, herbs and spices and only natural extracts.
There is a full list of Varieties and Ingredients, my box contained the following:
Apricot Bakewell Sandwich – probably my favourite slice, so moist and tasty
Lemon and Stawberry Jam Sandwich – a traditional Victoria Sandwich with a real home made taste.
Kent Apple Cake – there were a couple of slices of this cake as it's one of the signature bakes. It's a lovely homely cake.
Treacle Toffee Drizzle – that's the slice pictured above (half a slice on the plate), sweet crunchy toffee topping, soft sweet cake.
Original Brownie – dense brownie with a true chocolate taste
Apricot Slice – oaty, apricot traybake
Super Seed Flapjack – probably my least favourite, just too many seeds but oh so good for you.
I cannot recommend these cakes highly enough. You could certainly pass them off as your own, they taste home made. A box of these cake slices would be an ideal gift for Mothers Day, a birthday, New Home or Get Well Soon.
The Ultimate Bake Box costs £22.00 including UK postage
A Gluten Free Slice Box costs £22.00 including UK postage
100% Cake Box costs £20.00 including UK postage
Kent Bramley Apple Cake costs £17.00 including UK postage


Rating 10/10
Slow Cooker Liners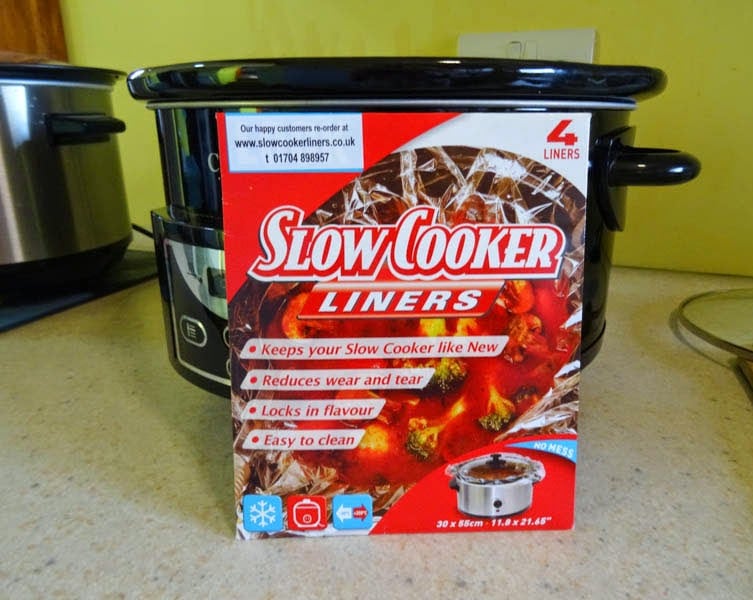 Slow Cooker Liners are something I had read about in US Slow Cooker cookbooks and online recipe sites, but I had never seen them in the UK. I actually spotted these on Twitter and have been sent a sample pack of 4 liners for review.
I've been asked what the point is of Slow Cooker Liners and I can see where people are coming from with this, it's really not so difficult to clean your slow cooker as most models have removable crocks or non-stick metal pots. There are, however some instances when I would welcome not cleaning out the pot after making a particularly messy or sticky recipe which requires soaking and scrubbing. In addition, the liners claim to keep your Slow Cooker like new, reduce wear and tear and lock in flavour.
I would also recommend them for making Double Dinners, where you cook two separate dishes at the same time/ I couldn't get the liners at the time, so used roasting bags.
I made Dhruv Baker's 'Yellow Curry' from his book Spice. It's loaded with turmeric which is notorious for staining everything. The Slow Cooker liners worked perfectly, they are BPA free food grade plastic so the dinner had no plastic taste and the CrockPot only needed a little bit of a wipe round.
I wouldn't use the liners every time but it would certainly be worth having a pack in the cupboard for particular dishes, double dinners and when you just can't face the washing up!
Slow Cooker Liners – £1.39 pack of 4
Rating 7/10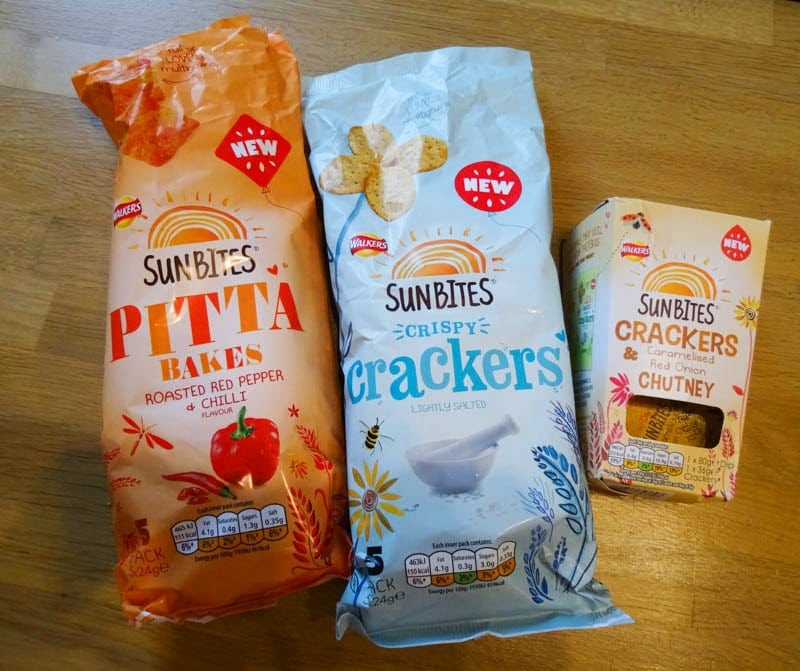 Snack Attack!
SUNBITES UNVEILS EXCITING NEW ADDITIONS TO SNACK RANGE
Sunbites, the extraordinarily tasty multigrain snack from Walkers, announces the arrival of three new products set to tantalise our taste buds. The new scrumptious additions include Crispy Crackers, Pitta Bakes and Crackers & Dip.
The oven-baked Crispy Crackers and Pitta Bakes are made with multigrains and contain 30% less fat than regular crisps.
There are four new flavours of Crispy Crackers: Cream Cheese and Chive, Sun Ripened Sweet Chilli, Lightly Salted and Oven Roasted Onion and Rosemary. Being more of a 'lightly salted' sort of girl, I just loved the Crispy Crackers, the taste of the grains really came through. A 24g bag of Crispy Crackers contains 110 calories and a multi-pack of 6 packs costs around £1.26 – £1.89
Sunbites Pitta Bakes are available in Vintage Cheddar and Caramelised Onion, Roasted Red Pepper and Chilli and Oven Roasted Onion and Rosemary flavours. I also tried the Roasted Red Pepper and Chilli Pitta Bakes, they were crisp with a real blast of flavour, the bags are a nice size for children and each bag contains 111 calories a multi-pack of 6 packs costs around £1.26 – £1.89
There is also the new Sunbites Crackers and Dip packs a tasty snack to add a moment of pleasure to your day. Flavours come in Caramelised Red Onion Chutney with Lightly Salted Crackers and Sundried Tomato and Roasted Red Pepper Salsa with Lightly Salted Crackers. The Caramelised Onion dip is a generous portion and designed to serve two with a small pack of Crispy Crackers. I think you would probably need two bags of crackers to really enjoy all the dip, but you could use any leftover dip with burgers or on sandwiches. The Crackers and Dip pack costs around £1.00 – £1.89
Rating: 9/10
I hope you enjoyed reading about these products, let me know what you think if you have tried them or plan to try any of them as a result of these reviews.
I received these products for review, I was not paid and all opinions are my own.