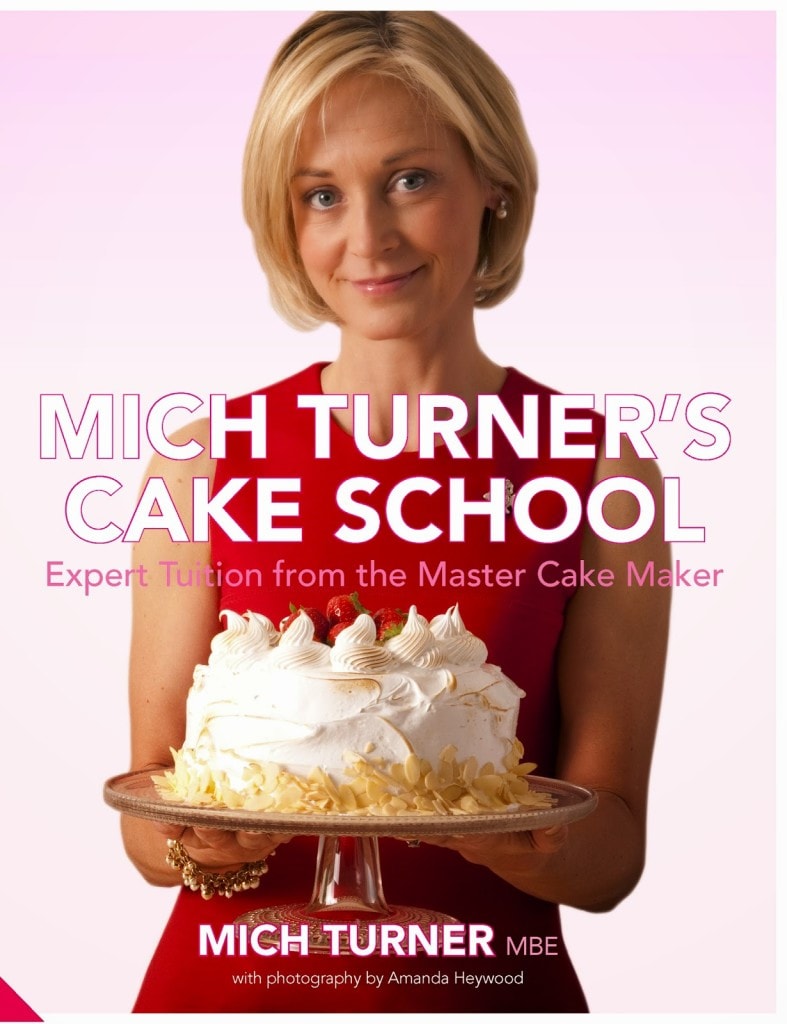 I've learned so much watching the Great British Bake Off. It's clear that the bakers who excel on the Bake Off generally have a lot of knowledge and experience of a wide range of baking techniques and this gets them through, not only the bakes they have practiced, but more importantly, brings success in the technical challenges.
If you wanted to prepare yourself for Bake Off then learning the techniques in Mich Turner's Cake School would be a good place to start. Although there are many recipes in the book, the real value comes from the step by step tutorials which teach the principles of cake making.
About the author
Mich Turner's Cake School
Lesson 1 – Making and Baking Cakes starts with the basics in a chapter about ingredients: sugars, flours, fats, eggs, spices, flavours and alcohols and other ingredients, each section with helpful tips from Mich.
Preparation comes next with tutorials on lining cake tins and removing cakes from various tins.
Then on to the different Cake-baking Methods. The Creamed Cake Method is a classic and Mich shows you how to create a perfect cake and also shows you how to test that your cake is ready. This is followed by a full page of images of cakes that have gone wrong, with clear explanations of what is likely to make your cake e.g. sink in the middle, bulge at the sides etc. Recipes follow for Heavenly Vanilla Cake, Pineapple Upside Down Cake and Courgette Pecan Loaf.
The Whisked Cake Method is one of those I tend to avoid as these delicate cakes are slightly more temperamental, but the clear picture instructions are tempting me to have a go, especially with recipes like Coffee Hazelnut Roulade, Chocolate Cherry Genoise and a beautiful Orange and Almond Cake.
The Batter and Foam Method is another one that I have used only infrequently, there are more steps to this cake method but the cakes turn out light and airy and make a great carrier for additional flavourings, they can also be refrigerated without drying due to using oil rather than butter. I certainly would like to try to make the Orange Chiffon Cake or a Beetroot Cake.
Back on familiar ground with the All-in-one Method, I've never had any trouble with it but I know some people do find it more difficult to get good results than the Creamed Cake Method, I am sorely tempted by the Marble Cake with a coffee glaze and the Coconut Cake made with creamed coconut.
The Melted Method is another with which I am very familiar, and Mich uses it to showcase a sticky Treacle Gingerbread, a Luxury Fruit Cake, Sweet Potato Cake and Banana and Pecan Cake.
Cake Conversion tables are included covering a wide range of sizes for three of Mich's cakes.
There are also chapters on different fillings, icing and decorating all with fabulous photographs and clear instructions.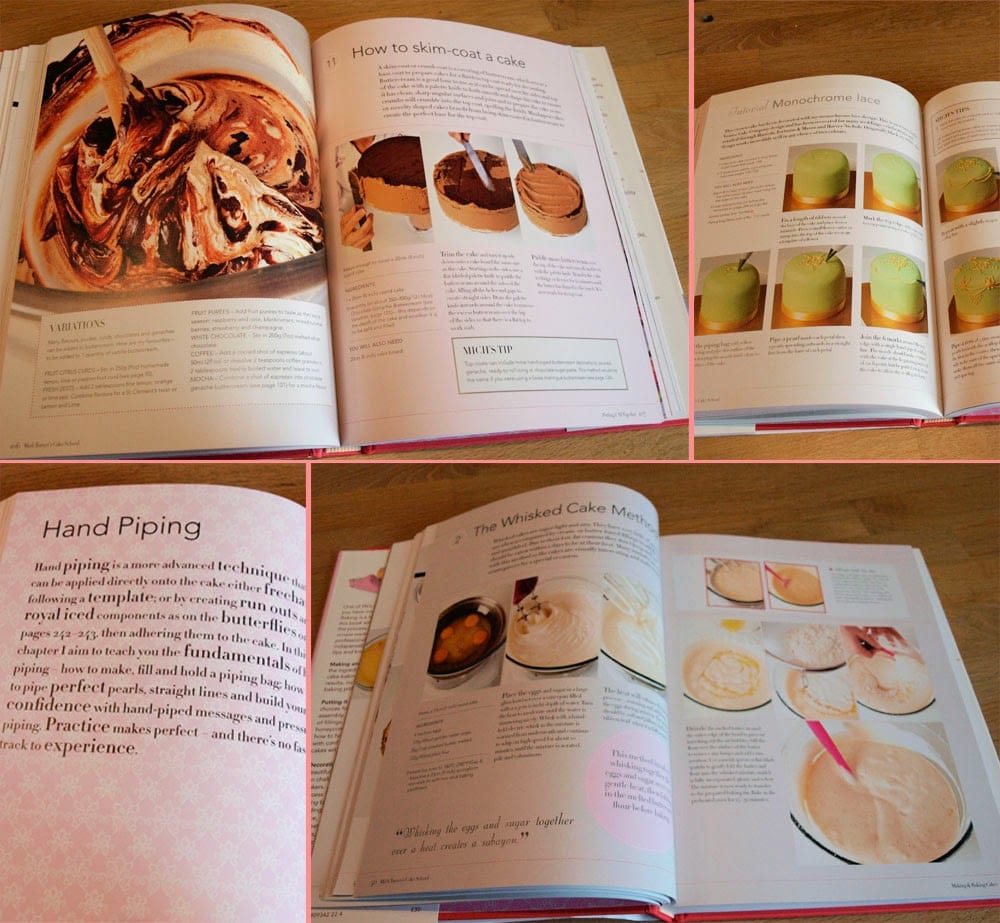 Lesson 2 is about Putting it all Together with fillings and frosting, fruit purees, citrus curds, sauces and cream based fillings. Recipes include Lime and Pistachio Roulade with Creme Chantilly, Hazelnut Praline, Honeycomb and the gloriously rich Darina Kelly's Rum and Raisin Chocolate Biscuit Cake. Recipes are provided for a Dark Chocolate and a White Chocolate Ganache as well as the ubiquitous Vanilla buttercream. As you can see in the photo above you also get instructions for How to Skim Coat a cake.
There is information about applying a ganache and piping with buttercream and various nozzles to create different effects, once you have had a practice you will be ready to recreate the Raspberry Rose Cake, with its rose-like swirls of pink buttercream.
Recipes and techniques for Glace Icing, Italian Meringue, Swiss meringue buttercream, and Royal Icing are all provided. Then we are on to preparing marzipan/almond paste and covering a cake with it. Interestingly Mich doesn't make her own sugar paste (are you listening Mary Berry!) but she does colour it herself giving full instructions for this and covering a cake and the board with sugar paste.
She does however make her own 'fondant' this is a covering icing such as you would find on a fondant fancy. If you have plans to make a tiered celebration cake such as a Wedding Cake, then the instructions on how to make Royal Icing, stacking cakes, using pillars and blocking are all explained.
Lesson 3 is all about Decorating
There is a lot about piping with Royal Icing and some absolutely stunning looking cakes, my favourite was the Brush embroidery technique, if I have time, I might do this on my Christmas Cake this year.
As well as the techniques, Mich provides some outstanding examples of celebration cakes decorated with piping.
The final chapters cover hand moulding from a simple chocolate sugar paste rose to the most incredible, delicate Glorioso Lily. There are even some ideas for special cookies and for hand painting on sugar paste cakes. Templates are provided for some of the designs, finishing with a list of tools and suppliers.
Who is it for?
Anyone who would like to learn to bake or improve their repertoire of cakes and bakes.
Pros
Detailed step-by-step instructions with lots of excellent photographs, so you know exactly what your cake should look like at every stage. Some really delicious looking recipes and some good basics which, once you have mastered the techniques and understood how the bakes work, can become the basis for you to start to experiment with your own flavours.
Cons
There really are no Cons. The book does what it says it will, which is to provide you with a personal Cake School experience and I think it really does do that.
I haven't had the chance to make any of the recipes yet, however I have quite a few bookmarked and having read this book I feel more confident about trying or re-trying some of the different techniques that Mich explains so well.
If you would like a copy of Mich Turner's Cake School you can order a copy at the discounted price of £24.00 incl P&P (RRP £30.00) telephone 01903 828503 or email [email protected] and quote the offer code APG212.
*UK ONLY – Please add £2.50 if ordering from overseas.
Mich Turner's Cake School
Author: Mich Turner MBE
Photography by: Amanda Heywood
is published by Jacqui Small
www.jacquismallpub.com
(@JacquiSmallPub)