I had a bit of leftover puff pastry, you know the scraps round the side that you have cut off your nice neat pie. Sometimes I make little turnovers but there really wasn't enough, so I gathered up the bits and rolled them into a rectangle. Sprinkled on some grated Mature Scottish Cheddar and rolled up from the long side.
I sliced the pastry roll up like a Chelsea Bun and placed them on the baking tray, ground over some black pepper and popped in the oven at 200C for a few minutes until they rose and turned golden and all the cheese had melted. I guess they are a sort of savoury Palmier, whatever you call them, they were very tasty and would be perfect as canapes or even for children's parties. You could also spread tomato puree or ketchup on the pastry before adding the cheese. They certainly didn't last long!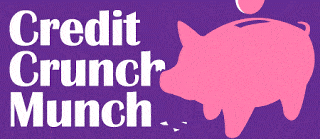 This is my entry for October 2013 Credit Crunch Munch, the money saving blog event run by Fuss Free Flavours and Fab Food 4 All. Had I not made these Cheesey Bites the pastry would have been thrown out and a little bit of grated cheese turned it into a sophisticated canape. Nothing wasted here!
This month Credit Crunch Munch is being hosted by Utterly Scrummy.