This particular carb-fest is the result of my store cupboard audit. As I mentioned in my Random Recipe post I'm trying to use up the bits and pieces that have been abandoned at the back of the larder. In this case about a third of a bag of chickpeas, a few tagliatelle 'nests'. There was also a butternut squash which has been in the fridge for two weeks, I can't even remember why I bought it!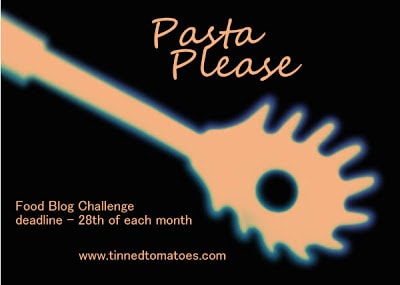 Jacqueline at Tinned Tomatoes is hosting 'Pasta Please' a food blogging challenge using, yes you've guessed it, PASTA! This month the theme is Cheese and Jac has been begging asking for entries on Twitter, so I thought I would help her out with this rather unusual combination of pasta and other stuff that needed used up.
Cheesy Butternut Squash, Chickpea and Pasta Bake
1 large butternut squash, peeled, deseeded and chopped
2 tbsp oil
150g dried chickpeas, soaked overnight and cooked in boiling water until just tender
3 tagliatelle 'nests'
100g Philadelphia cream cheese (mine was the light one but any will do)
100g cheddar cheese, grated (you can use any hard cheese)
salt and freshly ground black pepper
1. Heat the oven to 200C. Put the oil in a roasting tray and add the squash, roast for 30-40 minutes until soft and slightly browned.
2. Cook the pasta according to the packet instructions in boiling water, when ready, drain and mix the cream cheese into the pasta. Season to taste.
3. Mix the cheesy pasta with the chickpeas and roasted butternut squash and put in a buttered or oiled ovenproof dish.
4. Sprinkle the grated cheese over the pasta bake and put in the oven for 15 minutes until the cheese has melted and formed a crunchy golden topping.
5. Serve with a green vegetable.
The bake was filling and tasty, ideal for a cold day in January. The chickpeas near the top of the dish had become lovely and crunchy in a 'Bombay Mix' sort of way and the sweetness of the butternut squash and saltiness of the cheese worked well with the bland flavour of the pasta and chickpeas.