I bought some cherry tomatoes yesterday and when I got home I realised I hadn't used many from last week. There they were sitting in the bowl, mostly very ripe with the odd one that had to go in the compost. I thought I had better use them before more got past their best and had to go out. I had also bought a 'baton' loaf in Tescos last night for only 7p, reduced at the end of the day, it had already gone a bit soft by this morning so also needed using up. Plenty of eggs in the basket, so I thought I'd make a sort of Bread & Butter pudding with roasted tomatoes.
Cherry Tomato Bread & Butter Pudding
3 eggs
1/2 cup of milk
Approx 20 cherry tomatoes
1 tbsp olive oil
1/2 a baton loaf (or french bread) sliced
a couple of knobs of butter
salt & freshly ground black pepper
First roast your tomatoes, I put them on a non-stick baking tray with 1 tbsp olive oil and roasted for 15 minutes at 200C. Meanwhile, butter your baking dish, small and deep rather than large and shallow, and beat together the three eggs, milk, salt & pepper. Dip the bread slices in the egg mixture making sure that they are well soaked in egg, put a layer of the bread in the bottom of the dish.
Take the tomatoes out of the oven and put on top of the eggy bread, then put another layer of egg soaked bread over them. Dot with butter and bake until golden brown, about 20 minutes at 160C. Serve on it's own as a lunch or breakfast dish or with salad or vegetables as a main course.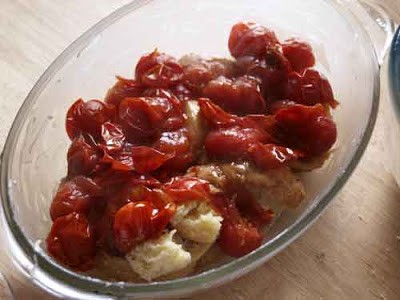 The roasted tomatoes on top of the first layer of eggy bread.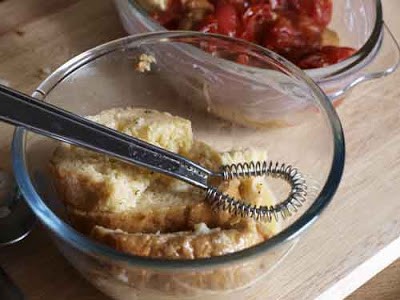 Make sure the bread is really soaked in the egg mixture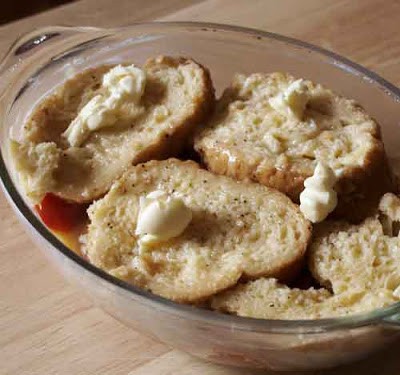 Dot with butter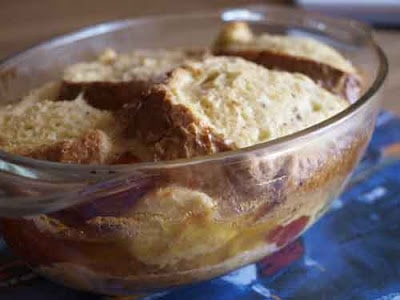 Bake until golden brown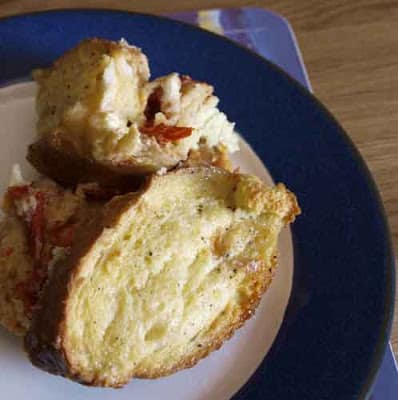 I have to say that this was really delicious, the sweetness of the roasted tomatoes complemented the eggs and bread, I would definitely make it again.