Let me tell you about my visit to Courses for Cooks, the final post in the trilogy from a visit to Fife with Welcome to Fife, discovering chocolate and chillies in Fife. There are links at the bottom of the page to the other posts.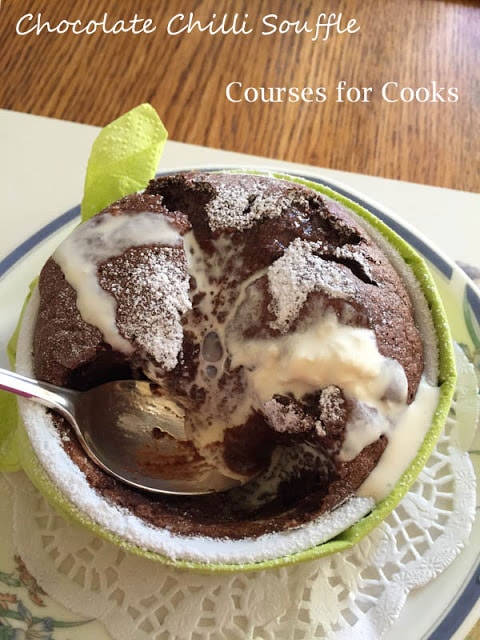 Our final stop in our tour of Fife food destinations was at Courses for Cooks held in the beautiful Victorian Manse, just outside Cowdenbeath, the home of Jenny Thomson. Jenny is an experienced and well-travelled professional chef and cook who believes in cooking with fresh, local, seasonal produce with the minimum of fuss and maximum flavour.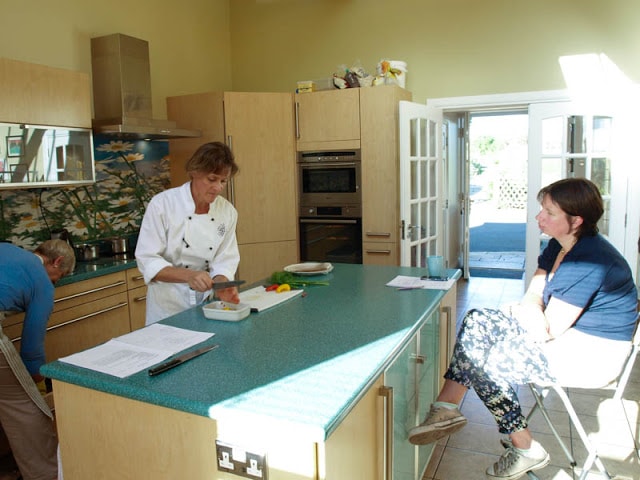 As you can see the kitchen is spacious and beautifully appointed. Claire from Foodie Quine and I were the only participants in this Chocolate and Chilli Demo and Dine but there is plenty of room for larger parties and this would be a fun alternative to going out to dinner for a special occasion. We were greeted with coffee and shortbread and then settled down to watch Jenny prepare our dinner!
This was our menu:
Starter
Seasonal Fish Ceviche
with Chia, Flax and Cocoa Nib Crackers

Entree
Roasted Rolled Yard Bird
served with Roasted Rainbow Vegetables with Puy Lentils

Dessert
Chocolate Chilli Souffle

Each dish was beautifully presented, as you can see, and Jenny explained everything she was doing while preparing the meal. As someone who loves to cook I would have enjoyed getting my hands in there myself preparing the recipes. Courses for Cooks runs a range of courses including Seasonal Entertaining, Vegetarian Feast, Fantastic Fish, Easy Bread Making, Beginners Baking, Perfect Puddings, Game Cooker and A Taste of…(France, Italy etc.)

Seasonal Fish Ceviche

Chia, Flax and Cocoa Nib Crackers
I found these Chia, Flax and Cocoa Nib Crackers completely fascinating, from the gloopy texture of the soaked chia seeds to the deliciousness of the finished crackers. Thanks to Jenny for agreeing to let me publish the recipe.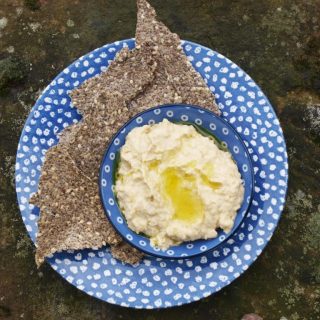 Chia, Flax and Cocoa Nib Crackers
Delicious, crisp gluten free crackers with a nutty flavour.
Ingredients
3

tbsp

chia seed

2

tbsp

ground flax seed

1

tbsp

rice flour

1

tbsp

buckwheat flour

1

tbsp

cocoa nibs

1/4

tsp

fine sea salt

1/4

tsp

flaky sea salt
Instructions
Set the oven to 170C/Gas 3

Put the chia seed in a bowl and pour over 100 ml boiling water. Allow to stand for 10 minutes.

Pour hot water over the cocoa nibs t just cover and allow to stand for 10 min, then chop finely.

Combine the ground flax seed, rice flour, buckwheat flour and fine sea salt in a bowl

Add the soaked chia and cocoa nibs to the dry ingredients and mix to forma stiffish paste.

Lightly oil pieces of non-stick parchment paper or silicone baking mats.

Put the dough onto the mat, cover with the second piece and roll out to the thickness of 1 seed.

Peel the top mat off the dough, you can either bake it in a whole piece or cut square or triangle shapes into the dough.

Put the mat with the dough on it onto a baking sheet and bake for 20 min.
Notes
Store in an airtight tub or tin.
Don't Miss My Latest Recipes
CLICK TO SUBSCRIBE NOW to join my newsletter list & receive a FREE 'How To Adapt Recipes For Your Slow Cooker' printable!
The Chia, Flax Crackers, in the photo in the recipe card are the ones I made at home, I didn't have any Cocoa Nibs so used sesame seeds instead. I wouldn't recommend using baking parchment as I found that the crackers stuck and I only managed to salvage about half of them. Definitely go for silicone baking mats! They still tasted great though and I will be making them again.

Roasted Rolled Yard Bird with Roasted Rainbow Vegetables with Puy Lentils
The Yard Bird is a roasted chicken breast stuffed with pheasant leg meat, breadcrumbs, vegetables, herbs, cocoa nibs and chillies and served with a delicious dish of roasted vegetables served with lentils cooked in vegetable bouillon and topped with goats cheese walnuts and cocoa nibs.

Chocolate Chilli Souffle
Finishing with a classic chocolate souffle spiced up with tabasco sauce, there is a lot of tabasco in the souffle, but there wasn't a huge chilli kick. It was gorgeous with cream poured into the centre.

Dinner was served in the traditionally decorated dining room of the Manse with a glorious view of the surrounding countryside.

Courses for Cooks vouchers
make great presents, ideal for Christmas, they last one year and can be used towards any of the cookery courses.
Read about the rest of the Chocolate and Chillies in Fife:
Disclaimer: I was the guest of
Welcome to Fife
I'd like to thank them and the host organisations who made this a memorable trip.