I thought I'd better make a recipe for my own blog challenge: The Slow Cooker Challenge. The theme this month is 7-a-day Fruits or Vegetables. Now it might be pushing it to get a full seven portions of fruit or vegetables onto one plate, but it isn't that difficult to add 7 fruits or vegetables to a single dish.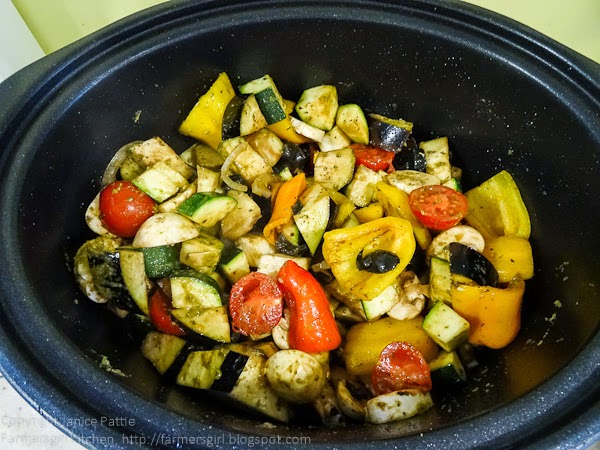 Chicken
with 7 Vegetables
8 chicken thighs
1 onion
2 cloves garlic
8 mushrooms
7 small vine tomatoes
2 Aubergines (Eggplant)
3 large or 12 mini red, orange or yellow (bell) peppers
2 large courgettes (zucchini)
12 pitted black olives
2 tablespoons of pesto
2 tablespoons of balsamic vinegar
small bunch of parsley
1. Brown the chicken pieces in a pan with a little oil, set aside.
2. Chop all the vegetables into even sized pieces and place them in the bottom of the slow cooker.
3. Mix the pesto and balsamic vinegar into the vegetables and top with the chicken pieces.
4. Cook on medium for 4 hours or on low for 7 hours.
5. Top with chopped parsley.
6. Serve with crusty bread to soak up the juices.
I'm also entering this recipe for Four Seasons Food Spring Challenge: Let's Celebrate Vegetables run by Delicieux and Eat Your Veg.
Fuss Free Flavours and Utterly Scrummy are also celebrating 7-a-day with their challenge Extra Veg.