Slow Cooker Chicken with 7 Vegetables is a recipe created to celebrate the increase of recommended vegetable portions from 5-a-day to 7-a-day.
It is a bit of a challenge to eat 5 portions of fruit and vegetables. every day. Putting a full seven portions of fruit or vegetables onto one your plate seems like a mammoth challenge.
7 a day
7 a day fruit and veg 'saves lives'" reports BBC News, while The Daily Telegraph states that "10 portions of fruit and vegetables per day" is best.
The headlines have been prompted by the results of a UK-based study that used information on more than 65,000 randomly selected adults who were participating in the Health Survey for England.
This is an ongoing health survey that looks at health and lifestyle factors such as fruit and vegetable consumption. The researchers followed up participants for an average of 7.7 years after their initial participation.
The researchers found that eating fruit and vegetables was associated with a lower risk of death from any cause, looking especially at deaths as a result of cardiovascular disease and cancer. The higher a person's intake of fruit and vegetables, the greater the protective effects seemed to be.
People who ate seven or more portions a day had a 33% reduced risk of death compared with people who ate less than one portion.
source NHS
7 Vegetables in one meal
This recipe for Slow Cooker Chicken with 7 vegetables gives you all 7 portions in a single meal.
Brown the chicken and set aside, then add all the chopped vegetables to your slow cooker.
Add extra flavour with balsamic vinegar, pesto and olives. Top the vegetables with the chicken and cook on high for 4 hours or on low for 7 hours.
The vegetables will be soft and yielding and the chicken will be tender and falling off the bone.
Serve with mashed potatoes, rice, pasta or simply with crusty bread to soak up all the delicious sauce.
More Slow Cooker Chicken Recipes from Farmersgirl Kitchen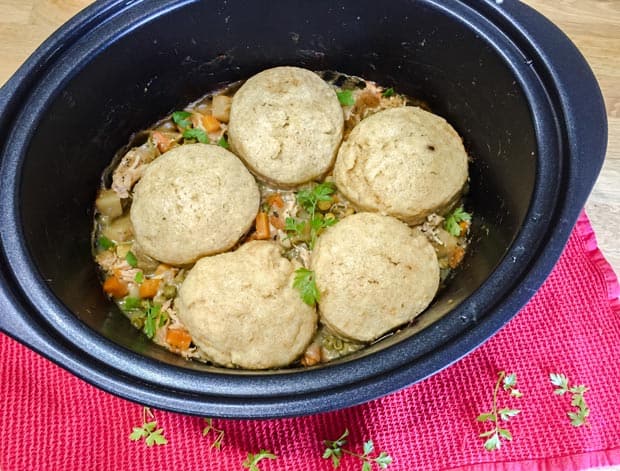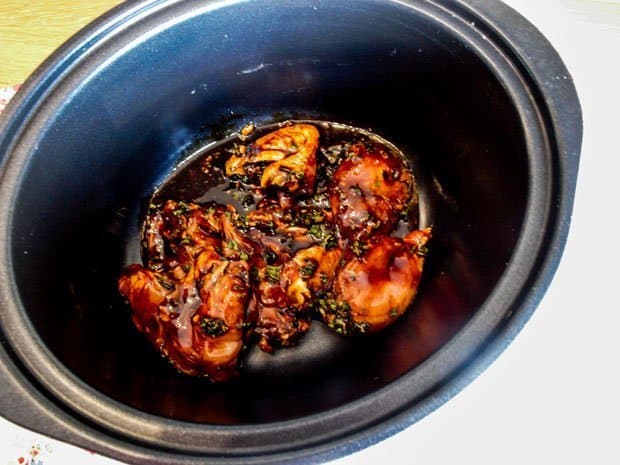 I'm also entering this recipe for Four Seasons Food Spring Challenge: Let's Celebrate Vegetables run by Delicieux and Eat Your Veg.
Fuss Free Flavours and Utterly Scrummy are also celebrating 7-a-day with their challenge Extra Veg.