Chicken and Apricot Curry is a sweet mild curry that will appeal to those who prefer a subtlety spiced dish rather that a chilli hot.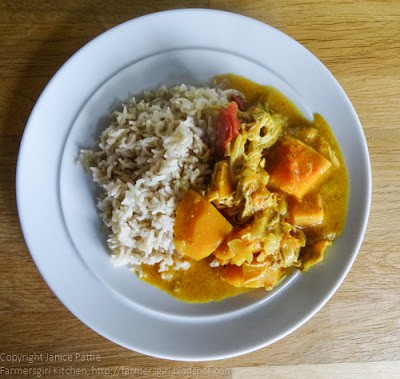 A Love for Food
is a cookbook from Daylesford.
Daylesford
is an organic farm estate, set up by Carole Bamford in 2002, dedicated to producing, top quality, locally produced food, the business is based on self sustaining organic food model that explores the link between what we eat and where it comes from. Daylesford now have two farmshops with cafes in London, kitchen dining and farmshop in Esher, a concession in Selfridges Food Hall and farmshop and cafe in the Cotswolds.food 'from farm to fork'. It is one of the most sustainable farms in the UK.
This book will help you make Daylesford's award-winning recipes at home, showing you how to live healthily and simply throughout the the food calendar year.
The Chapters
I've picked out a few recipes, which particularly appealed to me, from each chapter.
Grazings: Garden Vegetables with Hot Cheddar Sauce and Salsa Verde Mayonnaise; Bubble and Squeak with Fried Egg; Ham Hock Terrine with Piccalilli.
Soups: Beetroot, Bacon and Creme Fraiche; Celeriac and Apple; Squash and Smoked Haddock Chowder.
Salad: Griddled Courgettes and Pine Nuts in Yoghurt and Mint Dressing; Crunchy Chopped Vegetables; Lentils, Tomato, Daylesford Blue and Red Onion.
Vegetables: Wilted Spinach and Toasted Pine Nuts, Sultanas and Lemon Zest; Woodland Mushroom Shepherd's Pie; Leek and Wild Garlic Pesto Risotto.
Savoury Tarts and Pies: Single Gloucester,, Spinach and Smoked Bacon Open Tart; Three Tomato Tart; Cheddar, Potato and Onion Pie; Venison and Cranberry Pie.
Fish: Pan-roasted Pollock with Crushed Potatoes and Watercress Mayonnaise; Halibut with Morcambe Bay Shrimp Butter Sauce.
Meat: Slow-cooked Lamb Shoulder with White Beans and Salsa Verde Mayonnaise; Chicken and Apricot Curry; Smoky Slow-cooked Shin of Beef Chilli; Venison Cottage Pie with Beetroot and Apple Salad.
Puddings: Orange-poached Rhubarb Jelly; Coffee Jelly with Brown Bread Ice Cream; Salted Ginger Treacle Tart.
Breads: Pumpernickel; Seven Seeds Sourdough; Nettle Bread.
Cakes and Bakes: Manuka Honey Cake; Earl Grey Cake; Blue Cheese and Walnut Biscuits; Milk Chocolate, Almond and Espresso Fudge.
Staples: Salsa Verde Mayonnaise; Minted Aioli; Butternut Squash Chutney; Gooseberry and Elderflower Jam.
I chose to make a Chicken and Apricot Curry, using some of my favourite ingredients, chicken, apricots, coconut milk and butternut squash.
Chicken and Apricot Curry
Sea salt and freshly ground black pepper
1.25kg chicken meat, cut into bite sized pieces
About 2 tbsp sunflower oil
1 large onion, finely chopped
2.5 cm piece of fresh ginger, finely chopped
1 red chilli, finely chopped
1 tsp cumin seeds
1 tbsp chilli powder
1 tbsp ground turmeric
2 large ripe tomatoes
150g squash, peeled and chopped
1 large baking potato, chopped (about 2cm)
1/2 medium leek, sliced
100g apricots, roughly chopped
500ml good chicken stock
100g coconut milk
1. Season the chicken. Heat 2 tbsp of sunflower oil in a large casserole and brown the chicken in batches, removing each batch to a bowl.
2. Lower the heat and add the onion, ginger, garlic and chilli, together with a little more oil if needed, and cook gently until the onion is softened and golden. Stir in the cumin seeds, curry powder and turmeric and cook for a further 5 minutes, to release the flavour of the spices.
3. Add the stock and the coconut milk and bring to a simmer. Cover and cook gently for about 30 minutes, until the chicken is cooked through and the vegetables are tender.
4. Taste and season as necessary. Leave to stand for 20 minutes before serving to allow all the flavours to merge, then reheat gently – make sure the chicken is hot all the way through – and serve.
This was a pleasant enough dish but nothing out of the ordinary. I was rather disappointed although it had improved on the second day when I served the leftovers on toast for lunch!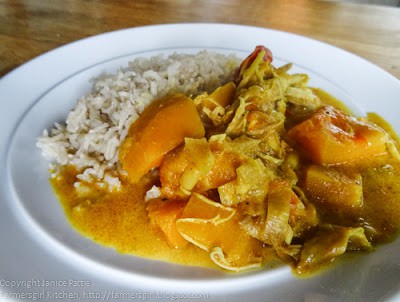 Pros
There are some excellent recipes in this book, I also enjoyed the "Notes on…" pages and also the sections describing the history of Daylesford and information about how they farm and why. These are very well written and entertaining as well as informative. There is a useful Seasonal index near the beginning of the book highlighting which recipes to cook in each season.
Cons
I don't know why, but I found it quite difficult to find a recipe I wanted to make. The book is an odd combination of classic recipes like Fish Pie and Leek and Potato Soup alongside interesting and inventive salad and vegetable combinations. Many of the recipes feature ingredients that are not readily available in my local area and would be expensive luxuries. Most, but not all, recipes have photographs.
The Verdict
If you have easy access to a farm shop or other outlet selling a wide range of produce, then you will find plenty of recipes in this book to help you create a variety of dishes. It is an interesting read and contains many recipes which would suit vegetarians. There are some recipes I will go back and make, but it's not a book I feel I can give a rave review. I felt it was rather disjointed and other seasonal and farm shop cookbooks that I have reviewed and cooked from appealed to me more.
A Love for Food – Daylesford
Published by 4th Estate an imprint of Harper Collins
RRP £30
Thanks to Harper Collins for the opportunity to review A Love for Food, I was not paid for this review and all opinions are my own.