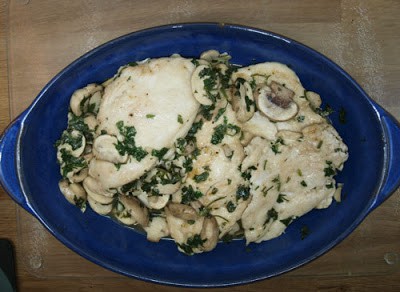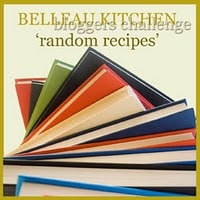 The Random Recipe challenge at
Belleau Kitchen
had a helping hand from Choclette from
Chocolate Log Blog
this month. Dom asked her to count her cookbooks and then randomly select a
number… she chose to ignore this and went for her lucky number 17… so that is what we all have to do this month. Simply count our cookbooks
from left to right and stop at number 17… and then select a recipe randomly from this book.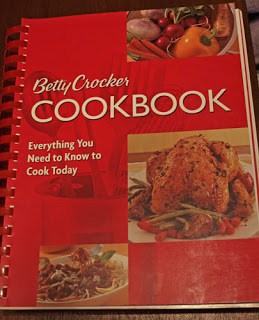 Book no. 17 on my shelf is this Betty Crocker Cookbook which I brought back from the US. I opened the book with some trepidation hoping that I wouldn't get a recipe with difficult to source ingredients, but fortunately it opened in the chicken section and this recipe for Chicken Marsala.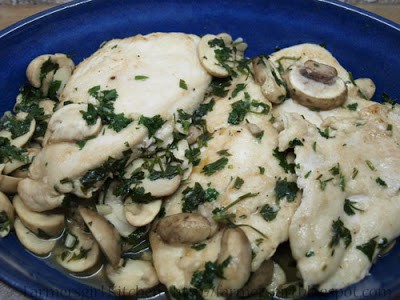 Chicken Marsala (serves 4)
from Betty Crocker Cookbook (Tenth Edition)
4 boneless skinless chicken breasts
1/2 cup of plain flour
1/4 tsp salt
1/4 tsp pepper
2 tbsp olive or vegetable oil
2 cloves of garlic, finely chopped
1 cup sliced fresh mushrooms
1/4 cup chopped fresh parsley
1/2 cup dry Marsala wine or chicken stock
1. Between sheets of clingfilm, flatten each chicken breast to 1/4 inch thickness. In a shallow dish, mix the flour, salt and pepper. Coat chicken with flour mixture, shake off excess flour.
2. In a large frying pan, heat the oil over medium-high heat. Cook garlic, mushrooms and parsley in oil for 5 minutes stirring frequently.
3. Add chicken to pan. Cook about 8 minutes, turning once, until brown. Add wine. Cook 8 to 10 minutes or until chicken is no longer pink in the centre.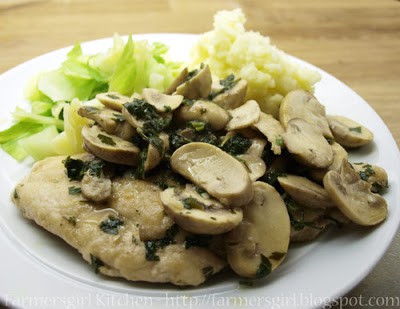 The recipe suggests serving this with pasta, but I served it with mashed potatoes and cabbage and it was very good. I did use rather more mushrooms than in the recipe and didn't have any Marsala so used white wine instead. I felt it needed a bit more seasoning but my husband thought it was fine just as it was. The bonus is that this is a low fat recipe!