I was inspired by a recipe for a 'Lighter Chicken Pot Pie' on The Bite Me Kitchen Blog. I can't remember the last time I made I made Chicken Pot Pie, but I do remember the first time I had it. My dad worked for a US company and often went to California and Arizona on business. The first time he was able to take my Mum with him was in 1975 when I was 16, it had been arranged for me to go to Belgium to visit friends there for my holiday and my older sister was working during vacation from university. When Mum returned she brought with her an 'American Cookbook' and this was one of the recipes she made from it that we all loved and became a familty favourite.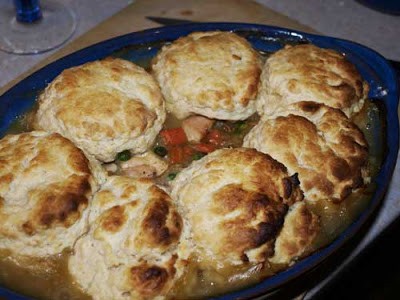 I decided to make it yesterday, because of a mix up over whether my MIL needed any supper on Friday, I thought she didn't and apparently she did! So I used one of the chicken breasts that I had planned to have on Saturday, this left me with less chicken so I used the idea from The Bite Me Kitchen of bulking it up with lots of veg. I didn't however, go for a pastry topping, but the 'biscuits' as per the original recipe.
I have actually got my own copy of the book Mum brought back from the states (I bought it in 1979 when I first went to California), but it was jammed in behind the new kitchen units, so I just made a basic unsweetened scone recipe. OMG it was good though, the biscuits were soft and deliciously buttery (that would be the butter lol!) and the chicken and veg were sweet and tender in their luscious gravy.
When the kitchen is finished I'll dig out the book and post the recipe but it is really just chicken, onions, carrots and peas thickened with flour and sauced up with chicken stock, then the biscuit/scones on top.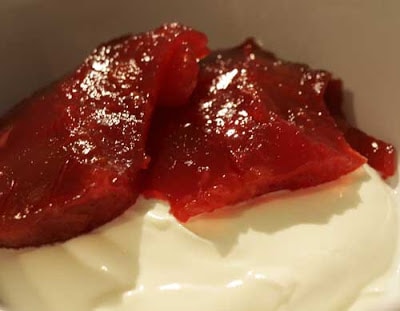 I had some plums left over from last week's plum crumble and they needed used up. I poached them with some sugar and cinnamon then added a raspberry jelly (jello), topped up to 1 pint with orange juice and let it set. Served with Greek Yogurt (sorry Vegboxboy – no cream again!)