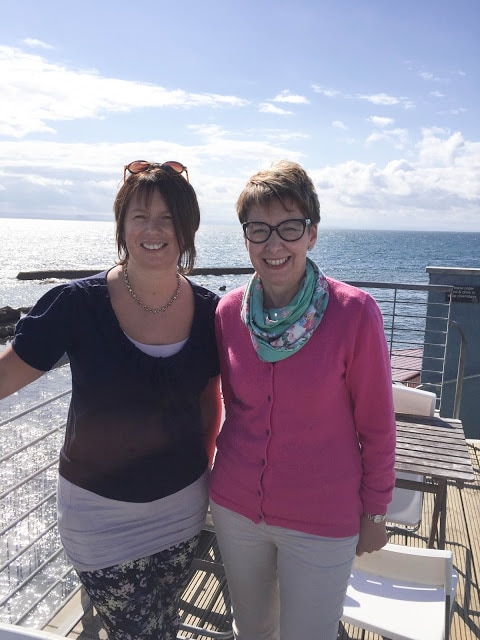 So where do you think Claire, Foodie Quine, and I are posing? Are we on a cruise the Med or the Norwegian Fjords? Well, no actually, we are in the Kingdom of Fife in Scotland on a Chillies and Chocolate Food Trip with Welcome to Fife. More about where this sunny photo was taken in part two.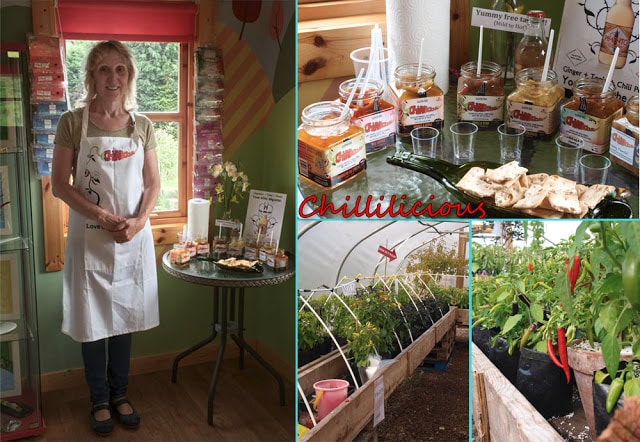 We started our chillies and chocolate tour of Fife in Ceres and travelled a few miles to visit Chillilicious, Scotland's first chilli farm. I met with Patricia Galfskiy at the chilli farm where she and her daughter have developed this family run food and art venture cretaing homemade chilli food and gift items. The new visitor's centre provided an opportunity to taste some of the Chilli chutney that Patricia makes, I tried them all, well it would be rude not to, and they were all very good. Most memorable for me was the Monkey Punch Chilli Chutney which contains banana, kiwi, lime and jalapeno chillies. I loved this combination of flavours really unusual.

Possibly my favourite thing in the Chillilicous shop was the Pimento Ginger Beer. I love ginger beer and this has the most amazing chilli kick, right at the back of your throat, a must for all chilli lovers.

We then moved on to the chilli tunnel where you can pick your own chillies or buy plants. Chillilicious grow approximately 4,000 chilli plants per ear and their speciality is the wide and varied range of rare and super-hot chillies, growing between 50-75 different varieties every year. Last year the talk of the chilli world was the Carolina Reaper and this year it's all about the Chocolate Bhutlah, both of these chillies are grown at Chillilicious.

How hot is your chilli?
These are the chillies that I picked, unfortunately I can't remember the name of them all. What I did learn is that the more crinkly the chilli, the hotter is going to be! I'm hoping to cook up some recipes with these chillies soon.

I've put a little route on this map of Fife, Ceres is around the centre of the map, we then travelled towards the coast to the area known as the East Neuk of Fife and the fishing village of Pittenweem to meet Sophie Latinis at the
Pittenweem Chocolate Company
.

This is Sophie in the chocolate boutique where this artisan and family run choclatier, sources fine speciality chocolates as well as making a bespoke, handmade chocolate range in Pittenweem. Sophie welcomed us and took us upstairs to the working kitchen to tell us about the process of chocolate making and to introduce us to some of the most remarkable chocolate I've ever tasted.

The drinking chocolate was quite incredible. I am not a fan of drinking chocolate, but this was an altogether different experience. It was like drinking liquid chocolate, rich and dark and not too sweet, it would make a fabulous dessert. You can see how much I enjoyed it as I scraped out every last drop with that lovely apostle spoon. The wrapped chocolates on the tray are malt whisky liqueurs, these ones were filled with Laphroig, my favourite whisky. You had to put the chocolate right into your mouth as the liquid just exploded out as you bit into the chocolate, another best, the best liqueur chocolate I've ever tasted. It really was a shot of whisky inside a chocolate not a flavoured sugar syrup.

To match the chillies and chocolate theme of the trip, Sophie had made a tray of Chocolate Chilli Truffles for us to try and she cut them and coated with cocoa powder, the chilli heat was subtle although I have to say that Sophie kindly gave us some to take away and when I tried them again at home, I felt that there was more heat, it may have been that my palate had been blunted by too much chocolate and whisky!

Behind the chocolate boutique there is a quirky cafe, The Cocoa Tree Cafe. Here you can enjoy a relaxed lunch, coffee, afternoon tea or one of those gorgeous hot chocolate drinks. There is plenty of reading material in the cafe, some of it under the glass on the table tops, but also a range of chocolate themed books to read. The staff were delightful and it is clear that Sophie's passion and high standards pervade the whole establishment. I would highly recommend a visit to the cafe and chocolate boutique.
More Chillies and Chocolate
Part Two – Langoustines, Gin and Chocolate Matching
Part Three – Courses for Cooks with Chis Seed and Coco Nib Crackers, Yard Bird and Chocolate Soufflé

Disclaimer: I was the guest of Welcome to Fife and I'd like to thank them and the host organisations who made this a truly memorable trip.