One of my colleagues at work has just returned from New York and gave me this candy bar. Beligan white chocolate with lemon peel and ginger. Check out Dylan's here .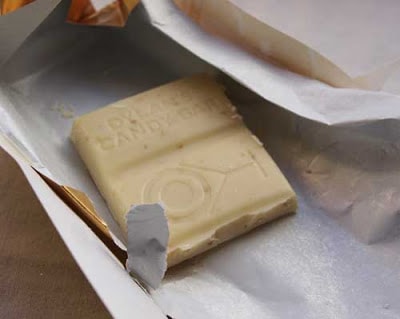 I'm usually not that keen on white chocolate as I find it too sweet, but this was delicious. It was creamy and the little crunchy bits of lemon and ginger took away from the sweetness of the chocolate.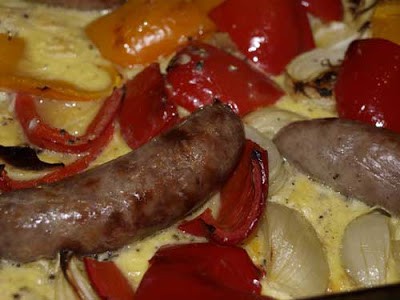 Remember I was telling you about all the eggs I had to get through? Well there are only two left in the basket now (another 6 will arrive tomorrow lol!) I roasted the onions and sausages in the oven in a little olive oil and then added the red and yellow peppers. Six eggs beaten with seasoning went in after the peppers had started to soften and it was a tasty supper served with a mixed salad.
I had a fairly major cook-in this morning. Big pot of Carrot & Tomato soup, Chicken Korma, Pork with rosemary and mushrooms and Arabian Lamb. I'm freezing all of these away for the time when the kitchen is out of commission, another couple of weeks before that happens yet as the joiner was round last night to say he has been held up with the job he is doing at the moment.
I also made a spinach and cottage cheese canneloni. Not pics as yet I'm afraid.