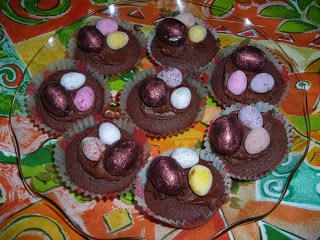 These were delicious and really easy to make.
Chocolate Fudge Easter Cakes
This is from the BBC Good Food Website
Makes 16 (I got 18)
140g soft butter
140g golden caster sugar
3 medium eggs
100g self-raising flour
25g cocoa , sifted
FOR THE FROSTING ( I only made half this amount and it was plenty)
85g milk chocolate, broken
85g soft butter
140g icing sugar , sifted
2 35g packs white chocolate maltesers,
mini foil-wrapped chocolate eggs
We use Fairtrade Divine milk chocolate eggs from Waitrose
I used Green and Blacks Caramel Mini Eggs and Cadbury's mini eggs
1. Heat oven to 190C/fan 170C/gas 5 and put 16 gold cases into a fairy-cake tin. Tip all the ingredients for the cake into a mixing bowl and beat for 2 mins with an electric hand-whisk until smooth. Divide between the cases so they are two-thirds filled, then bake for 12-15 mins until risen. Cool on a wire rack.
2. For the frosting, microwave the chocolate on High for 1 min. Cream the butter and sugar together, then beat in the melted chocolate. Spread on the cakes and decorate with Maltesers and chocolate eggs.