It's my younger son's birthday next week, he will be a very grown up 24 years old, which is far too old for my little boy!  Anyway as he lives in Glasgow, we made the trip up there today to take him and his girlfriend out for lunch and deliver his birthday cake.
I took this opportunity to make a chocolate gingerbread a la Nigella but not as a traybake type cake rather a proper birthday cake.  The mixture made two 20cm sandwich tin cakes and, as a bonus, a little loaf tin which we kept for ourselves!
This cake is for those who like their chocolate cakes dark, rich and spicy but I didn't fancy the icing recommended in the recipe.  I asked my twitter friends whether I should make a ganache or buttercream and got  a mixed response.  In the end I decided to go with a basic buttercream flavoured with cinnamon extract and decorated the top with pieces of crystalised ginger and shavings of dark chocolate.
There wasn't an opportunity to taste the cake when we visited (just as well I have my bonus cake) but my son was impressed by the idea of a chocolate gingerbread cake and loved the look of the cake.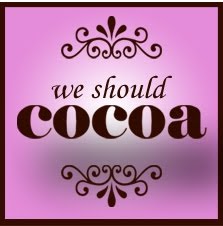 I'm entering this cake for We Should Cocoa, the theme for this month is chocolate and ginger.  The challenge is run by Choclette at Chocolate Log Blog and Chele at Chocolate Teapot.  This month it is being hosted by Jen at Blue Kitchen Bakes

The cake was made using Food Thoughts Fair Trade Cocoa for Fairtrade Fortnight.


Fairtrade Fortnight (25 February – 10 March) will call on the
British public to Go Further for Fairtrade in 2013 to look after the
food we love and the people who grow it. Without our support now,
farmers in developing countries face a difficult and uncertain future.
The
two-week long campaign will highlight the need to think about where our
food comes from, and through an interactive petition will call on the
government to take action before the 2013 G8 Summit. The petition will
signal the start of a three-year long campaign by Fairtrade Foundation –
'Make Food Fair'.
Smallholders
in developing countries are increasingly hit by fluctuating commodity
prices affecting their income and the prices they pay for the food they
buy themselves, rising global food prices, rising production costs, and
climate change.
Fairtrade Fortnight is the nationwide effort to
promote awareness of Fairtrade and urge people to buy products carrying
the FAIRTRADE Mark. It unites all Fairtrade supporters, bringing
together retailers, manufacturers, producers and consumers.
This
year thousands of people up and down the country will get creative with
their Fairtrade campaigning to highlight the importance of small holder
farmers in agriculture and their role in food security. Fabulous
sculptures made from Fairtrade product packaging will form the
centrepiece of this year's local campaign –  towns, villages, churches,
colleges and schools across the nation have already begun creating
installations, collages and even tea cosies as protest petitions to
deliver to MPs and commercial organisations to ask for change. Their
creativity will be uploaded to www.fairtrade.org.uk/gofurther to form a visual online petition.
Michael Gidney, chief executive of the Fairtrade Foundation, says:
'Companies and governments need to make a stand to ensure small farmers
can achieve sustainable livelihoods and play their full role in building
fairer, better food systems for the future. Choosing Fairtrade is one
way to help secure a better deal for millions of people in developing
countries, so we want people to try a new Fairtrade product or create a
work of art to ask for change. From the 25 February, they will also be
able to pledge their support in a new, exciting way, so watch this
space.'
Farmers and co-operative members from Malawi, Costa Rica, Uganda and
St Lucia will visit various locations around the UK during Fairtrade
Fortnight, giving talks and hosting discussions on what Fairtrade means
to their livelihoods, and the need to Go Further.
Businesses are
also doing their bit to go further this Fairtrade Fortnight, from
pop-up Fairtrade shops to new Fairtrade certified products. From
Fairtrade Fortnight 2013, every single KIT KAT 2 Finger sold in the UK
will be Fairtrade certified, while Divine Chocolate will be opening the
doors to its first ever POP UP shop. The organic and Fairtrade chocolate
company will also be unveiling two brand new flavours – Divine Dark 70%
Chocolate with Chilli & Orange, and Milk Chocolate with Toffee
& Salt. Tate & Lyle have unveiled their new Golden Syrup
Fairtrade cane sugar, while Liberation is going further by supporting a
new peanut processing plant in Malawi.