Food is such an integral part of every festival and Halloween is no exception. My memories of Halloween feature the Brownie Guide Fancy Dress Party for which we all had to carve a 'Turnip' lantern. There were no pumpkins in 1960s Scotland, so we used turnips/swedes, it was really hard work carving them and many a spoon was bent in the process.
At the party, there would be large dishes of buttery mashed potato and others of peppery, mashed 'neeps' the inside of those turnip lanterns cooked and mashed! We also had 'Treacle Scones', girdle scones dangling on strings that you had to try to take a bite from as someone swung the string so you got covered in sticky treacle.
That was soon washed off with the 'Dookin' for Apples', the only way to be sure of getting your apple was to stick your head right down to the bottom of the bowl and bite hard into the apple, you got soaked but it worked. I always hated it when, at some, more polite, parties, they made you drop forks into the bowl, it was not nearly as effective.
There were no themed sweets and cakes to be bought in the shops for Halloween, but I think it is much more fun to make your Halloween treats at home and you also know exactly what ingredients in them.
Halloween Chocolate Popcorn Triangles
Chocolate Popcorn Triangles are a really fun and simple treat to make with your kids, you don't really need a recipe, just melt some chocolate in a bowl over a pan of just simmering water and add ready made popcorn until it is all covered in chocolate, then press it into a brownie pan lined with non stick paper and place in the fridge until set. I decorated mine with some lines of white chocolate. I have a neat little trick for melting chocolate for piping (see below).
All you do it put your chocolate, I used white chocolate buttons, into a disposable piping bag, pop it in the microwave for 30 seconds or until the chocolate has melted, then snip off the end of the bag and pipe lines over the chocolate popcorn in lines. Leave to set in the fridge again, then once set, cut into squares or triangles.

For some rather more spooky cakes, a Halloween themed silicon cake mould is ideal for a bit of impact, especially if you top them with chocolate set in the same moulds.
I coloured white chocolate with orange food colouring to make the pumpkin colour and it wasn't too difficult to make the two coloured witchy pumpkins with milk chocolate for the hat.
Spooky Halloween Cakes
175g Flora Buttery
175g golden caster sugar
300g self raising flour, sieved
3 medium eggs
5 tbsp semi-skimmed milk
100g cooked pumpkin or butternut squash, mashed
zest of an orange
150g white chocolate
100g milk chocolate
orange food gel
Spooky silicon cake mould and 6 muffin cases in a muffin tray (if no cake mould then 12 muffin cases)

1. Place the muffin cases into a muffin tray.
2. Place the first five ingredients in a bowl and beat with a wooden spoon until the mixture is smooth.
3. Stir in pumpkin mash and orange zest and divide between the paper cases.
4. Bake in a pre-heated oven for 20-25 minutes at 200C, 180C (fan), Gas mark 6 for 20-25 minutes.
Leave the cakes to cook and then unmould. The shapes don't come out too well with the soft sponge cake but they are the perfect shape to top with the chocolate shapes.

Making the chocolate shapes is easy, simply melt the white chocolate and pour it in a thin layer in the base of the moulds for the ghost and the skull. Add the orange colouring to the remaining white chocolate, pour this into into the pumpkin moulds, being careful to avoid the witches hat, leave to set in the fridge. Once set, melt the milk chocolate and pour in a thin layer in the bat mould and then carefully into the witches hat, using a small spoon to make sure the chocolate gets into all the corners. Once set, unmould and then remelt any remaining chocolate and use to stick the toppers to the cakes.
Decorate the remaining muffins with a little chocolate on top and some spooky sprinkles.
Eat and enjoy!
Fill up on Halloween warmers before Trick or Treating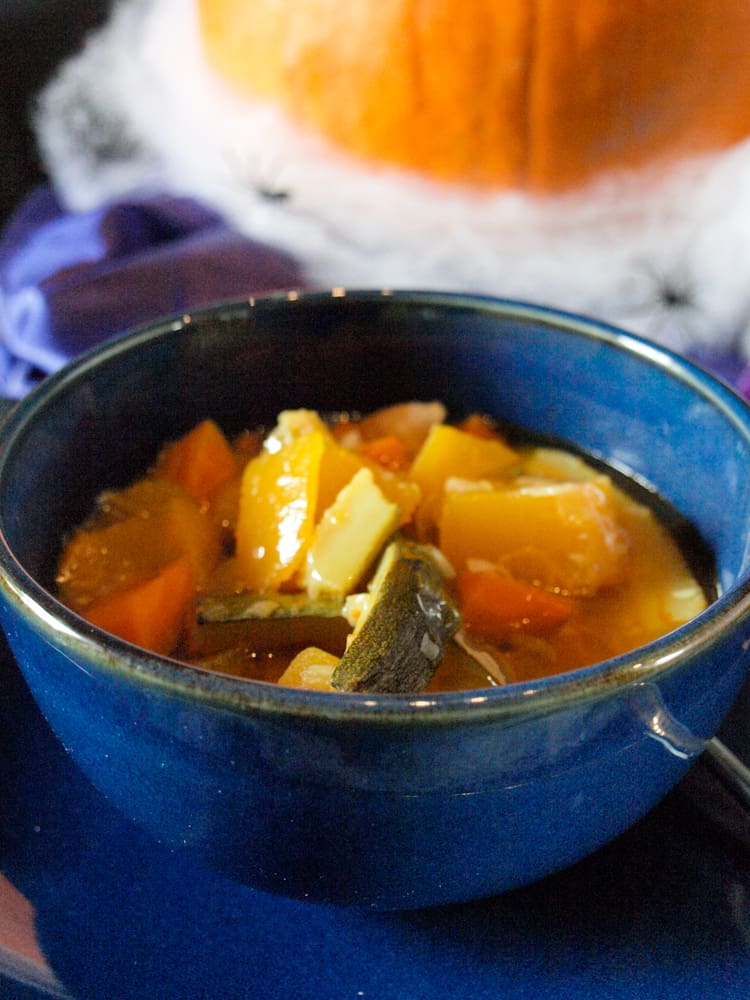 It's not just sweet treats that are needed for Halloween. You need something warm to eat before going out trick or treating. Knorr have some great recipes which will hit the spot, how about a bowl of warming Pumpkin and Butterbean Broth from a recipe created by Marco Pierre White? It's packed with chunky vegetables and creamy butterbeans, serve with crusty bread and you won't need much more before hopping onto your broomstick!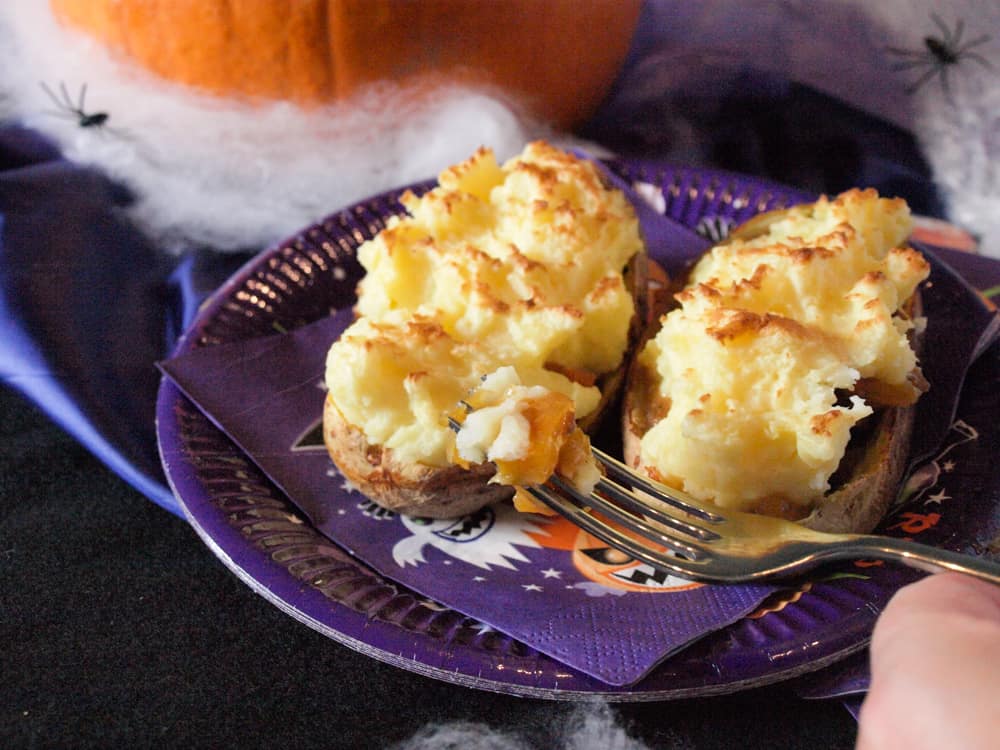 Or the perfect individual 'Sheperd's Pie-tatoes' a variation on Marco's Shepherd's Pie.

Shepherd's Pie-tatoes (or Shepherd's Potato Pies)
makes 8 Pie-tatoes
4 large baking potatoes
1 tbsp olive oil
1 medium onion, chopped
1 garlic clove, chopped
500g minced lamb
10g plain flour
1tbsp Worcestershire sauce
1tbsp tomato puree
1 Knorr Beef Stock Pot
500ml water
1 sprig of thyme
1/4 of a pumpkin or butternut squash, peeled, diced
1 large carrot, peeled, diced
Butter, milk and 1 egg yolk, (optional) for the mash
The Potatoes
Bake the potatoes until tender (I did mine in the microwave first, then finished them off in the oven to get a crispy skin) Cut the potatoes in half while still warm, scoop out the baked potato and mash with the butter, milk and egg yolk
Make the filling
1. Heat the olive oil in a large casserole dish. Add the onion and garlic and fry, stirring, for 2–3 minutes until lightly coloured.
2. Add in the minced lamb and mix it into the onion mixture. Cook the lamb, stirring to break it up, for a good 10–15 minutes to cook off the moisture inside the lamb. This intensifies the flavour of the meat.
3. Once the water has been cooked off, the lamb should crackle as the fat renders. Add the carrot and pumpkin and cook for 5 minutes. Add the flour and work it in thoroughly. Season with Worcestershire sauce and mix in. Add in the Knorr Beef Stock Pot, pour in the water and add the thyme.
4. Bring to the boil, cover, reduce the heat and simmer for an hour.
5. Pre-heat the oven to 220°C.
6. Fill the scooped out potato halves with the mince, then top roughly with the mashed potato.
7. Bake in the preheated oven for 30 minutes until a lovely golden-brown. Serve.
These were really tasty and would be perfect served in a napkin at Bonfire Night too.
There are lot's more great recipes and cooking inspiration on the Knorr and Flora websites.I was provided with a hamper of ingredients from Unilever/Knorr/Flora to make these Halloween Treats and Eats. I was not paid and all opinions are my own.