I love the rich flavours of this Chocolate, Prune and Walnut Cake with Tea Glaze, it has the moist texture of a gingerbread but with chunks of chocolate and crunchy walnuts. When I was a child, prunes weren't nice and plump and ready to eat, you had to soak and cook them before they were good to eat. My Mum always soaked prunes in tea, the flavours really work well together and prunes and custard was a favourite childhood dessert.
Another aspect of my childhood was that we started drinking tea at a young age. At around 3 years old I was drinking sweet milky tea, nowadays it seems an odd thing to give a child, but having reflected on it, there was probably a lot less sugar in it than in fizzy drinks and no more stimulants than in colas. By the time I was 12 I had given up the sugar in my tea and by the time I was 19 I no longer took milk due to student communal fridges where there never seemed to be any milk left! I do love a cup of tea and it can also add flavour to cakes and bakes. One the most popular recipes at Farmersgirl Kitchen is Mary Berry's Tea Time Cake, made by soaking dried fruit in tea, it's an easy recipe and makes a lovely fruit loaf. However, I digress, on to this Chocolate, Prune and Walnut Cake.
The Chocolate, Prune and Walnut Cake with Tea Glaze was inspired by a recipe in a book I picked up in a library clearance sale. It was the use of pureed prunes that got me interested and I knew that using a strong tea like Typhoo Extra Strong Teabags would really add to the rich flavours. The addition of chopped chocolate and walnuts is also my idea, well everything is better with chocolate isn't it? Adding a tea glaze was decidedly experimental but worked really well, the sweetness of the prunes permeates the tea they are soaked in, and this is added to icing (powdered) sugar to make a delicious pouring glaze.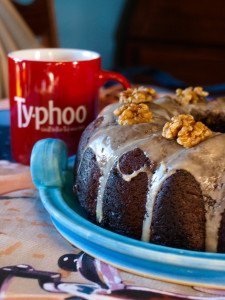 Chocolate, Prune and Walnut Cake with Tea Glaze
This spicy, sticky cake is full of the rich flavour of prunes, chocolate and walnuts and perfectly enhanced by the tannic taste of tea.
Print
Pin
Rate
Total Time:
1
hour
25
minutes
Ingredients
For the cake
450

g

prunes

2-3

tea bags

150

g

muscovado sugar

200

g

softened butter

2

eggs

150

g

85% wholemeal flour

1 1/2

tsp

bicarbonate of soda

1

tsp

ground cinnamon

1/2

tsp

ground allspice

1/2

tsp

salt

100

ml

buttermilk

50

g

walnuts choppped

plus extra for decoration

100

g

85% dark chocolate chopped
For the glaze
250

g

icing

powdered sugar

cold tea that the prunes soaked in (see method0
Instructions
To make the cake
Boil the kettle and make a nice big pot of Extra Strong Typhoo tea (if you don't have a teapot, use a jug), leave to soak until you have dark brown tea.

Put the prunes in a bowl and pour over enough tea to cover them, leave overnight or for at least 8 hours until the prunes are plumped up and have absorbed most of the tea.

Drain the prunes, keeping the tea in a bowl to use later in the glaze. If the prunes have stones, remove the stones, then puree the prunes in a food processor or electric blender.

Grease an 8in/200mm ring cake tin, Bundt tin or you can use an ordinary cake tin with a jam jar in the middle.

Beat the sugar and butter together until soft and creamy. Beat in the eggs, one at a time, then add the prune puree.

Mix the dry ingredients together and add to the creamed sugar and butter, with the buttermilk. Beat well.

Finally, add the chopped walnuts and chocolate and fold into the mixture.

Turn the mixture into the cake tin and bake at 350F/180C/Gas 4 for 30 minutes then increase the heat to 375F/190C/Gas 5 and bake for another 25 minutes.

Check it is baked with a skewer which should come out clean, the cake should also be easing away from the sides of the tin.

Cool in the tin for 15 minutes, then turn onto a wire rack to finish cooling.

When the cake is completely cool make the glaze.
To make the glaze
Sieve the icing sugar into a bowl, then gradually add the tea/prune soaking mixture until the icing is the consistency of thick pouring cream.

Pour the glaze evenly over the cake so it runs in drips down the centre and sides.

Top with walnut halves and leave to set.
Notes
You need to start this recipe the night before you want to bake it
Serve with a nice cup of Typhoo Tea!
Adapted from The Wholesome Food Cookbook - Maggie Black
Nutrition
Calories:
720
kcal
|
Carbohydrates:
96
g
|
Protein:
7
g
|
Fat:
36
g
|
Saturated Fat:
17
g
|
Cholesterol:
96
mg
|
Sodium:
655
mg
|
Potassium:
670
mg
|
Fiber:
7
g
|
Sugar:
63
g
|
Vitamin A:
1145
IU
|
Vitamin C:
0.3
mg
|
Calcium:
91
mg
|
Iron:
3.3
mg
The Chocolate, Prune and Walnut Cake tastes a little bit like gingerbread, although there is no ginger in it. It isn't an overly sweet cake but does have a slightly pudding-like texture, the walnuts and pieces of chocolate add a contrasting texture, and the tea glaze has a tannic sharpness which really enhances to the overall flavour.
Try the Tea Flavoured Digestive Biscuits from Fuss Free Flavours or the Peach, Tea and White Chocolate Traybake from Fab Food 4 All. There are also recipes for Baking with Typhoo Tea over at Recipes from a Normal Mum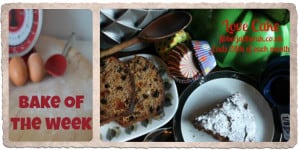 I'm entering my Chocolate, Prune and Walnut Cake with Tea Glaze for two blogging challenges.
Bake of the Week: the weekly baking linky from Helen at Casa Costello
Love Cake: the monthly cake challenge from JibberjabberUK This month's theme is 'Best of British' and what could be more British than a love of tea