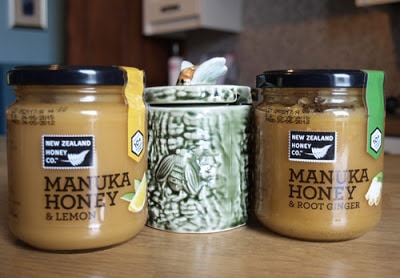 Have you tried Manuka Honey? The New Zealand Honey Co asked me to try their 100% pure Manuka honey with the addition of lemon and root ginger, two new exciting honey options that are great for cooking.
The first thing I would say is that the additional flavours are completely natural, the lemon tastes fresh like freshly squeezed lemon, with the added bonus of being packed full of Vitamin C. There are little pieces of ginger in the Manuka Honey and Root Ginger, the flavour makes it ideal for marinades and salad dressings.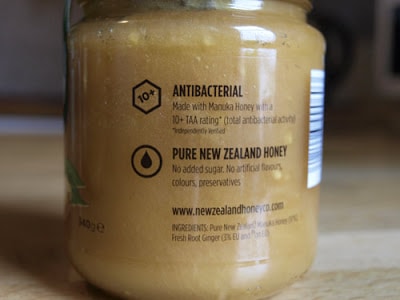 New Zealand Honey Co have created their own range of recipes, which you can find on their website along with all the information about the digestive health and healing properties of the honey at
www.newzealandhoneyco.com
.
I have also been creating with Manuka Honey, the first recipe I'm going to show you is a simple no-bake treat using Rice Krispies.
I don't often make these kind of bars and was pleasantly surprised to find a recipe on the Kellogs website for Chocolate Snap Bars using honey in the base mix, here is my version:
Chocolate Snap Bars
100g butter
40g Manuka Honey with Ginger
1tbsp (10g) sugar
150g rice krispies
200g chocolate/chocolate chips or buttons
1. Cook the sugar, manuka honey with ginger and butter over a medium heat in a saucepan. Stir
frequently, and once the sugar dissolves simply boil the mixture for
five minutes, stirring all the time. Be carefule that it doesn't burn, I had to throw my first batch out.
2. Next remove the pan from heat and add the rice krispies, coating them thoroughly. Press the mixture into a greased tin.
3. Put chocolate in a bowl over a saucepan of water over low heat, stirring constantly. When it's melted, spread it evenly over cereal mixture.
4. Then simply leave to set, and cut into squares or bars when cool.
I'd have to say that the rice krispies don't stick together as well as with golden syrup or marshmallows, but the flavour of the honey is really good and the hint of ginger makes them a little bit more grown up. More Manuka Honey recipes coming soon.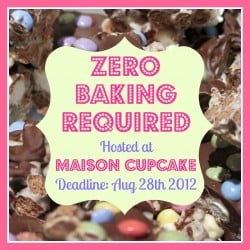 I'm entering these Chocolate Snap Bars into the new challenge at Maison Cupcake called Zero Baking Required anything goes as long as it hasn't seen the inside of an oven.
Disclaimer: I was supplied with Manuka Honey from the New Zealand Honey Co.. I was not required to write a positive review and any opinion expressed is my own..