Giving gifts in the festive season is a personal thing, you want to find a gift that your friend or family member would enjoy. Christmas Books for Cooks Review is ideal if you know anyone who likes to cook and bake, because a cookbook is always a great gift. It doesn't seem to matter how many books there are on the shelf another one is always welcome. Going for some of the new releases means that you are unlikely to give a gift that is already on that shelf here are a couple of books that will please those with a sweet tooth. There are more Christmas Books for Cooks reviews and giveaways to come so be sure to subscribe to Farmersgirl Kitchen to get updates by email.
Sally's Candy Addiction: Tasty Truffles, Fudges & Treats for your Sweet-Tooth Fix, Published by Race Point, RRP: £16.00
Sally McKenney, creator and author of Sally's Baking Addiction, is back with a brand-new cookbook chock full of a whole new host of treats for your sweet tooth fix. There are over 75 brand new recipes, indulge in truffles, fudge, caramels, and Marshmallows. And if you like Oreos, Reese's, Snickers, or other chocolate bar favourites, Sally will show you the best ways to incorporate these into cookies, cupcakes, bars and more.
Who is it for? Great for people who make for bake sales, parties and in general if you have a sweet tooth.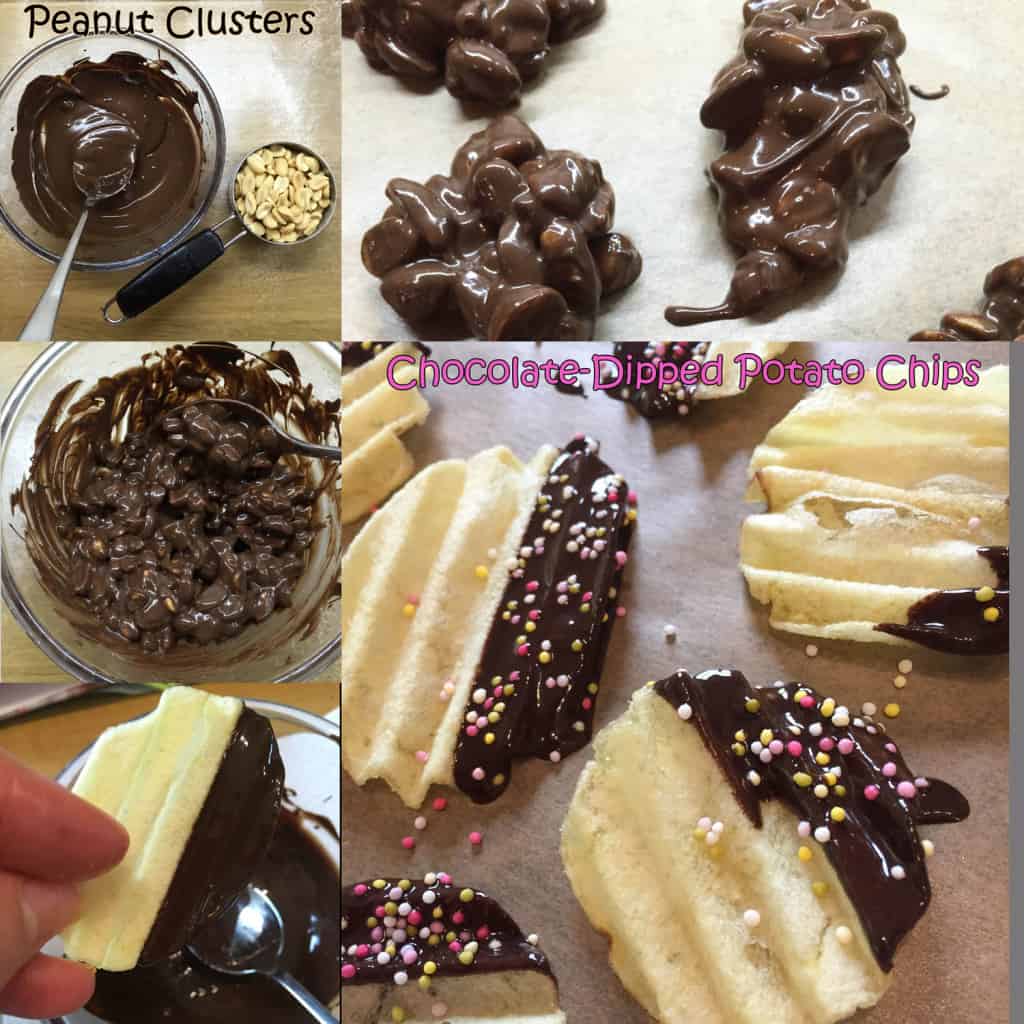 Pros: There is a whole range of recipes from simple chocolate dipping to sugar thermometer work. Gorgeous photographs and clear instructions. You can see that I made the Chocolate Dipped Potato Chips (Crisps) which are remarkably tasty and ideal for children to make. The Peanut Clusters made with salted peanuts and chocolate and they are just brilliant, so easy to make and they taste amazing.
Cons: This is just too tempting, so many lovely treats, just don't eat them all at once!
The Verdict: I love it! Not only were the recipes really good, but they gave me loads of ideas and techniques to create my own sweet treats.
All Things Marshmallow by Ross O'Brien & Amy Nelson published by Jacqui Small LLP, RRP £20.00
Opening up a whole new world of taste and texture, All Things Marshmallow offers practical, professional know-how, step by step instruction and over 80 inspired, sophisticated recipes that showcase this light and delicate treat in both star and supporting roles.
With mouth-watering photography and a never ending roll-call of fabulous flavours on every page, All Things Marshmallow is full of sweet treats, some savoury surprises and stunning looks, providing plenty of substance as well as style and confirming that the humble marshmallow can be part of your weekly repertoire, form the perfect homemade gift, or star as the centre-piece of any special occasion.
Naturally low fat and gluten free the marshmallow was originally known for its medicinal qualities. And although generally perceived as a naughty-but-nice-sugar-fest, when made with the finest ingredients marshmallows are an exquisite, grown up, guilt-free indulgence. Navigate your way easily through this glorious book which is themed chapter by delightful chapter; perfect for dipping into anytime, in any season.
Who is it for? A fairly confident cook/baker or one who loves marshmallows and is determined! I'm always a bit wary of anything with hot sugar , but the Mallow basics makes it look easy. I know that home-made marshmallows are a completely different beast to bought ones, so if you like marshmallows, why not have a go at making them yourself.
Pros: Great basic instructions at the start of the book. Nice flavour combinations and this book also covers Marshmallow fluff, buttercream , popsicles mousse, cakes and biscuits using marshmallow and a chapter on festive treats. Alternatives to gelatine are catered for.
Cons: You will need some kind of electric mixer to make these treats, preferably a stand mixer.
The Verdict: There are so many different recipes and techniques that you are bound to find something that suits your taste, the instructions are comprehensive and the photographs are more than tempting.
I'M GIVING AWAY ONE COPY OF SALLY'S CANDY ADDICTION AND ONE COPY OF ALL THINGS MARSHMALLOW TO ONE LUCKY WINNER IN A "SWEET TREAT" BUNDLE. Follow the instructions on the Rafflecopter widget to enter the competition (over 18 and UK entries only, please) CLOSED