It's time for a Christmas Cook Books Review and Giveaway! I'm starting this now, as my aim is for the winner to receive the books before Christmas. I've got a really eclectic collection of books to giveaway: Nostalgic Delights: Classic Confections & Timeless Treats by William Curley; Made in the Office:Tasty & Hasty Meals with just a Kettle, Toaster and Microwave by Rachel Maylor; Ferment Pickle, Dry by Simon Poffley and Gabb Smolinska-Poffley and Clean Cakes by Henrietta Inman.
Nostalgic Delights by William Curley is a real show stopper of a book, it reflects award-winning chocolatier William Curley's passion for taking classic recipes and modernising them with this own creations. Within the pages of this beautiful book, William takes you on a trip down memory lane, recreating classic favourites and childhood memories through nostalgic delights.
Chocolate Confectionery provides Tempering tips, casting in moulds and dipping in chocolate. Use these skills to make your own Hazelnut Rochers, Venus Nipples, Alpine Chocolates, the most incredible Walnut Whips and Chocolate covered Cinder Toffee amongst others.
Bakery Favourites is full of the sort of treats you find in the bakers, techniques of blind baking, working with yeast and rough puff pastry. Armed with this information you are ready to make Fruits of the Forest Tart, Chocolate Cherry Bakewells, Custard Tarts, Black Bun, Eccles Cakes and William's personal favourite – Fudge Doughnuts!
Patisserie Modern Classics if you want to up your game in the patisserie stakes, then William will prepare you with the basics before tempting you with Black Forest Gateau, Peach and Strawberry Charlotte Russe. Triple Chocolate Mousse, Chocolate Millefeuille.
Ice Cream & Gateau: it all started with the sound of the ice cream van, a cone, a scoop and a flake but, oh boy it's come on quite a way since then! A Neapolitan Baked Alaska, a Praline Viennetta, make your own Bounty Ice Cream Bars or a Rhubarb Mivi, who remembers Mivi? I certainly do, they were the height of sophistication in an ice lolly.
Afternoon Treats is filled with cakes and biscuits taken to the next level, like the sophisticated Lemon Drizzle Cake, Rout Biscuits, Empire Biscuits, Viennese Whirls and Arlettes: remember them from Bake Off 2015?
The last chapter is Frivolities, little bites of fun! Cherry Drops, Cigarillos, Turkish Delight, Nougat. Pate de Fruits and Whisky Tablet.
As if that wasn't enough the book ends with a chapter on basics including various pastries, sponges, all the meringues, creams, jellies and syrups. Pretty much everything you need to make really stunning chocolates, cakes and patisserie.
About the Author: William Curley began his career with an apprenticeship at Gleneagles Hotel, near to his home town in Scotland. He has since worked in several Michelin-starred establishments under some of the world's most respected chefs, including Pierre Koffmann at La Tante Claire, Raymond Blanc at Le Manoir aux Quat' Saisons, Marco Pierre White at The Restaurant in Knightsbridge and Marc Meneau at L'Esperance in France. His outstanding skills as a patissier flourished during these years, leading to an appointment as Chef Patissier at the London Savoy where he met fellow patissier and future wife and collaborator, Suzue, whose Japanese heritage influences many of the flavours found in their recipes. William's numerous awards include Pastry Chef of the Year, British Dessert of the Year and together with Suzue they won Gold representing Scotland at the Culinary Olympics in Erfurt and at international events in Basle, Chicago, London and Luxembourg. Additionally, they have won four Best British Chocolatier accolades together with over 25 golds for their chocolates. William's book Couture Chocolate won the best chocolate book at the Gourmand Awards 2012. In 2004 William and Suzue opened their first shop in Richmond upon Thames and recently a second in Belgravia, where, alongside an array of chocolate confections and patisserie they also created London's first Dessert Bar. Downstairs a professional quality kitchen hosts regular master classes and courses for both children and adults.
Who is it for? This would be the ideal gift for a home baker who wants to take their skills to the next level, everything is clearly explained and there a plenty of straightforward recipes as well as the more challenging and complex.
Pros; This is a beautiful book, the photographs are stunning and I really enjoyed reading the 'story' of each of the chapters and the recipes.
Cons: If you are trying to lose weight this is NOT the book for you, it's full of the most exquisite treats, that you are not going to be able to resist.
The Verdict: I loved reading this book and would really recommend it. I'm looking forward to making some of the recipes in time for Christmas.
Format: Hardback, 256 Pages
ISBN: 9781910254578
Published by Jacqui Small: Oct. 20, 2016
RRP: £25.00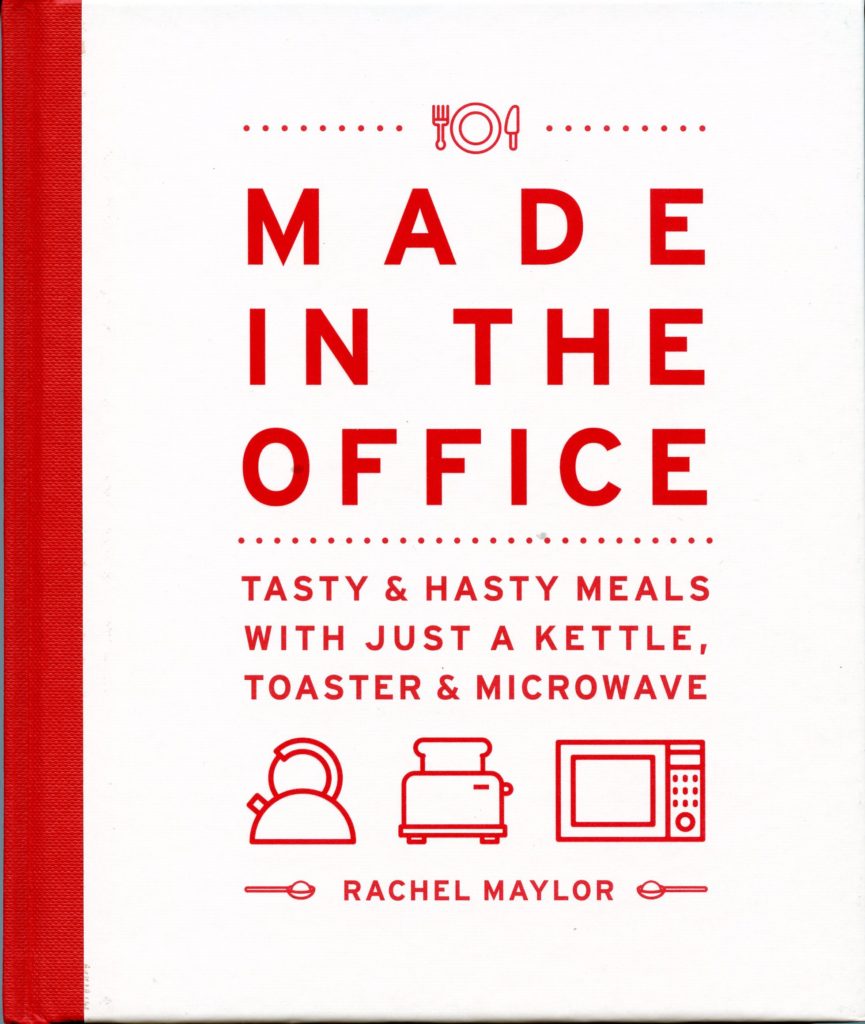 Rachel Maylor found that office life led to uninspiring sugary and salty carb-filled snacks. Not satisfied with this she started to think about just what she could make with the appliances in the office kitchen. This book is a collection of the successful recipes that Rachel created using only a kettle, toaster and microwave.
Made in the Office starts with the office cupboard essentials, those ingredients you will use again and again. Rachel also gives her recommendations for some basic kitchen equipment and I mean basic, a jam jar and a mug feature!
Quick Starts provides speedy breakfast ideas, that I would eat anytime including Strawberry Oat Breakfast Muffin cooked in a mug, Toasted Berry Brioche and a Sunny Breakfast Salsa.
Big Beginnings is for when you are in need of a more hearty start and includes recipes for Easy Eggs Florentine, Tropical Overnight Chia Pot and Bircher Muesli.
Substantial Snacks will fill you up, ideas like Tomato Buschetta, Green Pea Pesto and Chorizo Crostini and Chicken Satay Sticks are certainly tempting.
And so to Lunch which is the meal that we most often eat at work. First some Light Lunches like a feta and herb quinoa, Tomato and Mozzarella Salad and Tuna and Butterbean Salad.
Then some more Filling Lunches including Lemon and Mint Yogurt Chicken, Tuna Nicoise, Burrito Bowl there's even a Chorizo Linguine with fennel seeds and tomato sauce which sounds amazing.
Sweet Treats provides some appealing alternatives to the last stale biscuit! Who could refuse Cacao Mousse with banana, avocado and honey? I love a mug cake and the Chocolate Brownie Mug Cake looks delicious.
Fed up with your cup of tea? You could make one of Rachel's Simple Drinks Fresh Mint and Raspberry Tea sounds refreshing, and Warm Cinnamon and Honey Milk would be a great start on a cold morning, there are also ideas for Refreshing Water Infusions.
The book ends with some ideas for Dressings and Spreads including Mint Yogurt Dressing, Ginger Soy Sauce, Nutty Chocolate Spread and Raspberry Chia Jam.
About the Author:RACHEL MAYLOR works as a full time architect and has a passion for good food. She would go out and buy breakfast and lunch everyday until she realised it was turning what should be an enjoyable break into a bleak one. She is now the envy of the office whipping up marvellous meals with just a few ingredients and basic equipment.
Who is it for? Made in the Office is for anyone who is fed up with paying over the odds for limp salads and soggy sandwiches. It would be a great gift for a friend at work, so you can make the recipes together.
Pros: The recipes are simple and easily achievable, some are more about assembling ingredients than actual cooking, which is absolutely fine and great inspiration.
Cons: Not everyone has good facilities in their office for cooking. Even if there is a kettle, toaster and microwave (there's no toaster in my office kitchen) work surfaces are not always suitable for food preparation.
The Verdict: This is a fun little book and would make a good stocking stuffer or Secret Santa. None of the recipes are particularly unusual but the techniques and timings are helpful when trying to cook in the office kitchen.
Format: Hardback, 176 Pages
ISBN: 9780711238213
Published by Frances Lincoln: Oct. 6, 2016
RRP: £12.99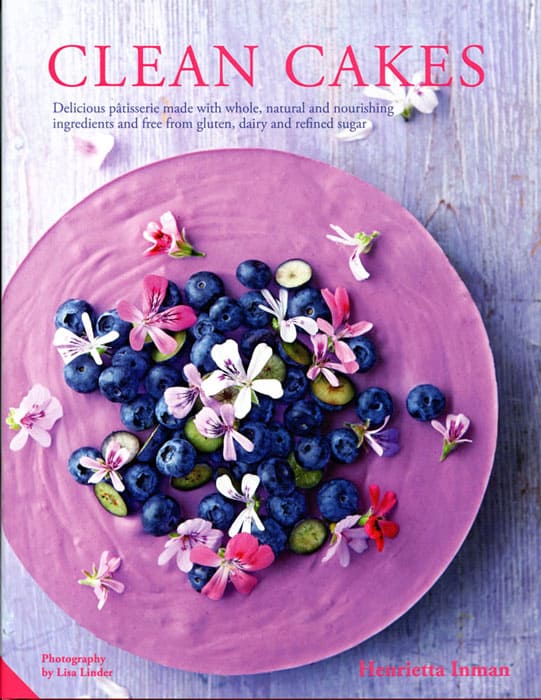 If the cover photograph doesn't tempt you into Clean Cakes by Henrietta Inman, then I don't know what will! This is a very beautiful book full of delightful patisserie made with whole, natural and nourishing ingredients and free from gluten, dairy and refined sugar.
Henrietta introduces us to the alternatives to diary, sugar and gluten, healthy flavour enhancers and superfoods. She then goes on to help us to stock our larders with all the ingredients and equipment we need to make Clean Cakes.
Foundation Recipes is a fascinating chapter which helps you understand the principles of preparing nuts, seeds and grains for optimum health. Also included are basic techniques for pastry and jam & jelly making, then you are ready to make those Clean Cakes.
All the Cakes includes recipes for Courgette (zucchini), basil, lime and pistachio cake with avocado lime cream and raspberry jam (jelly); Clementine and Pomegranate jewel cake, Hot Chocolate Chestnut Cakes with Choco-Malt Sauce and a savoury Millet, Mushroom and Sage Risotto Cake.
Muffins, Loaf Cakes and Breads is the next chapter, I liked the sound of Apple and Hazelnut Muffins made with teff flour and hazelnut milk, Polenta (cornmeal) muffins with spinach, sun-dried tomatoes and olives would be great with soup or a salad for lunch; Extra fruity fruit loaf, looks like a traditional fruit loaf and it's only when you get to the buckwheat and chestnut flour that you realise it's gluten-free.
Biscuits (cookies) Brownies and Bars: oh my, Dark (bittersweet) chocolate dipped peanut butter and jelly dreams look absolutely heavenly and I wouldn't refuse Chilli Choc-chip Cookies either. There are various brownies and blondies recipes and an amazing looking Coconut-cacao-quinoa bars recipe that I really like the look of.
Gorgeous Tarts and Scrumptious Pies contains even more goodies, pretty little Raspberry and Rose Tartlets with Pistachio Frangipane, the crust on Roasted Root Vegetable Tarts with Spiced Sesame Crust, looks so good and who could refuse Maple Baked Apple Pies?
Raw Desserts are very on trend and with good reason, they are packed with goodness and if the Tiramisu Mousse tastes as good as it looks then it will be very good indeed. Likewise Chocolate, Banana and Passionfruit Pie with Sticky Toffee Sauce, the cover photo recipe of Blueberry Lemon Mousse Cake with Scented Geranium flowers which is sure to impress your guests.
The final chapter covers Chocolates, Petit Fours and Little Clean Treats. In this chapter Henrietta teaches us how to make our own chocolate bars, chocolate truffles, Adzuki Bean Brazil Nut Fudge and Honeybee Madeleines.
About the Author:
Clean Cakes by Henrietta Inman
Format: Hardback, 176 Pages
ISBN: 9781910254387
Published by Jacqui Small, February 2016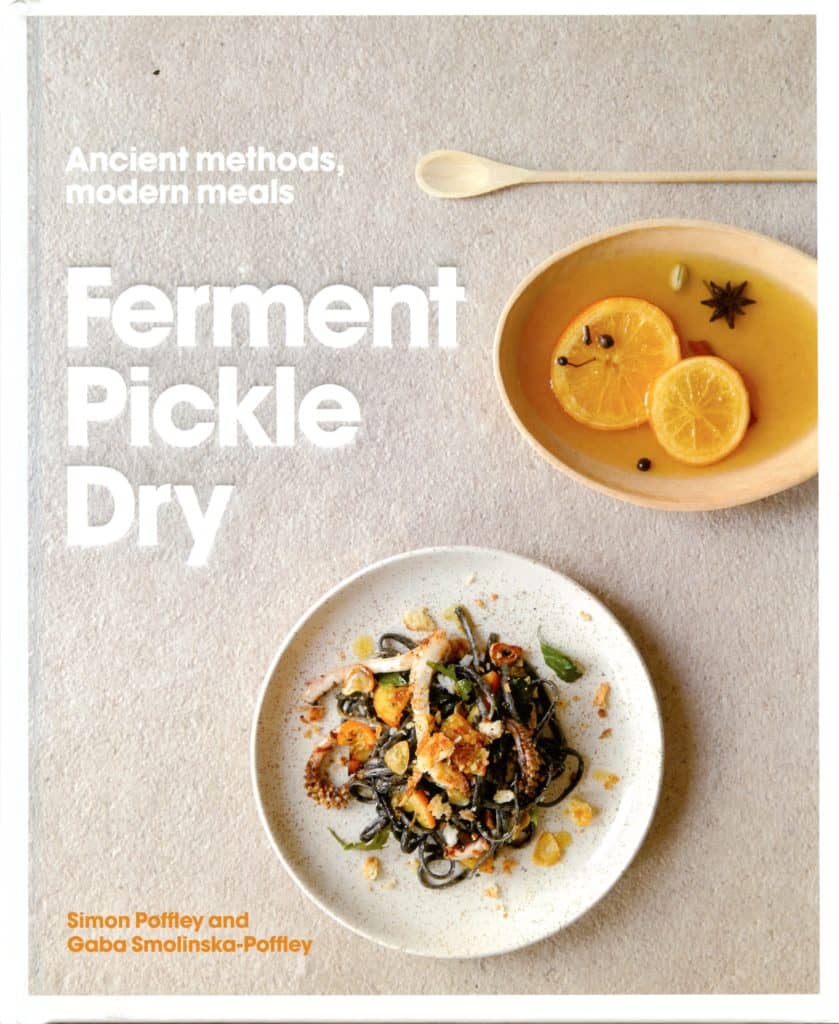 The final book in this review and giveaway is Ferment, Pickle, Dry by Simon Poffley and Gaba Smolinka-Poffley. The sub-title of this book is 'Ancient methods, modern meals', and indeed these methods have been used for millennia. The aim of the book is to show you how fermenting, pickling and drying foods will create a fantastically varied range of ingredients you can use to transform ordinary dishes and everyday snacks into modern, flavoursome meals.
Ferment, Pickle, Dry provides you with information about the equipment you will need such as jars, slicers and grinders, basic information on sterilising and sealing and a chapter on key ingredients such as salt, vinegar and pickling spices.
Ferment includes recipes for live yoghurt, Blackcurrant smoothie or yoghurt ice cream, fermented pumpkin syrup, a range of kimchi recipes and how to use the kimchi in curry, salad and soup. I had no idea you could ferment hummus, mustard seeds, long fermented pizza dough and recipes for sourdough.
Pickle includes recipes for pickled porcini mushrooms, pickled cherry tomatoes and a lovely Greek Salad to serve them in. Make your own sweet and spicy gherkins and Beetroot and red pepper pickle. I love the sound of Pickled Plum Flammekeuche and Duck with Pickled Pears. I'm also a huge fan of Herring pickled many ways and will be trying out the Sweet and spicy Pickled herring Swedish style. I know a few people who would like to try Gintopf, a gin based version of the more common Rumtopf!
Dry I'm already a fan of dehydration, see my recipe for dehydrated tomatoes in olive oil with garlic. If you are new to dehydrating then this chapter has everything you need to know and recipes to make and use dried mushrooms, Instant Vegetable stock, dried chilli beetroot, Crispy Kale and Black rice stir-fry. Lots of ideas for drying fruit and using it to make Nutty Fruit Bars and Cwibak, a Polish sweet loaf.
Who is it for? Experimental cooks, particularly those who like to take a scientific approach to their cooking. It's also great for old fashioned cooks who are experienced at other preserving methods and would love to try something different (that'll be me then!)
Pros: There are loads of recipes in this book and the way it is designed you get the basic preserving method and then some ideas of how to use your preserved produce. This is great because you can then go on to create your own recipes from the basic preserve.
Cons: Some of the ingredients, not many, would not be readily available to everyone. The photographs are very pared back and not every recipe is illustrated.
The Verdict: A comprehensive book that does what it says in the title, if preserving is your thing, then this book will bring you right up to date.
About the Authors: Simon Poffley and Gaba Smolinska-Poffley of The Fermentarium are passionate about growing, preserving and cooking using traditional techniques. Simon teaches sourdough bread baking and is also the founder of the Left Bank Brewery. Gaba's interest for foraging and preserving seasonal produce is rooted in her native Poland. The Fermentarium in London is the creation of like-minded people who want to share their enthusiasm for fermented and preserved foods.
ISBN: 9780711237780
Published by Frances Lincoln, September 2016
RRP £20
NOW IT'S TIME FOR THE CHRISTMAS COOK BOOKS REVIEW AND GIVEAWAY!
Simply follow the instructions on the Rafflecopter widget, commenting and sharing according to the instructions. The competition is open to anyone over 18 with a postal address in the UK. Full terms and conditions are included within the Rafflecopter. The Giveaway will close on 30th November and the winner will be contacted by email.