The BBC Good Food Show Scotland started today and continues over the weekend (6-8 November) at the SECC in Glasgow.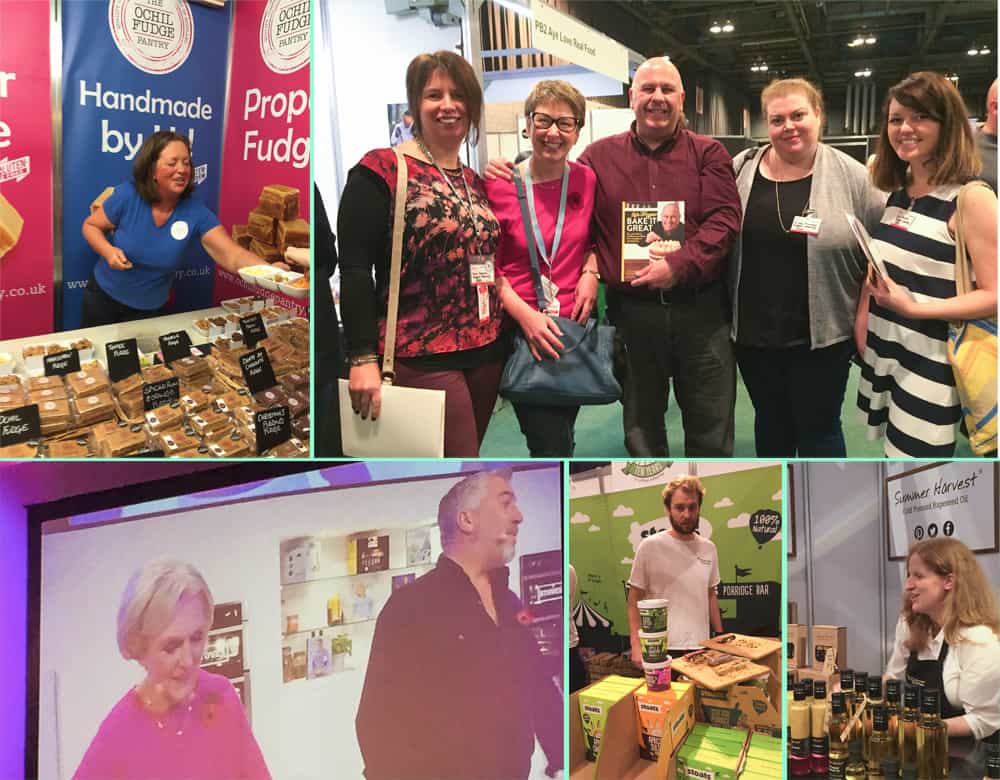 I had a good day there as a BBC Good Food Show Scotland Blogger, one of the joys of the show is meeting old friends and new. It was great to catch up with Claire from Foodie Quine, Emma from Foodie Explorers, Michelle from Ananyah, Paula from Bake Lift Eat Repeat , Julie from Breakfast at Julie's pictured above with our 'new friend' Luis Troyano finalist in the Great British Bake Off 2014, who was at the show with his new book 'Bake it Great'. We also saw Paul and Mary (Hollywood and Berry, of course) demonstrating in the Supertheatre. Their banter is always good and both also spoke a little of their Scottish roots and the 'Who do you think you are?' TV shows they have taken part in.
Well known to those of us in Scotland's foodie community is Maggie from Summer Harvest, with their range of rapeseed oils and dressings. They have a new Cranberry and Orange dressing which I'll be sharing with you another day. The Stoats Oats guys and Ochil Fudge Pantry were new friends for me, their products are so good, I'm sure they will become good friends.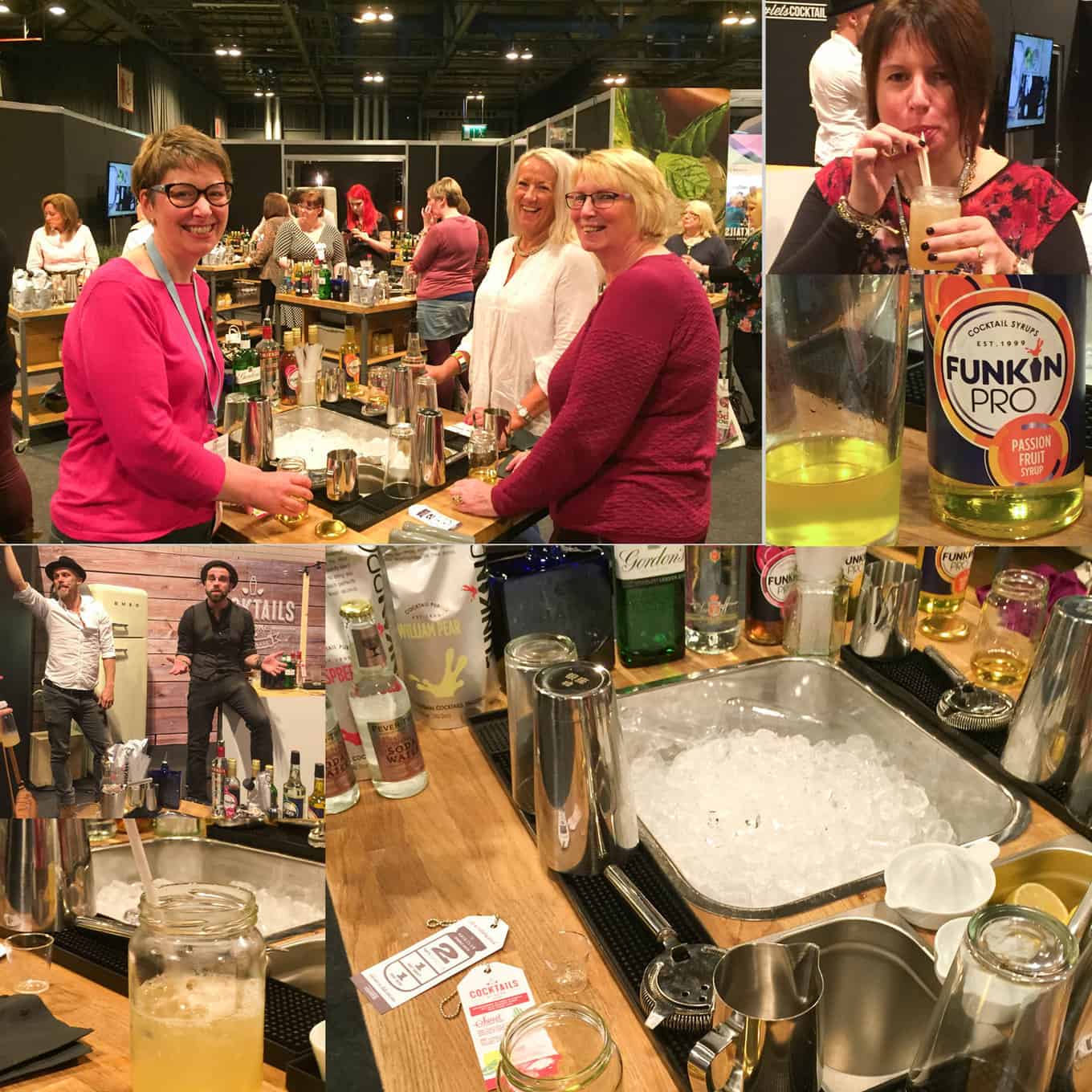 Top Pick! If you are going to do one thing at the BBC Good Food Show Scotland, it has to be the Cocktail Masterclass, it costs £10 and you get a good half hour of great fun, excellent instruction and cocktail recipes that you can adapt endlessly with the ingredients you have at home. They even have little bottles you can decant your cocktail into if you don't want to drink it all. As you can see we were all having a good time, it was the best fun.

Having started on the Gordon's gin cocktails by lunchtime, Claire and I then proceeded to work our way round the show, we seemed to come across gin at every corner. Daffy's Gin was a smooth and mellow start to this botanical tour, Masons Yorkshire Gin surprised us with the brilliant Dry Yorkshire Tea Gin, we both loved it. The Lavender Gin was bit more of an acquired taste, I quite liked it but it is very floral. We managed to quaff a little Martin Miller's Gin but no photos! Portobello Gin started in the back room of a pub on Portobello Road, London. It has been distilled to mix perfectly with tonic and having tasted it with and without tonic, it does really work with the tonic. Speaking of tonic, Claire and I were on a mission to spread the word to all these Gin companies about Walter Gregor's Tonic from the fabulous Summer House Drinks, it's got a really distinctive taste which makes gin drinking a whole new experience. I also managed to have a little taste of some St Andrew's Brewery Oat Stout, very nice too.

We didn't just try the drinks, there were some lovely foods and great producers. We at at the Gannet pop-up restaurant, the portions seemed small but the flavour was superb. I had the Cheek of Scotch Beef and Claire had the Confit of Salmon.
We enjoyed tasting the veggie burgers at Mash, I was impressed at how much they taste like homemade food. Hamlyns Scottish Porridge ladies were so friendly and I'll be sharing some of their porridge with you later. The flavours of Poporopo popcorn were sensational and flavoured coconut snacks from Nudie was certainly interesting, I liked the salt and vinegar but really loved the Sweet Thai Chilli. Finally, Smoked Ghigha Halibut farmed on the Island of Ghigha, is a lovely sweet tasting smoked fish and not oily at all.
If you want to know more go to the BBC Good Food Show Scotland website for full details of all the exhibitors, tickets and celebrity chefs.