Oatmeal Raisin Cookies are such a simple and classic cookie that they really need no introduction. These cookies are not overly sweet and remind me of a bowl of cinnamon porridge, perfect for breakfast or at any other time of day.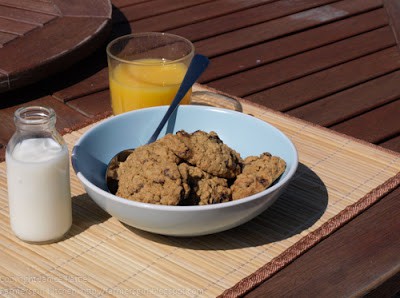 About the Author The Cookiepedia is a fun cookie recipe book from Stacy Adimando with photos by Tara Striano. The Cookiepedia features 50 classic recipes for everything from Amaretti and Animal Cookies to Gingersnaps Rugelach, Snickerdoodles and dozens of other favourites, plus hundreds of ideas for adapting recipes and making them your own.
Stacy Adimando lives in Brooklyn and is the current deputy lifestyle editor or Everyday with Rachael Ray. She is a graduate of the Institute of Culinary Education and weekly contributor to Serious Eats.
About the Book
I really like the way that many of the books published by Quirk are laid out. This one is ring-bound so it lies flat, the inner cover features a 'Cookie Baker's Cheat Sheet' with a basic cookie recipe and some conversions for butter and chocolate chips. The inside back cover features a full conversion chart and oven temperature chart which is very helpful for us European bakers.
After the acknowledgments, we are straight into The ABCs of Cookie Baking, very useful if you are new to baking. This followed by Cookie Speak, a sort of glossary of terms, and some cookie decorating ideas.
The Recipes
Buttery Cookies includes Animal Cookies, Sables, the enticing Everything but the Kitchen Sink Cookies, Old Fashioned Sugar Cookies and Maple Frosted Pecan Cookies.
Chocolaty Cookies includes Chocolate Sandwich Cookies, Mint Thins, Brownies and Florentines.
Fancy Cookies includes French Macarons, Black and White Cookies, Alfajores , nd Pinwheels.
Fruity Cookies includes Linzer Cookies, Dried Fruit Cookies, Oatmeal Raisin Cookies (see recipe below) Fig Bars and Thumbprints.
Spicy Cookies includes Cardamom Cookies, Gingersnaps, Molasses Spice Cookies, Green Tea Cookies and Salt and Pepper Cookies.
Nutty and Seedy Cookies includes Peanut Butter Cookies, Sesame Crisps, Caramel Nut Bars and Pistachio Butter Cookies.
This is only a selection of the cookies there are more!
Oatmeal Raisin Cookies
Pre-heat oven to 350F (180C)
1/2 cup unsalted butter at room temperature
2/3 cup light brown sugar
1 egg
1 teaspoon vanilla extract
3/4 cup all-purpose (plain) flour
1/2 tsp baking soda (bicarbonate of soda)
1/2 tsp salt
1/2 tsp cinnamon
1 1/2 cups old fashioned rolled oats or quick cooking oats
2/3 cup raisins
1. Cream together the butter and sugar on medium speed for a few minutes until the mixture is light and fluffy. Add the egg and vanilla and mix a bit more.
2. Sift the flour, baking soda, salt and cinnamon into a bowl. Pour in the flour mixture and run the mixer motor on low, just to work it in. Stir in the oats and raisins with a spoon.
3. Scoop out tablespoon-sized balls of dough onto parchment paper lined cookie sheets about 2 inches apart.
4. Bake for 12 to 14 minutes, rotating cookie sheets half way through baking. Let cool and enjoy.
Tip: For a taller, chewier oatmeal cookie, chill the dough for 10-15 minutes, or until a little firmer before baking.
More Mix-ins to try
Dried Cherries
White Chocolate Chips
Chocolate-covered Raisins
Toasted Almonds
Toffee Bits
Dark Chocolate chunks
Cranberries
Chopped Soft Caramels
Peanut Butter Chips

The Oatmeal Raisin Cookies are delicious, they are not over-sweet and the combination of oats and raisins really did remind me of eating a bowl of delicious cinnamon flavoured porridge! They are of course much more convenient to eat and seemed to improve after a few days.
Who is it for?
Anyone who likes to bake cookies. Particularly good for beginners but there are some good tips and interesting combinations. More experienced bakers will like the fact that the book provides you with the means to understand how to make your own cookie recipes.
Pros
The recipes are well laid out and I really liked the tips and additional ideas. Each recipe also has a little section for notes, ideal for trying out your own combinations or noting how many cookies you actually managed to get from the recipes, I never seem to get the same number as stated in any recipe book!
Cons
Some of the recipes are rather basic, but then it is sub titled 'Mixing, Baking and Reinventing the Classics' however, if you already have a lot of books with cookie recipes you might find you already have many of these recipes, although the additions are interesting. The photographs are a bit odd and not terribly appealing, they are also not next the recipe but form the first two pages of each chapter.
Worth Buying?
The real joy of this book is the potential it has for you to create your own cookies, so if that is something you would like to do, then I would certainly recommend The Cookiepedia.
The Cookiepedia by Stacy Adimando
Photographs by Tara Striano
Published by Quirk Books
Distributed in the UK by PGUK
Price at popular online bookshop £12.97
Thanks to Mat at PGUK for providing me with a copy of The Cookiepedia for review and for the giveaway. I was not paid for this review and all opinions are my own.
More Cookie Recipes at Farmersgirl Kitchen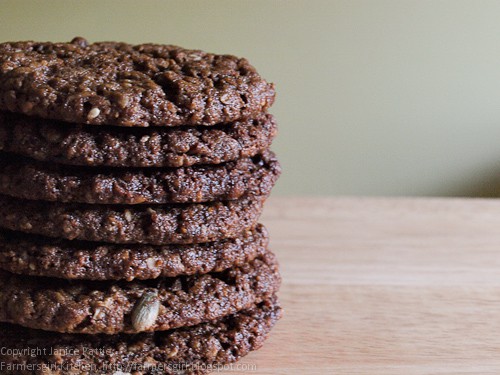 Iced Butter Cookies

Chocolate Chip Shortbread Cookies