I really love this book. The idea of eating flowers is not new to me, however it seems that there are many more flowers you can eat than I thought! Despite the fact that I have browsed through the glorious pages of pretty food several times a week since I got my review copy, I have so far failed to make anything. I am putting that down to the late spring and summer as I have no marigolds, nasturtiums or dianthus yet. I had hoped to make Dandelion Cookies, but just when I had time to do it, our verges were strimmed and I managed to find only ONE dandelion in flower.
As I need to write my review, it is going to have to be without trying a recipe, but I promise I will come back to make some of the enchanting recipes in this book. I've planted Calendula (Marigolds) and Nasturtiums so hope to eat those later, I even bought some dianthus at the garden centre, such is my determination to eat flowers.
The Author:
Miche Bacher is a herbalist, chef, and founder of the custom confectionery studio Mali B Sweets (Malibsweets.com), which she operates with Nanao Anton. She lives in the waterfront village of Greenport, New York with her husband, Noah, her sons Jordan and Elijah and their dog, Mali.
Introduction:
Why Eat Flowers? Did you know that Brussel Sprouts were a flower? Ha! thought that would surprise you, so I think this part of the book should really be, you already eat some flowers so why not try some more?
From Garden to Table: here you learn about how to gather, prepare and measure flowers so they are suitable to use for culinary purposes.
After these two chapters we move straight on to the flower chapters in alphabetical order. Each chapter tells you about what the flower means in the language of flowers e.g Calendulas signify sacred affections, joy, grief and remembrance, then there is a bit of background or history of the flower, information on culinary use, seasonality, preparation and measure.
Calendula
I do love these Pot Marigolds with their bright cheery faces and they are very easy to grow. Recipes include: Calendula Cornbread, Calendula Quiche, Calendula Ravioli, Calendula Orange Cake, Flowerfetti Cake and Calendula Cookies.
Dandelions
Usually we have loads of dandelions and I am cursing them seeding all over the place, but as I said earlier, no sign of them when you want them! Recipes include: Dandelion Wine, Dandelion Muffins, Dandelion Blossom Cake, Dandelion Ham and Egg Cups and Dandelion Cookies.
Daylilies
Now this was a surprise to me, I had no idea you could eat these rather exotic looking flowers. Recipes include: Gouda Cheese Daylily Biscuits, Daylily Petal Salad, Roasted Daylily buds known as poor man's asparagus and Daylily Curry.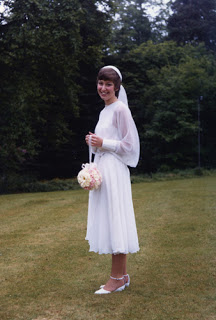 Me and my bouquet
My wedding 'bouquet'
Dianthus
These 'Pinks' are probably my favourite flowers of all, I simply adore their clove like smell and that was what I wanted in my wedding bouquet along with daisies. I didn't know it at the time, but according to this book, Dianthus stands for love, fascination, distinction and pure affection. I must have chosen well as we will be celebrating our 32nd wedding anniversary this year! I had to make do with commercial carnations and marguerites to create the effect which unfortunately didn't have the glorious scent. I'm waiting excitedly for the weather to improve so my pinks will flower and then I can eat them. Recipes in this chapter include: Pickled Pink Petals (Pick a Peck of Pickled Pinks), Dianthus Spiced Chocolate Cookies, Pink Tuiles and Pink Rose Wine Cake.
Elderflowers
These are one of the better known culinary flowers, we used to have a nice tree at the top of our road, but it got kind of leggy and stopped producing nice flowers and fruit, so it got cut down. There don't seem to be many Elderflowers around our area this year. Anyway, if you have some then this chapter has the following recipes: Elderflower Fruit Salad, Almond Elderflower Pound Cake, Elderflower Marshmallows, Elderflower Lemon Cakelets and Elderflower Blueberry Cobbler.
Geraniums
This is the Perlagonium or Cransebill. For best flavour you need to use scented geraniums, it is the leaves rather than the flowers that give the bulk of the flavour and scent. Recipes include: Chocolate Dipped Orange Geranium Cookies, Rose-Scented Geranium Filo Cups and Geranium Angel Cake.
Herb Flowers
This chapter covers Basil, borage, chamomile, chive, lavender, oregano, rosemary and sage, recipes include: Herb Flower Pesto, Herb Flower Shortbread, Blackberry Borage Fool, Borage Spritzer, Creme Fraiche Chamomile Ice Cream, Popcorn Chive Blossom Cupcakes, Lavender Mango Sandwich Cookies, Chocolate Lavender Biscotti, Lavender Lemonade, Rosemary Flower Margueritas and Rosemary Flower Madeleines.
Hibiscus and Hollyhocks
These are rather more exotic flowers and certainly don't grow in my Scottish garden. They look fantastic though and you can make the following recipes with them: Hibiscus Chutney, Hibiscus Chilli Caramel, Hibiscus Cream Pie, Hollyhock Scones and Hollyhock Clafoutis.
Lilacs
The heady scent of lilacs is enough to make you want to eat the, but it seems that the cleaning and preparation is quite time consuming. If you are up for putting in the time for preparation you can make: Lilac Pavlova with Lime Sorbet and Lilac Blackberry Syrup, you have to see the picture of the Lilac Sorbet to believe how incredibly intense the colour of the purple lilacs is, one to impress. I love the sound of White Pepper Thumbprint Cookies and Lilac Jam ( more info on making flower jams later in the book).
Nasturtiums
These peppery and spicy plants are popularly used as a salad herb, they are really easy to grow and give a great show all summer. Here are some of the ways you can eat them: Corn and Black Beans with Nasturtiums, Nasturtium Pizza, Goat Cheese and Nasturtium Ice Cream and Nasturtium Thumbprint Cookies,.
Orchids
Who would have thought that orchid petals taste of cucumber and endive and are popularly used in stir-frys, dessert decorations and a Turkish icecream called, sahlep? Here are some recipes to whet your appetite: Thai Orchid and Beef Salad, Orchid Seafood Saute, Orchid Pineapple Upside-Down Cake and Passionfruit Orchid Tartlets.

Pansies and Violas
I've often used pansies and violas in salads but here are some of the other ways suggested: Pansy Petal Pancakes, Pansy Lollipops, Pansy Tea Sandwiches and Pansy Rhubarb Galettes.
Roses
How delightful to be able to enjoy the sight, smell AND taste of roses! Let's start with Cardamom Cake with Raspberry Rose Mascarpone (yes, please!), or maybe some Pistachio Rose Shortbread or some Fig and Rose Cream Trifle?
Squash Blossoms
When you've had your fill of courgettes or other squash, why not eat the flowers? Squash Blossom Tempura is a simple dish of deep fried blossoms, Squash Blossom Quesadillas combines the blossoms with tortillas and fresh cheese, you can also stuff the blossoms, the Stuffed Squash Blossoms in this book are stuffed with quinoa and goat cheese.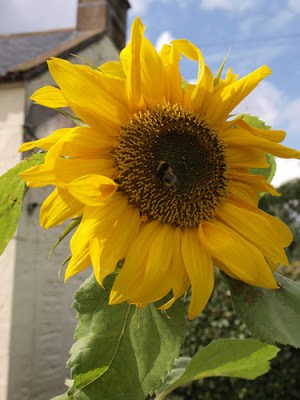 My mother-in-law grew this fab sunflower last year
Sunflowers
We are all aware of sunflower seeds and oil, the petals are not great eating but the unopened bud, apparently, tastes like steamed artichokes. Recipes include: Sunflower Bread, Steamed Sunflower Buds, Sunflower Chickpea Salad and Carrot Sunflower Sandwich Cookies.
Tulips
Another surprise to me and another flower that tastes of cucumber. I've also learned that the paler the tulip the better it tastes. Recipes include: Tulip Martinis, Tulip Ice Cream Bowls and Spring Tulip and Pea Shoot Salad.
Violets
Typically violets are eaten whole or candied, here are some recipes using violets: Violet Teacakes, Potato Salad with Violet Vinaigrette, the Violet Flower Cupcakes are very pretty as are the Violet Macarons.
The Basics
This chapter provides simple recipes for stocking up including Dried Flowers, Flower Sugars, Candied Flowers, Flower Simple Syrups, Flower Syrups, Flower Rock Candy, Flower butters and Flower cheeses, Flower-Glazed Cheeses, Flower Jams, Flower Vodkas, Flower Ice Bowls and Ice cubes, Flower Wines, Flower Teas, Flower Vinegars, Flower Vinaigrettes, Flower Whipped Creams, Flower Pastry Creams, Flower Frostings, Flower Buttercream Frostings, Flower Ice Creams, Flower Sorbets and Flower Lemonades.


Sources
The sources are for the USA.
Who is this book for?
This is a beautiful book, even if you never made a recipe it would be worth having just to read about and look at all the fabulous photographs. If you are interested in more adventurous cooking and would like to expand your horizons to make stunning dishes that impress the eyes and the palate, then I would recommend you get this book.
Pros
I learned a lot from reading Cooking with Flowers and really enjoyed all the information provided with the recipes. The amazing photography by Miana Jun is matched by the excellent styling (I couldn't find an acknowledgement for the styling) of the recipes.
Cons
The recipes are in US measures, there is a metric conversion chart at the back but that could be a bit of a nuisance if you don't own a set of US measuring cups. I think it would be worth buying a set just to make some of these recipes, they are not expensive and I found it easy enough to get used to using them.
Worth Buying?
Definitely. There is even a link to some exclusive recipes that the publisher couldn't fit into the book. Bonus recipes for the medicinal and cosmetic use of flowers and downloadable recipe cards.
Cooking with Flowers
By Miche Bacher
Published by Quirk Books
Distributed in the UK by PGUK
Price: £10.87 (Popular online bookseller)
Thanks to Mat for asking me to review Cooking with Flowers, I was not paid for this review and all views are my own.