It's
Random Recipes
time again! This month Dom decided to stir things up a bit and make us connect with other participants in the challenge. My partner was Alice of Italian Inspiration and we had to pick recipes for each other!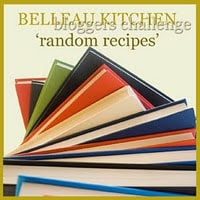 Random Recipes #9
It was all done with Random Number Generation, and the book that I got was Casserole Cooking by Pamela Westland I was rather pleased about that as I know that there are lots of nice recipes in this book and I love to make casseroles, they are so easy to make and also often better when reheated.
Back to Alice to tell her how many pages there were in the book and she returned with my number, now the page had two recipes on it, but I thought they would actually go rather well together so decided to make both.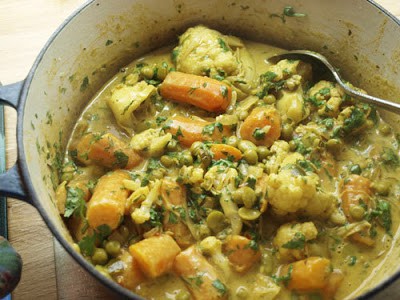 Vegetable Curry
225g (8oz) carrots, trimmed and diced
225g (8oz) shelled broad beans
225g (8oz) shelled peas
1 small cauliflower, cut into florets
salt
3 tbsp oil
1 medium onion, peeled and sliced
2 garlic cloves, peeled and finely chopped
1 tsp paprika
1 tbsp curry paste
1 tbsp wholewheat flour
5 tbsp double cream
1 tsp lemon juice
2 tbsp chopped fresh coriander
4 tbsp cashew nuts, toasted
1. Steam the carrots, broad beans, peas and cauliflower over boiling salted water until they are barely tender – they will cook a little more in the sauce. Reserve 300ml (1/2 pint) of the liquid.
2. Heat the oil in a flameproof casserole and fry the onion and garlic, over moderate heat for 3 minutes, stirring once or twice.
3. Stir in the paprika cook for a minute. Stir in the curry paste and the flour.
4. Slowly pour the reserved liquid into the casserole, stirring until the sauce thickens. Stir in the cream and lemon juice.
5. Add all the vegetables to the sauce, stir gently, cover and simmer over low heat for 5 minutes.
6. Stir in 1 tbsp of the chopped herb and 2 tbsp of the cashews.
7. Sprinkle the remaining herb over the vegetables and catter on the remaining nuts. Serve with brown rice and tomato salad.

The second recipe is for Cracked Wheat and Spinach Pilaf, this is not a way I've used Bulgar Wheat before, so I was interested to see what it would be like.
Cracked Wheat and Spinach Pilaff
3 tbsp oil
1 large onion, peeled and finely chopped
1 garlic clove, peeled and finely chopped
225g (8oz) cracked wheat (bulgar), washed and drained
450ml (3/4 pint) vegetable stock
4 tbsp seedless raisins
1/2 small cauliflower, cut into florets
175g (6oz) spinach leaves, stalks removed
salt
freshly ground black pepper
2 tbsp snipped chives
4 tbsp blanched almonds, toasted
tomato wedges, to garnish
1. Heat the oil in a flameproof casserole and fry the onion over moderate heat for 3 minutes, stirring once or twice. Stir in the garlic and fry for 1 minute.
2. Stir in the cracked wheat, cook for 1 minute, then pour on the vegetable stock. Stir in the raisins and cauliflower florets, season with salt and pepper and bring to the boil.
3. Cover the casserole and simmer for 20 minutes, until the wheat and cauliflower is almost tender.
4. Add the spinach leaves, increase the heat and stir to distribute them well. Serve as soon as the spinach is just tender and the liquid evaporated. The dish should be just moist.
5. Stir in the chives and almonds, and turn the pilaff on to a warmed serving dish and garnish with tomato wedges, if wished.
This was a fun challenge and the two dishes worked really well together. The curry was lovely and creamy and the firm texture of the cracked wheat worked well as a substitute for rice. Both dishes also reheated really well.