Dried cranberries are so gloriously sweet and sharp at the same time, they make these Cranberry and Flaxseed Scones rather special, as does the Molasses Butter.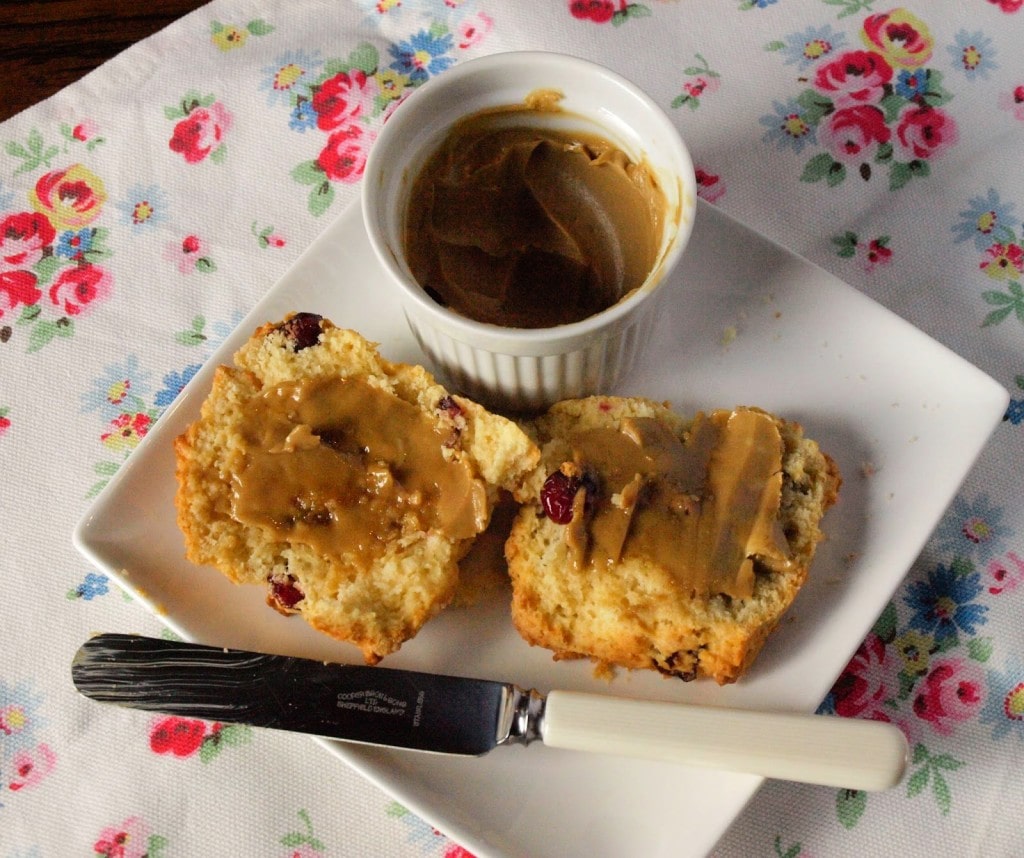 Cranberry Flaxseed Scones
Izy Hossack isn't your regular 18 year old. Since her early teens she has been developing delicious recipes and styling and photographing them with a flair well beyond her years and recording it all on her blog Top with Cinnamon, her site has received international attention and was shortlisted in Saveur Best Food Blog Awards 2013.
Izy has compiled a collection of her favourite recipes for all occasions in her debut cookbook, Top with Cinnamon. Here she showcases her impressive skill for food photography and styling as well as her natural ability to produced delicious, wholesome recipes. Featuring some gluten-free recipes and healthy options, as well as step-by-step how-to;s, Top with Cinnamon has something to suit everyone – this is approachable, flavoursome home cooking with a modern fresh twist.
Here's a taste of what's in Top with Cinnamon:
Breakfast includes Coconut Berry Pancakes, Cornbread with Cinnamon Sugar, Cranberry and Flaxseed Scones (see below) and Wholemeal Maple Pecan Buns.
Sides features Chickpea and Pomegranate Dip, Squash Feta and Sage Focaccia, Courgette 'Spaghetti' with Chilli and Sweet and Spicy Roasted Chickpeas (see these at FabFood4All) and Baked Rosemary Polenta Chips.
Mains covers a wide range of dishes including Sweet Potato and Shredded Beef Chilli, Crispy Augergine with Kale Pesto Fettuccine, Griddled ChickenSalad and Caramelised Onion Thyme and Bean Pot Pies
Sweet Snacks is full of recipes for lovely treats like Rainbow Biscotti Cubes, Spanish Olive oil Tortas and Malted Pumpkin Gingerbread.
More sweetness in the Desserts chapter and Izy brings us Boozy Mocha Coconut Layer Cake, Crustless Plum and Almond Tart, Sticky Banoffee Cake with Salted Caramel and a seasonal pear, Frangipane and Caramel Tartlets.
The final chapter is a useful 'Staples and How To's' offering with pastries, doughs, butters and sauces and a couple of step-by-step instructions.
Who is it for?
This is a difficult book to categorise it would interest anyone with an interest in vegan, gluten-free and healthy options. However, there are meat based recipes and sweet treats too. I do think any cook or baker would learn from Izy's creativity.
Pros
There are a wide range of recipes for all occasions, they are not difficult to make but often slightly quirky or with less usual ingredients, there are also some classics with a twist. Izy brings a lot of originality to her recipes.
Cons
The photographs have a bit of a sepia feel which, I felt, didn't do the dishes justice and made everything look the same.
Top with Cinnamon
Author: Izy Hossack
Publisher: Hardie Grant Books
RRP: £20
Recipe for Cranberry Flaxseed Scones
I love a freshly baked scone, so was intrigued by this recipe for Cranberry Flaxseed Scones. If I were making these scones again, I would use slightly less milk as the mixture was quite wet. The scones were very tasty and perfect with salted molasses butter which I first tasted at Pictou Lodge in Nova Scotia.
More Scone Recipes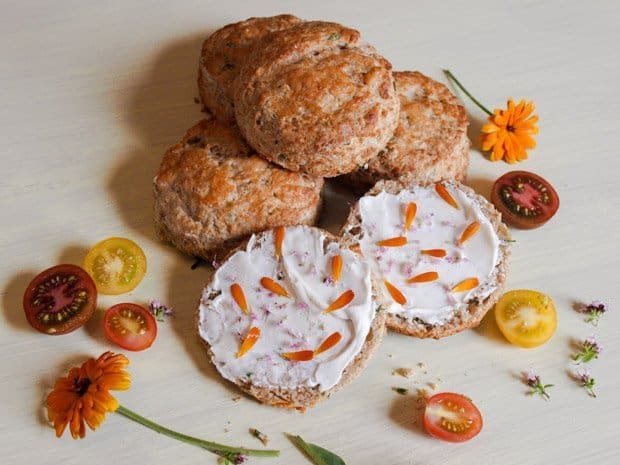 Cheese and Chive Scones with Marjoram and Marigold Cream Cheese
I was sent a copy of Top with Cinnamon to review, I was not paid for the review and all opinions are my own.