Recapture the taste of your childhood with a homemade Creamy Tomato Soup. The creamy texture comes from cashew nuts and coconut milk making this soup suitable for vegans and those following a dairy and/or gluten-free diet.
The Creamy Tomato Soup recipe comes from Eat with Intention by Cassandra Bodzak and, according to the food trends for 2017, it's bang on trend. Food forecasters say that in 2017 we will focus on lighter eating, dairy-free and a rise in veganism. There's also a move towards connecting mindfulness with food, as research is now showing that how we eat is as important as what we eat. The emphasis is on eating slower, shutting off distractions like TV and social media and paying full attention to every mouthful that you eat so you really enjoy and appreciate your food every day.
ABOUT THE AUTHOR
CASSANDRA BODZAK is the host of Eat with Intention TV or you may know her as the happy, healthy living guru from ABC's The Taste. She is the founder of the online mind-body-soul support community, Aprecity.com and a global meditation and wellness teacher who instructs people on how to utilize the technologies of food, meditation, and self-care to make peace with their bodies and their plates. Cassandra is an author, speaker, and certified Kundalini yoga and meditation teacher. She lives in SantaMonica, California. Discover more at www.eatwithintentionTV.com and www.CassandraBodzak.com
THE BLURB
This is not your traditional cookbook. Eat with Intention is a manual for making peace with your food, loving your whole self and taking your power back in your life (and diet) by tapping into your body's natural wisdom. You will not have to do a cleanse, eat kale every day, or eliminate an entire food group. Instead, you will learn the step-by-step process for eating with intention and being in loving relationship with your body, mind and soul so that you can put a stop to the never ending cycle of fad diets, constant exhaustion, and general unhappiness with your body and yourself. Meditation and wellness teacher Cassandra Bodzak struggled for years with unhealthy dieting, stomach pains, and food allergies. It was only when she began to listen to her body, connect deeper with her intuition and ultimately, both eat and live with intention that she transformed her life. In this book, she shares her wisdom to help you discover:
• How to make peace with your body so that it can transform and reach its highest potential.
• How to uncover the foods that are causing discomfort and decode what your cravings are really trying to tell you.
• How to nourish the body from a place of self-love.
• How to tap into the built in intuitive guidance system we all have.
• How to incorporate a daily meditation practice and self-care rituals into everyday life to experience more clarity and joy.
• How to prepare over 75 plant-based recipes, each accompanied by a mantra and meditation for eating with purpose and fueling your body, mind and soul.
So if you want to learn how to quiet your mind, start listening to your body, and love your whole self, then you are ready for this blueprint to a life that lights you up from the inside out. You are ready to live your best life with a clear head, open heart, and boundless energy
WHAT'S INSIDE?
There are five chapters devoted to helping you learn how to eat with intention, shift your habits and integrate change into your daily life. These are followed by six chapters of recipes each one with it's own meditation mantra. Cassandra suggests some ways to use the book e.g. choose a recipe that appeals, prepare the dish and then read the mediation, or find the message in the mantra that you feel you need, and then make the corresponding recipe.
There are a wide range of recipes covering juices & smoothies, breakfast, soups (including the Creamy Tomato Soup), salads and bowls, Entrees and even some desserts. All of the recipes are plant based, packed with fruit, vegetables and whole grains.
Cassandra also provides some basic information about how to meditate.
WHO IS IT FOR?
Anyone who is looking for a better relationship with food, whether because of allergies, yo-yo dieting or seasonal over-indulgence. Cassandra's personal story also focuses on a history of negative thinking and low self-esteem, I'm not convinced that reading a book would be enough to overcome major issues like these, but could be used in conjunction with other therapies.
PROS
An interesting concept, although not a new one. The recipes are very good and most have beautifully styled photographs.
CONS
I would have preferred a more concise outline of the concept and more recipes.
THE VERDICT
If you are looking for inspiration to reconnect more meaningfully with food, and some delicious recipes, then this is the book for you. The Creamy Tomato Soup was simple to make and absolutely delicious, really thick and creamy. I will definitely be making more of the recipes, they are impressively creative and I can see that they will also taste good. The meditation mantras are really not for me, but they are not pretentious and are simple to follow, so if you are looking for a way to make some 'me' time in your life they might be just the thing to get you started.
Eat with Intention -Recipes and Meditations for a Life that Lights You Up by Cassandra Bodzak
Published by Race Point Publishing RRP: £14.99
THE RECIPE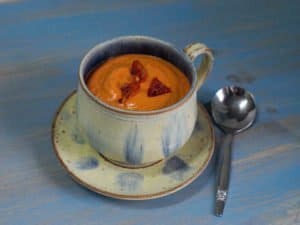 Creamy Tomato Soup
Recapture the childhood memories of creamy tomato soup with this plant based recipe.
Ingredients
2

tbsp

extra-virgin olive oil, divided

2

white onions

1

clove

garlic

65

g

raw unsalted cashew nuts

soaked in water for 2-3 hours and drained

120

ml

vegetable broth

400

g

cans tomatoes

120

ml

canned light coconut milk

1

tsp

freshly ground black pepper

3/4

tsp

salt

1/2

tsp

paprika

3

tablespoons

8 g basil leaves, shredded to garnish
Instructions
Heat 1 tablespoon (15 ml) olive oil in a large frying pan over a medium heat Add the onions and saute for 5 minutes until softened, then add the garlic and saute for another minute.

Transfer the mixture to a food processor or high-speed blender. Add the remaining 1 tablespooon (15 ml) olive oil, the soaked and drained cashews, vegetable broth, tomatoes coconut milk, and spices and puree until thick and creamy.

Transfer the soup to a medium saucepan and heat over a medium heat until the soup is warmed through. Serve hot and garnish with the basil leaves.
Notes
I didn't have any basil leaves so garnished the soup with some sun dried tomatoes and a little sprinkling of paprika.
Adapted from Eat with Intention
Nutrition
Calories:
235
kcal
Carbohydrates:
19
g
Protein:
5
g
Fat:
16
g
Saturated Fat:
4
g
Sodium:
717
mg
Potassium:
480
mg
Fiber:
3
g
Sugar:
7
g
Vitamin A:
500
IU
Vitamin C:
13.8
mg
Calcium:
55
mg
Iron:
2.7
mg
Don't Miss My Latest Recipes
CLICK TO SUBSCRIBE NOW to join my newsletter list & receive a FREE 'How To Adapt Recipes For Your Slow Cooker' printable!
Share by Email

I made the Creamy Tomato Soup with my Optimum G2.3 Platinum Series Blender made by Froothie. It's a high powered blender that makes short work of ingredients like cashew nuts, if you use the G2.3 blender, it has a setting for soup and even warms it up to a perfect temperature, so it is ready to eat immediately.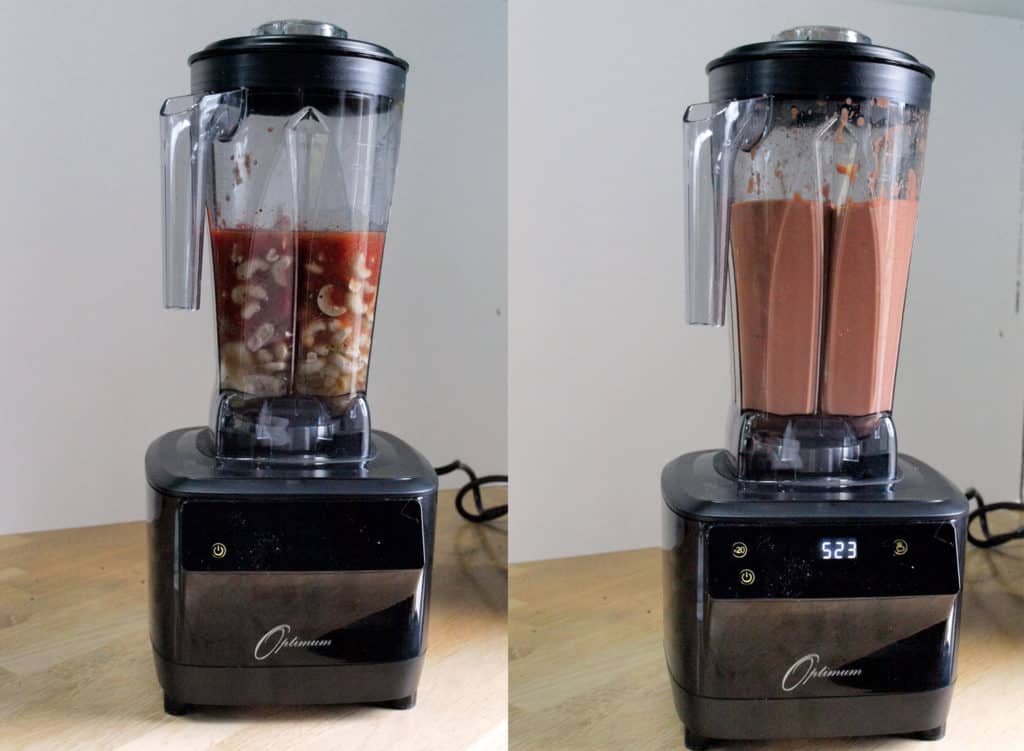 You can use the Optimum G2.3 Platinum Series Blender for soups, smoothies, sauce, nut milks power balls, smoothies, cocktails and much more. I'm a Froothie Ambassador and if you use my ambassador link to order your blender, you get free delivery in the UK as well as a super powerful blender. There are many more healthy recipes on the Froothie site has many inventive and healthy recipes to inspire you, including ones from me. If you order in Jumpstart January do write "3116" and "free ambassador delivery" in the comment section of the order. Delivery will be credited back to your card.
All through January I'll be sharing recipes for Jumpstart January, look out for these and recipes from other Froothie Ambassadors with the hashtag #Jumpstart17 good food for a wholesome, healthy and sustainable lifestyle.
I have one copy of Eat with Intention to GIVEAWAY if you would like to enter the giveaway, please follow the instructions on the Rafflecopter widget. Open to UK residents aged over 18 only.
a Rafflecopter giveaway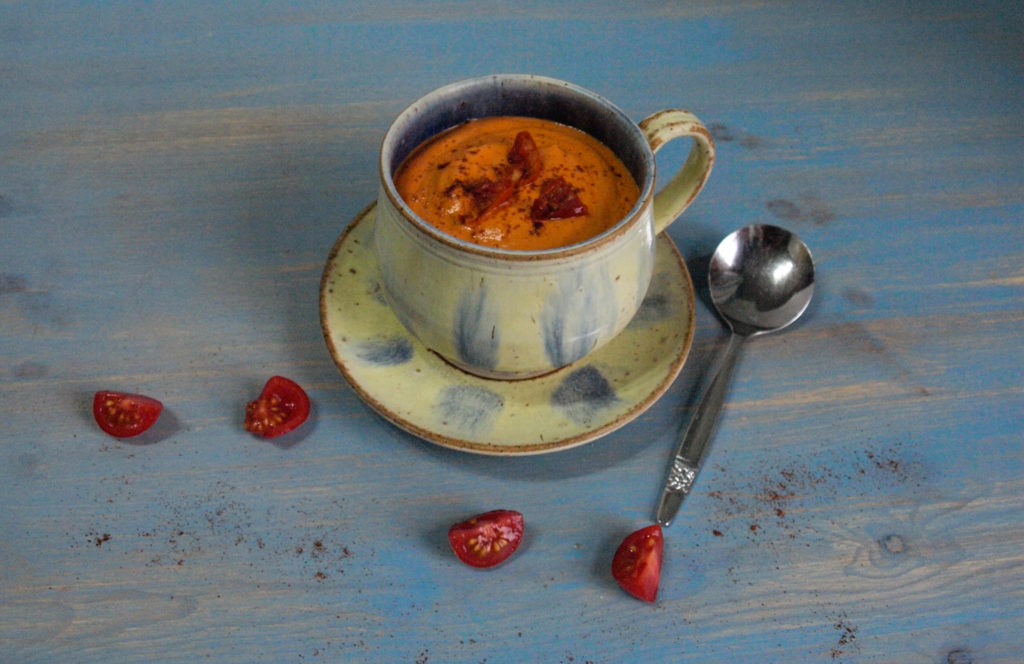 Disclosure: Froothie UK sent me the Optimum G2.3 Platninum Series Blender to use and review at home. I have not been paid for this post and was not required to give the G2.3 Blender a positive write-up. All opinions are my own. Affiliate links included in this post.